Mancini in OF mix for All-Star Primary vote
Former ROY candidate having breakout season for Orioles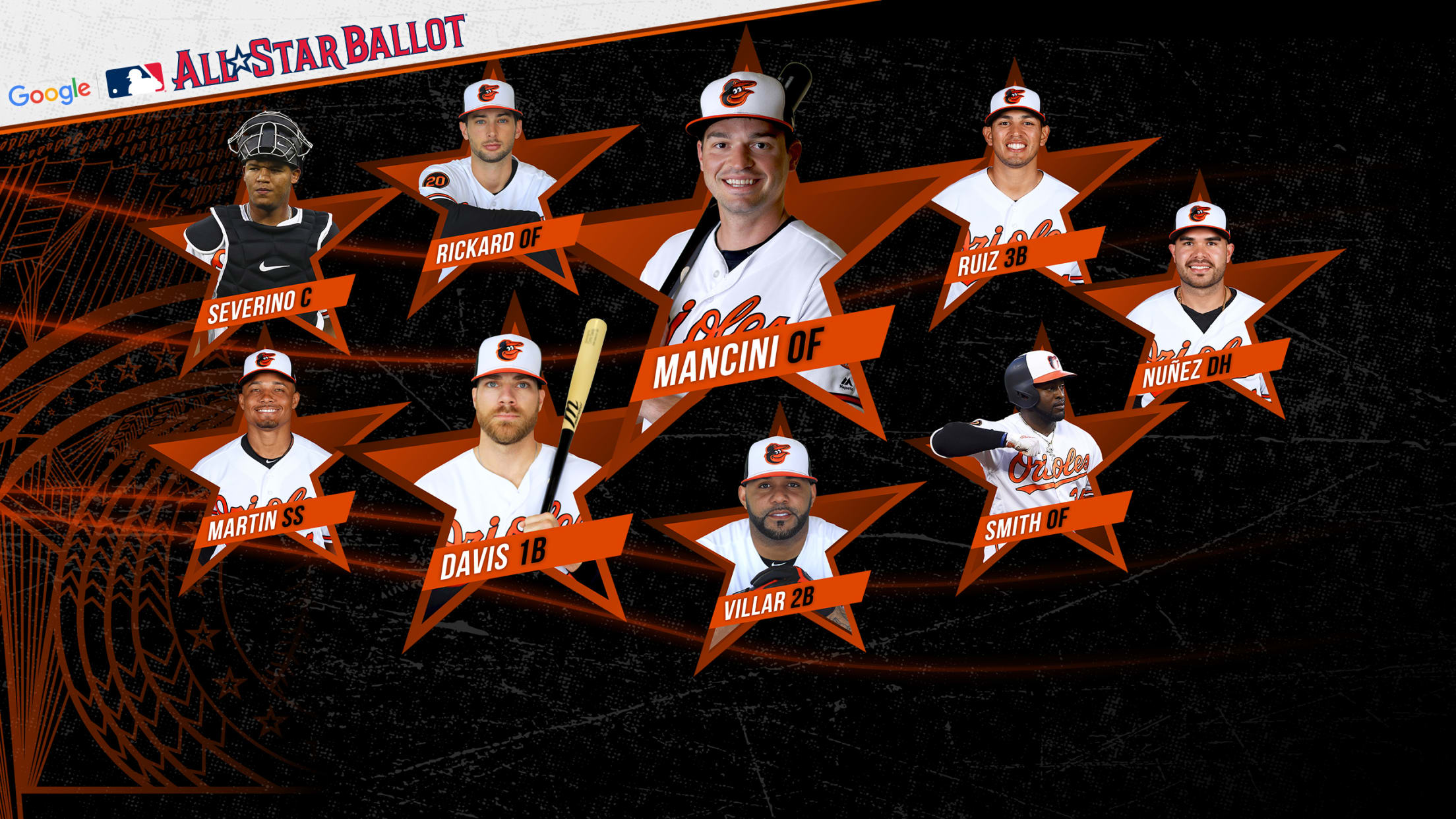 Read our FAQ on this year's revamped balloting format, which includes two phases of fan voting to determine the All-Star starters, and the ability to vote through Google Search. BALTIMORE -- The Orioles went into campaign mode this week, enlisting the efforts of players on social media, printing custom T-shirts
Read our FAQ on this year's revamped balloting format, which includes two phases of fan voting to determine the All-Star starters, and the ability to vote through Google Search.
BALTIMORE -- The Orioles went into campaign mode this week, enlisting the efforts of players on social media, printing custom T-shirts and parading the newly-formed #VoteTrey hashtag across several platforms. The goal? To help transform their best player into a first-time All-Star -- and put Trey Mancini on the fast track to Cleveland.
• VOTE NOW: Google MLB All-Star Ballot
Mancini ranked 17th among American League outfielders in the voting on Monday, when the first of two weekly ballot updates for this year's primary-style All-Star election season was announced. Mancini received 100,457 votes over his first week-plus on the ballot, which puts him in striking distance of Aaron Hicks, Tommy Pham, Jackie Bradley Jr. and several other contenders vying for spots in the top nine.
Angels superstar Mike Trout leads all AL players with 951,002 votes; he's joined by Houston's George Springer (776,352 votes) and Austin Meadows (468,111) of Tampa Bay among the AL outfield leaders. Michael Brantley, Mookie Betts, Eddie Rosario, Aaron Judge, Joey Gallo and Josh Reddick round out the top nine.
Since Mancini began the year as Baltimore's primary right fielder, he's not eligible in the fan voting for first base, where he's played predominantly for the past two weeks. Chris Davis is the Orioles' candidate there, and with 70,010 votes, he ranks 10th among AL first basemen as of Monday's update.
Mancini and Davis were the only Orioles to place among the leaders at their respective positions, though southpaw John Means continues to build a sleeper All-Star case with his out-of-nowhere rookie season. Pitcher selections are not determined by fans.
An AL Rookie of the Year Award finalist in 2017, Mancini tore out of the gate this spring after enduring a disappointing sophomore season. He paces the Orioles in nearly every major offensive metric, from runs (44) to hits (73) to doubles (17) to OPS (.890), SLG (.537) and wRC+ (133), ranking among the AL leaders in many of those categories, too.
Fans may vote in The Primary at MLB.com and on all 30 club sites, the MLB At Bat and MLB Ballpark apps up to five times in any 24-hour period. Fans in the US and Canada can also vote on Google Search for every position, or up to 17 unique players per day, by searching "MLB Vote" or the names of their favorite players. Primary voting ends at 4 p.m. ET on Friday, June 21.
The top three vote-getters at each position (including nine outfielders) per league will move on to The Starters Election, which begins at noon ET on Wednesday, June 26. The votes will reset for a 28-hour voting window that ends at 4 p.m. ET on Thursday, June 27. Starters for the 2019 Midsummer Classic will be unveiled on ESPN that night at 7 ET. The pitchers and reserves will be announced on Sunday, June 30, at 5:30 p.m. ET.
Then on Tuesday, July 9, during the 2019 All-Star Game presented by Mastercard, fans may visit MLB.com and the 30 club sites to submit their choices for the Ted Williams Most Valuable Player Award presented by Chevrolet.
The 90th Midsummer Classic, at Progressive Field in Cleveland, will be televised nationally by FOX Sports; in Canada by Rogers Sportsnet and RDS; and worldwide by partners in more than 180 countries. FOX Deportes will provide Spanish-language coverage in the United States, while ESPN Radio and ESPN Radio Deportes will provide exclusive national radio coverage. MLB Network, MLB.com and SiriusXM also will provide comprehensive All-Star Week coverage. For more information about MLB All-Star Week and to purchase tickets, please visit AllStarGame.com and follow @MLB and @AllStarGame on social media.