High Five Fundraising Program
Looking for a simple and fun way to raise money for your school or non-profit organization? Well look no further, The Baltimore Orioles make it easy, fun, and affordable! Bring your group out to the ballpark for an experience they will never forget. Thousands of groups have been successful and we want to do the same for you!
The Orioles Charitable Foundation High Five Fundraising Program is a unique program designed to benefit local schools, recreation councils and other eligible non-profit organizations.
Since the program's inception in 2005, the Orioles have donated more than $3.5 million to various fundraising efforts through this program.
The High Five Program is the only fundraiser available that offers your group the chance to enjoy a fun-filled day or night at the Ballpark That Forever Changed Baseball.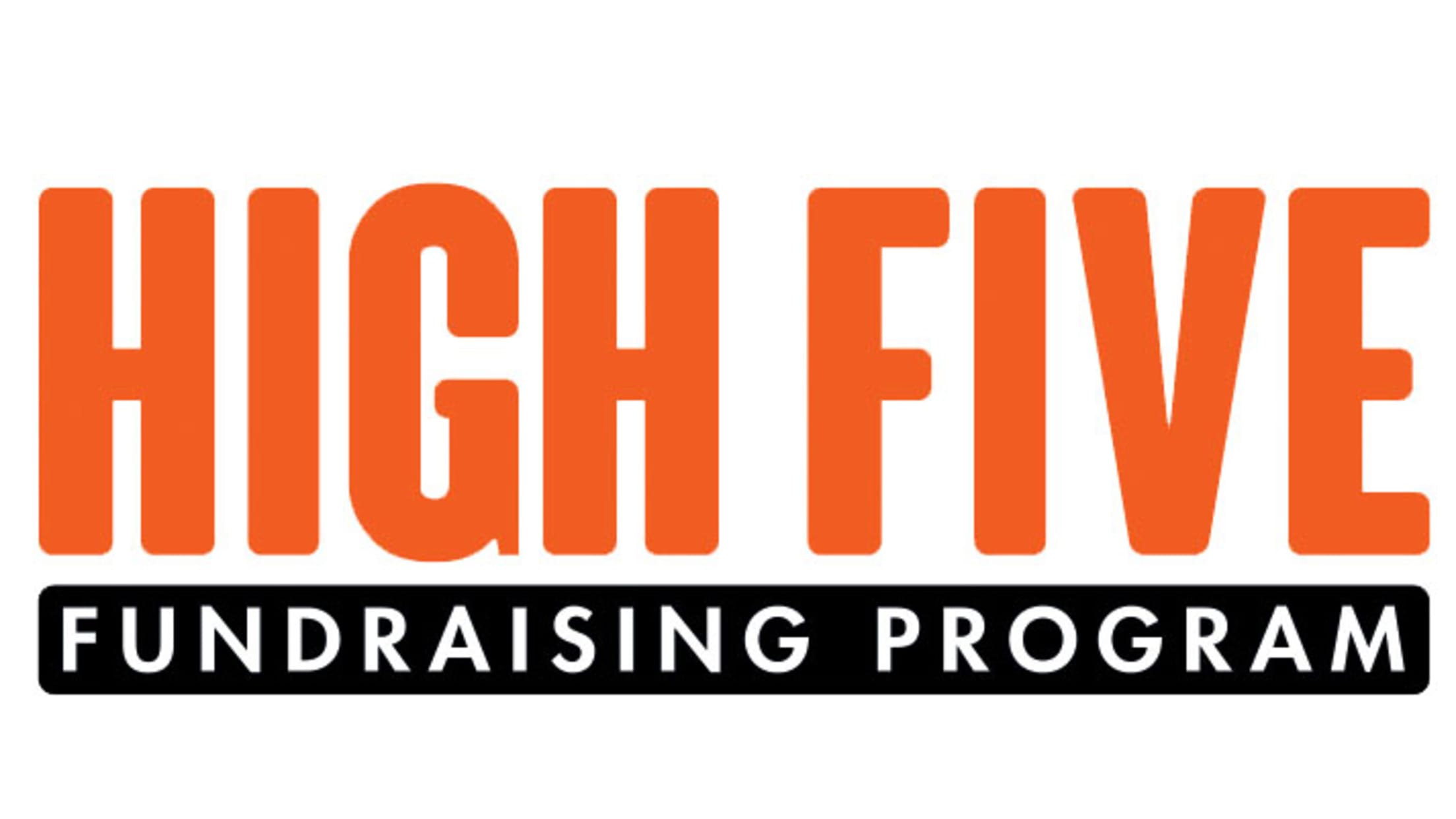 There are two ways to fundraise through the Orioles High Five Fundraising Program and earn up to $5 for every ticket sold. The Classic Group Outing or the Flexible Ticket Voucher Program.
The Classic Group Outing
Fundraiser groups may choose to sell tickets to a specific game. Your entire group can sit together and share the excitement of Orioles Baseball at Oriole Park at Camden Yards.
How It Works:
Pick a game
Choose a seating area
Sell tickets at the individual ticket price
Earn $5 for each ticket sold
There are two easy options to sell tickets:
After picking a specific game and seating location, you will want to want to evaluate your fundraising goals.
1. Reservation: We can hold an allotted amount of tickets on your account. Didn't hit your goal? No problem. Just let us know at least 45 days before your scheduled game date to adjust your ticket numbers. When collecting money make sure to collect the amount printed on the ticket. You will simply keep $5 from every ticket sold for your fundraising effort. Once payment is made in full, tickets can be mailed or picked up at our offices.
Here's an example: "Someone wants to sell 100 tickets for Friday, May 8th in the Upper Reserve". First, speak with a Group and Hospitality Account Executive to talk about availability, set up an account (basic information), and reserve a specific location (section 326 for 100 tickets @ $17/each). After you receive your emailed invoice, it's time to start selling! Next, market how awesome the game will be especially since some of the proceeds are being donated. Now it's about 3 weeks before the game which means you will contact the Group Sales Department and finalize the number of tickets you sold. The group leader has sold 70 out of the 100 tickets which means he or she will owe the Orioles (70 x $12/each) $840 and keep (70 X $5/each) $350 for the funds being donated.
2. Electronic Online Offer: We will set up your very own link to purchase tickets. Your group can still select and purchase tickets up to 24 hours before the event. Payment will be made in full through the link, and tickets will be available digitally as soon as they are purchased. After the game takes place, the Orioles will cut you a check for $5 from every sale.
Here's an example: "Someone wants to sell tickets in the LF Upper Reserve for Thursday, June 11th". First, speak with a Group Sales Representative about availability, set up an account (basic information), and select an area/s of the ballpark where you would like to sell tickets. A link/flyer will be produced for you to advertise the event. Someone who wants to purchase tickets will then use the link; select their seat(s), make payment, and view their mobile ticket(s). (Customers will be asked to create an online account if they don't already have one). There is a 10% per ticket fee. The June 11 game has been played, and we see from our records that 200 tickets have been sold. Your group will receive a check for (200 x $5/each) $1,000 from the Orioles.
Flexible Voucher Program
Earn money for your organization through the flexible ticket voucher program by selling Orioles ticket vouchers, redeemable for Value, Classic, Select and Prime games (more than 75 games).
How It Works
Sell a voucher
Pick an available 2020 home game (Value, Classic, Select or Prime)
Redeem at Orioles Main Box Office windows in advance or day of game (subject to availability)
For Value Games (Lower Reserve Seat), for Classic Games (Upper Reserve Seat), for Select Games (Left Field Upper Reserve Seat), for Prime Games ($10 credit towards an individually priced seat), Subject To Availability!
Earn $5 for each voucher sold
Consignment: Choose a number of vouchers that you could potentially sell. If you sell out, we can always consign more! You will then sign a contract and pay a $25 non-refundable fee with a credit card to keep on file. The $25 fee will be applied towards your total balance due. You will then be able to receive the consigned tickets in the mail, or come down to our offices to pick them up. Now you're ready to market and sell! The voucher will be sold at $15. You will owe the Orioles $10 and keep $5 for your fundraiser. Once the person who purchases the voucher is ready to redeem they will have to come down to the Orioles Box Office windows in advance or day of game, if it's a Value game, it is redeemable for a Lower Reserve ticket; Classic game is redeemable for Upper Reserve ticket; Select game is redeemable for LF Upper Reserve ticket; Prime games is redeemable for $10 towards the cost of available tickets. Want a better seat? No problem, the voucher can be credited towards $10 of your upgraded ticket purchase. You will have until September 4th to sell your fundraising vouchers. On your due date you will return any unsold vouchers and make payment for the sold vouchers ($10 x # of vouchers sold).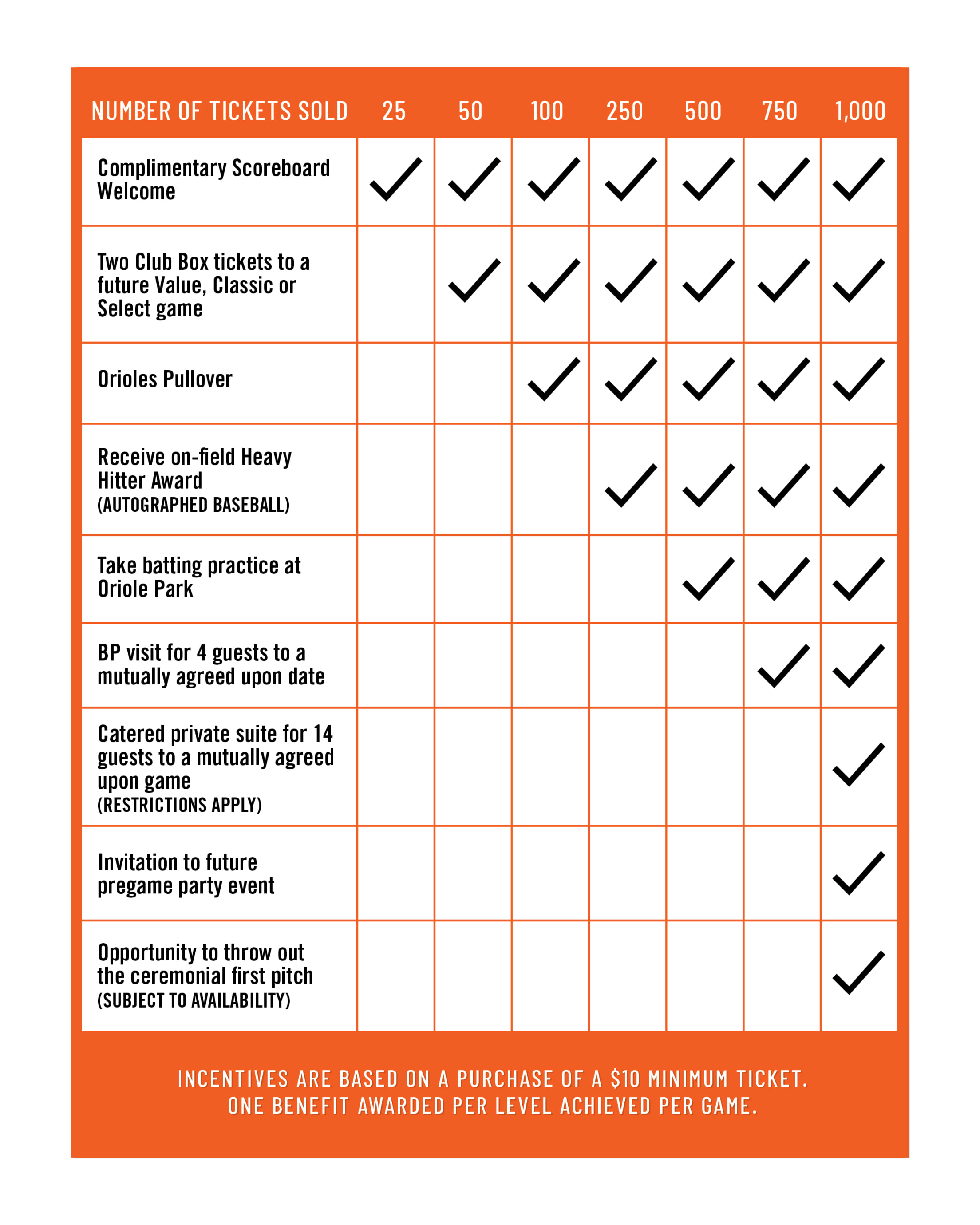 Inside Suites & Party Facilities