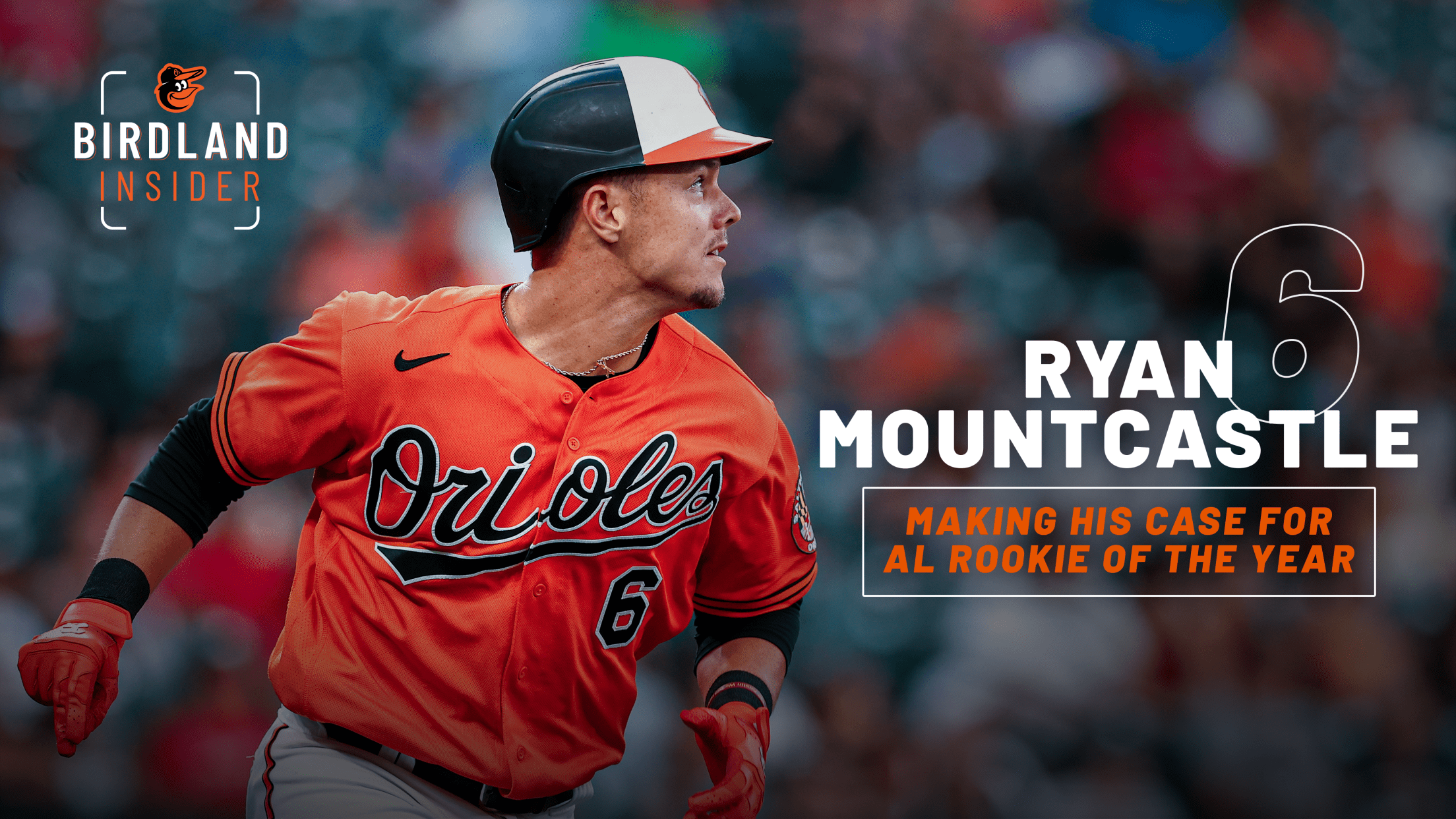 Scroll
Ryan Mountcastle's Historic Season Deserves AL Rookie of the Year Consideration
Ryan Mountcastle set the bar high when he slashed .333/.386/.492 with five homers and 11 walks in 35 games in his debut season last year. It was a small sample size, but it was a sign that the success he had enjoyed at the Minor League level – including being named the Orioles Brooks Robinson Minor League Player of the Year and International League MVP in 2019 – was translating to The Show.
Entering 2021, he was expected to build upon his production from the shortened 2020 season as a cornerstone in a young Orioles lineup and an early favorite for American League Rookie of the Year. That hope seemed to be in jeopardy after the 24-year-old got off to a slow start, slashing .198/.229/.286 with just one home run in the month of April. Fast forward to October, and his season total numbers are made even more impressive considering he accomplished them despite a month-long slump to start the year. His strong showing is worthy of consideration for the 2021 AL Rookie of the Year Award, and Orioles Manager Brandon Hyde agrees.
Can we start talking about him more for Rookie of the Year, please?

Manager Brandon Hyde
Said Hyde in a pregame Zoom press conference last weekend, "33 homers and [nearly] 90 RBI on a team that hasn't scored a ton of runs this year. It's incredibly impressive."
In his sophomore campaign, Mountcastle led all rookies with 33 home runs and ranked second in the AL in slugging percentage (.487), extra-base hits (57), total bases (260), and RBI (89); tied for second in runs (77); third in OPS (.796), hits (136), and doubles (23); and tied for fourth in walks (41). He appeared in 144 games, the second-most by an AL rookie.
His stellar numbers were propelled by a power surge that began in May and ran through the end of the regular season. During this stretch, no other AL rookie had a higher OPS (.853), and his .528 slugging percentage was .055 points higher than the next-closest Major League rookie, Cincinnati's Jonathan India, who posted a .473 slugging percentage during that span (min. 400 plate appearances).
He was named the AL Rookie of the Month for June, his first monthly honor, after slashing .327/.382/.634 and leading AL rookies in batting average, slugging percentage, OPS (1.015), home runs (9), extra-base hits (13), and RBI (26) during the month, which included a three-homer performance on June 19. It was the second three-homer game by a rookie in O's history, joining Nick Markakis on August 22, 2006, and the 33rd three-homer game by a rookie in Major League history. He became the Orioles' first Rookie of the Month winner since Brian Matusz in August 2010.
Not only do his numbers stand out among his peers, but simply put, Mountcastle had the best power hitting season by a rookie in franchise history (since 1954). He surpassed the franchise's single-season rookie home run record of 28 long balls – set by Orioles Legend and National Baseball Hall of Famer Cal Ripken, Jr. in 1982 – with his 29th home run of the season on September 16.
He became the first Orioles rookie to lead the team outright in home runs since Curt Blefary in 1965, a gap of nearly 60 years. Among Orioles rookies, his .487 slugging percentage ranks second all-time behind Trey Mancini's .488 in 2017, while his 57 extra-base hits rank third and his 260 total bases are good for fourth.
His home run total ranks tied for ninth all-time in AL rookie history. Of the 10 other AL rookies to hit at least 33 home runs in a season, six went on to be crowned Rookie of the Year, and two (Hal Trotsky in 1934 and Rudy York in 1937) were not eligible because the award was not established until 1947. Al Rosen, who slugged 37 home runs for Cleveland in 1950, was beaten out by another rookie on the list, Walt Dropo, who clubbed 34 home runs for Boston that same year. Rosen went on to be named AL MVP in 1953 and was a four-time All-Star. Mountcastle is just the third AL rookie in the last 34 seasons to accomplish a 33+ home run campaign.
Not only did Mountcastle slug his way into the Orioles' record books, but he made major strides in developing as a big-league hitter. Brandon Hyde praised the rookie for maturing "an incredible amount" during his first full season. Perhaps the most telling evidence of Mountcastle's development at the plate can be found in his walk rate, which he more than doubled in his final 95 games. From Opening Day to May 31, Mountcastle walked just seven times in 188 plate appearances for a PA/BB ratio of 26.86. From June 1 onward, he walked 34 times in 398 plate appearances for a PA/BB ratio of 11.71.
There were a handful of AL rookies who put together strong seasons in 2021. The Rays had two in Randy Arozarena and Wander Franco. Arozarena, who was a Postseason hero in 2020, led qualified AL rookies with an .815 OPS. Franco, the former No. 1 overall prospect in baseball before he was succeeded by Adley Rutschman this summer, made his mark with a record-setting 43-game on-base streak, the longest in Major League history by a player age 20-or-younger. Then there was Texas' Adolis García, who started off the season with 22 home runs in his first 80 games before cooling off in the second half, slashing .211/.256/.370 with nine homers in 69 games. On the mound, Houston's Luis García led AL rookie hurlers with 167 strikeouts in 30 games, pitching to a 3.30 ERA.
But for Mountcastle's teammates and several O's prospects, there's only one clear choice. Fellow rookie Tyler Wells took to Twitter to voice his support for his teammate.
So did fellow Floridian DJ Stewart, a member of the 2015 First-Year Player Draft class that saw the Orioles take him and Mountcastle with their first two picks.
Top Orioles pitching prospects Grayson Rodriguez and DL Hall, who could each make their own Rookie of the Year push in the near future, chimed in as well.
Regardless of who the winner is, Mountcastle has earned a seat at the table of the AL Rookie of the Year discussion with one of the best rookie seasons in franchise history.