Offseason checklist: O's needs and moves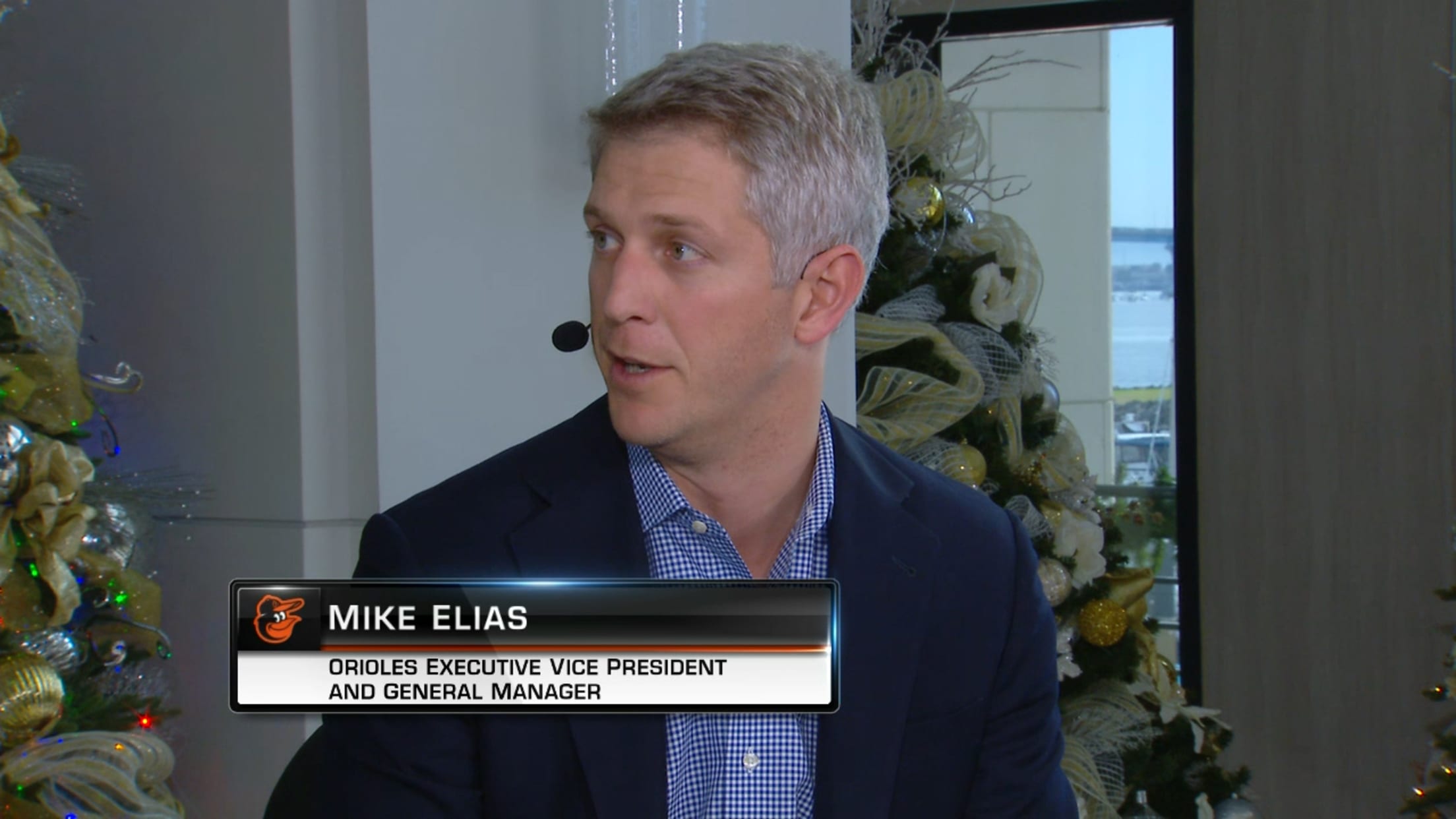 The Orioles went 54-108 in the first year of their much-publicized rebuild under the direction of new executive vice president and general manager Mike Elias, and they now enter the offseason with their sights set solely on the future. So what are the O's biggest needs entering 2020, and what
The Orioles went 54-108 in the first year of their much-publicized rebuild under the direction of new executive vice president and general manager Mike Elias, and they now enter the offseason with their sights set solely on the future.
So what are the O's biggest needs entering 2020, and what moves have they made to address them? MLB.com is keeping track here. As the offseason continues, be sure to check back for updates.
BIGGEST NEEDS
Pitching
Pitching, pitching, pitching. The Orioles need it in the rotation. They need it in the bullpen. They need it everywhere. Baltimore owned the Majors' highest staff ERA in 2019. The club surrendered an MLB-record 305 home runs. The O's played much of the season with three regular starters and no defined roles in the bullpen. To say they need arms is an understatement.
The Orioles are planning to get Alex Cobb back after he missed most of 2019 due to surgery on his right hip and knee. So that's one. Baltimore also signed free-agent righty Kohl Stewart and hopes Keegan Akin -- the club's No. 11 prospect, per MLB Pipeline -- wins a rotation spot out of camp this spring. The O's have also added Rule 5 picks Brandon Bailey and Michael Rucker and will continue to comb the waiver wire in hopes something sticks.
But to ensure more basic-level competency on the mound, the Orioles probably need to add at least at least one more free-agent arm and aim higher than the one-year deals they gave last year to Nate Karns and Dan Straily, neither of whom lived up to expectations. Looking toward the lower tier of the market, maybe names like Trevor Cahill, Shelby Miller and Jhoulys Chacín profile as fits, and Andrew Cashner and/or Chris Tillman are possible reunion candidates.
Middle-infield depth
Baltimore has a dearth of middle-infield prospects in the upper Minor Leagues and must prepare for the possibility that its two regulars from 2019 -- Jonathan Villar and Richie Martin -- may not open '20 with the O's. Villar was traded to the Marlins at the non-tender deadline, while Martin seems destined for more seasoning at Triple-A after hitting .208 with a .581 OPS as a Rule 5 rookie.
Without them, Baltimore's only players with shortstop experience are Hanser Alberto, recently claimed utility man Pat Valaika and Stevie Wilkerson, who predominantly played outfield in 2020. Alberto played mostly third last year but also dabbled at second and could play short, but either way, the Orioles likely need to add at least two infielders before the winter is up. Luckily, the lower tier of the free-agent market is full of them after the Dec. 2 non-tender deadline.
Prospects
Because the O's are rebuilding, every move they do or don't make comes with an eye toward the future, and that means prospects are en vogue. Last year's drafting of Adley Rutschman and others gave Baltimore an above-average farm system, but the organization wants to climb higher on that list, and the only way to do so before June's Draft is by dangling Villar and Mychal Givens, and perhaps Trey Mancini and others, on the trade market this winter.
NEEDS ADDRESSED
Starting shortstop
While their dearth of upper-level middle-infield prospects keeps them in the market for depth there, the Orioles' deal with José Iglesias filled their most glaring offseason need -- a starting shortstop. After trading Jonathan Villar to the Marlins, they had been left with Richie Martin, who hit .208 with a .581 OPS as a Rule 5 rookie, as their lone everyday option at the position.
The deal with Iglesias now gives the Orioles the flexibility to give Martin more seasoning at Triple-A and provides stability in the middle of the diamond. A veteran of eight Major League seasons, Iglesias has started at least 119 games at short each year since 2015. He hit .288 with 11 home runs and a career-high 1.4 dWAR last season for Cincinnati.
MOVES MADE
Jan. 13: Orioles sign veteran backup catcher Holaday to Minor League deal
Besides on the mound and up the middle, the Orioles were also hoping to secure some organizational catching depth this winter. Enter Bryan Holaday, who has played parts of eight big league seasons with the Tigers, Rangers, Red Sox and Marlins. The past two came in Miami, with Holaday hitting .278 with four home runs in 43 games as the Marlins' main backup in 2019. He'll be in camp to push Pedro Severino and Chance Sisco this spring, and he likely will be paired with Austin Wynns at Triple-A Norfolk if he doesn't break camp.
Jan. 10: Richard Ureña claimed off waivers, Pat Valaika DFA'd Shortly after signing Jose Iglesias to be their starting shortstop, Orioles GM/EVP Mike Elias specifically mentioned adding positional depth behind Iglesias as a priority. The Orioles achieved that Friday with the claiming of Richard Ureña, who appeared at four different positions for the Blue Jays from 2017-19 but is a switch hitter and natural shortstop. Valaika, whom the club claimed off waivers from Colorado in October, is also versatile but better suited at second or third base. He can remain with the organization if he clears.
Ureña, 23, has hit .253 with two home runs in 91 career MLB games, all with the Jays. He could battle Richie Martin for a bench role this spring, unless more 40-man turnover occurs.
Jan. 10: Orioles avoid arbitration with Trey Mancini, Mychal Givens and Hanser Alberto There wasn't any drama at the arbitration deadline this year for the Orioles, who settled on salary figures with all their arb-eligible players for the 2020 season. Mancini and Givens will earn $4.75 million and $3.225 million in 2020, respectevly, a source told MLB.com's Mark Feinsand, while Alberto will earn $1.65 million plus performances incentives, a source told MLB.com.
The O's had previously reached agreements with Miguel Castro ($1.05 million) and Richard Bleier ($915,000), and traded Jonathan Villar and Dylan Bundy, who ultimately avoided arbitration with the Marlins and Angels.
Jan. 9: Orioles sign Castro to one-year, $1.05 million contract
By some metrics, Miguel Castro was one of the most improved relievers in baseball last season. The lanky right-hander slashed his walk rate, boosted his strikeout rate and pitched to a 3.03 ERA from June through August. A few blowup outings ballooned his final ERA to 4.66, but he remains a breakout candidate heading into 2020. Now his salary is set.
The Orioles avoided arbitration with Castro by inking him to a one-year contract less than 24 hours before MLB's deadline to exchange figures. Castro's $1.05 million deal includes performance bonuses and represents a raise from the $569,000 he earned in 2019. The agreement whittled the O's arb-eligible class to three; they had previously agreed to a one-year, $915,000 contract with Richard Bleier in December, and they traded Jonathan Villar and Dylan Bundy.
Jan. 6: Orioles agree with Iglesias
Since 2015, Iglesias ranks as one of the Majors' top defensive shortstops by an array of statistical measures, including UZR (third), DRS (seventh), dWAR (seventh) and Fangraphs' overall defensive metric (fourth). That aligns well for the O's, whose shortstops rated below average defensively last season, and who posses little positional depth in the upper Minor Leagues. Given how much the Orioles shift (third most in MLB in 2019), adding Iglesias provides their entire defensive unit a major boost. It should also help a pitching staff that is expected to be challenged again in 2020.
Dec. 29: Orioles sign Stewart, DFA Diplán
Between the departures of Bundy, Aaron Brooks and Gabriel Ynoa -- the latter two of whom signed deals to play in Korea -- the Orioles had roughly 330 innings to replace this offseason. There is no guarantee how much their depth-focused moves will cut into that, but the club's deal with righty Kohl Stewart may help. Stewart, whose deal is for one year and $800,000, immediately becomes a rotation candidate alongside Bailey, Rucker, Keegan Akin and David Hess.
Stewart, 25, was the No. 4 overall pick in the 2013 Draft by Minnesota, but his progress up the Twins' developmental chain was slow. He ultimately appeared in 17 big league games for the club, going 4-3 with a 4.79 ERA across 11 relief appearances and six starts. This will be his first opportunity to start regularly in the Majors. Right-hander Marcos Diplán was designated for assignment in a corresponding move, cleared waivers and was outrighted to Triple-A Norfolk.
Dec 12: Orioles select righties Brandon Bailey and Michael Rucker in Rule 5 Draft
It was no surprise the Orioles were active again in the Rule 5 Draft, where they have made at least one selection each year since 2006. The difference this time around was the opportunity they plan to give their two selections: the chances to win rotation jobs. That's an uncommon situation, but it's reality for Bailey and Rucker heading into Spring Training, where they'll likely be battling prospect Keegan Akin and at least one veteran for two back-end starting roles.
It'll be difficult, given that Rucker has made just two appearances at Triple-A and Bailey hasn't appeared above Double-A. But considering the Orioles' position, they saw the Rule 5 as a chance to infuse more young talent into the organization at a time when they need innings at the big league level. Their other starters at this point are limited to John Means, Alex Cobb and Asher Wojciechowski. More >
Dec. 9: Orioles claim right-hander Marcos Diplan from Tigers
The Orioles' first move of the Winter Meetings was a minor one, claiming the 23-year-old Diplan off waivers from Detroit. A swingman who reached Double-A in 2019, Diplan has shown swing-and-miss stuff in the Minors but struggled with command. He pitched to a 4.85 ERA across 38 games in the Brewers and Twins systems last year, averaging 9.6 strikeouts per nine innings but tallying 5.8 walks per nine. He profiles as relief depth.
Dec 5: Orioles sign Dilson Herrera to Minor League contract
The Orioles needed middle-infield depth even before trading Villar. Afterwards, acquiring it became a priority of their offseason. Flash forward three days and they swooped in to ink Herrera, the former Mets top prospect. A natural second baseman, Herrera played all over the field at Triple-A last season, also seeing time at third, first, left and right field. He should be given a chance to make the team out of Spring Training.
Dec. 4: Orioles trade Dylan Bundy to Angels for four pitching prospects
Only one of the returning prospects is ranked -- righty Kyle Bradish was the Angels' No. 21 prospect per MLB Pipeline -- but the Orioles liked the bundle package they received for Bundy, their most durable and longest-tenured starter. The others are all upside plays: Zach Peek, Kyle Brnovich and Isaac Mattson, the last a high-strikeout, home run-suppressing reliever who could be in the Majors by 2020.
On paper, this seemed like a good match: The Angels desperately need pitching; the Orioles really need prospects. It was also the type of tough-to-swallow pill that was always on the horizon for the rebuilding Orioles, who drafted Bundy fourth overall in 2011. He never developed into the ace they hoped he'd be -- Bundy debuted at age 19 in 2012, but didn't reach the Majors again until 2016; then after overcoming elbow, shoulder, ankle and knee problems, pitched like a roughly league-average starter since -- but he was a homegrown and dependable talent on a team with few left. More >
Dec. 2: Orioles trade Jonathan Villar to Marlins for left-handed pitching prospect Easton Lucas
Once the Orioles placed Villar on waivers five days prior to the non-tender deadline, his tenure in Baltimore seemed precarious at best. The Orioles were prepared to non-tender him at the deadline, until the Marlins showed the type of trade interest the O's had been seeking since late July. The result was this swap, in which the Orioles took a flier on Lucas, a 23-year-old unranked prospect, in exchange for arguably their most productive player from a year ago.
It was an unpopular move, but the type Elias has long hinted at since taking over Baltimore's front office with promises of a total rebuild. Villar was projected to earn upwards of $10 million in arbitration; the Orioles decided they would rather add an upside player to their growing stable of young arms than risk losing Villar to free agency next winter for nothing.
"It's hard to let him go but we have to keep the eye on our strategic objectives, which prioritize the future right now," Elias said. "We are gong to miss him but this is the right move for us on a number of levels." More >
Nov. 22: Orioles re-sign Mason Williams, ink 11 others
The Orioles announced a 12-player Minor League free-agent class just prior to Thanksgiving, headlined by center fielder Mason Williams. Williams, who appeared in 11 games for the club last September, was one of eight players re-signed for the 2020 season. The others were infielders José Rondón, Ryan Ripken and Jesmuel Valentín; catchers Martin Cervenka and Daniel Fajardo; righties Francisco Jiménez and Cristian Alvarado; and left-hander Hunter Cervenka. The Orioles also inked infielders Malquín Canelo and Ángelo Mora and lefty Rob Zastryzny to Minor League pacts.
Nov. 20: Orioles protect 4 from Rule 5 Draft
To protect them from the Rule 5 Draft, the Orioles selected the contracts of four top prospects: No.4 prospect Ryan Mountcastle, No.9 prospect Dean Kremer, No.11 prospect Keegan Akin and No.13 prospect Ryan McKenna. All are possibilities to appear in the Majors by the end of 2020. No corresponding roster moves were required due to Aaron Brooks' recent departure.
Nov. 12: Aaron Brooks released
The 29-year-old Brooks would likely have been in the mix to provide rotation or bullpen depth come spring, but the Orioles released him to allow him to pursue an opportunity in Korea. Brooks went 4-5 with a 6.18 ERA in 14 games (12 starts) for the Orioles in 2019, after arriving on a waiver claim from Oakland. He signed a one-year deal with KBO's Kia Tigers for $679,000.
Nov. 4: Ynoa elects free agency; Cobb reinstated
The Orioles, already searching for pitching, will need to replace the workload provided in 2019 by Gabriel Ynoa, who was outrighted off the roster, rejected an assignment to Triple-A and became a free agent. Ynoa went 1-10 with a 5.61 ERA in 36 games (13 starts) in 2019, his first full season in the Majors. He logged a career-high 110 2/3 innings – the third most on the Orioles' staff – while bouncing between the rotation and long relief.
Ynoa, 26, is 4-13 with a 5.39 ERA across 55 big league appearances for the O's and Mets, 20 of them starts.
The Orioles also reinstated right-handed Alex Cobb from the 60-day injured list in what was essentially a paper move. Cobb missed all but three starts in 2019 to back and knee issues, underwent hip surgery in June and is expected to be healthy by Spring Training. He takes the 40-man roster spot previously occupied by Mark Trumbo, who became a free agent at the conclusion of the World Series.
Oct. 30: Valaika claimed, five players outrighted
The Orioles' first attempt at acquiring middle-infield depth led them to the waiver wire and Valaika, who played parts of the past four seasons for the Rockies. A natural shortstop with experience at five defensive positions, Valaika enjoyed a 13-homer season as recently as 2017, but he spent most of 2018-19 in the Minors.
The move came as part of the first real roster reshuffling of Baltimore's offseason, the club also outrighting Mason Williams and four pitchers to Triple-A Norfolk: Josh Rogers, Ryan Eades, Luis Ortiz and Tayler Scott. All played minor roles for the Orioles in 2019.
Oct. 1: Sulser claimed
The Orioles concluded the regular season with an open spot on the 40-man roster and immediately filled it with another flier arm, claiming right-hander Cole Sulser from the Rays. A 29-year-old rookie, Sulser appeared in seven games for Tampa Bay in September and did not allow a run. The O's also claimed Eric Hanhold, a right-hander with a similar profile, from the Mets in mid-September.