Orioles Dream Week
January 26-February 1, 2020

Please check back for 2021 Dream Week information.
Join the team and live the dream at the 2020 Orioles Dream Week in sunny Sarasota, FL from January 26-February 1 and take part in the experience of a lifetime!
Be a part of 2020 Orioles Dream Week in Sarasota, and you'll have a chance to meet many of your favorite baseball heroes from over six decades of baseball in Birdland. Live out your childhood dreams of being a Major League Baseball player alongside former Orioles like Mike Bordick, Al Bumbry, Rick Dempsey, Mike Devereaux, Chris Hoiles, Scott McGregor, Orioles Legend Jim Palmer and many more.
Play games at the Orioles baseball facilities at the Buck O'Neil Baseball Complex and Ed Smith Stadium in Sarasota, FL, get instruction from the pros and hear the stories from the guys who lived the dream.
No matter your skill level, any Orioles fan age 30 or older will be thrilled by this experience of a lifetime.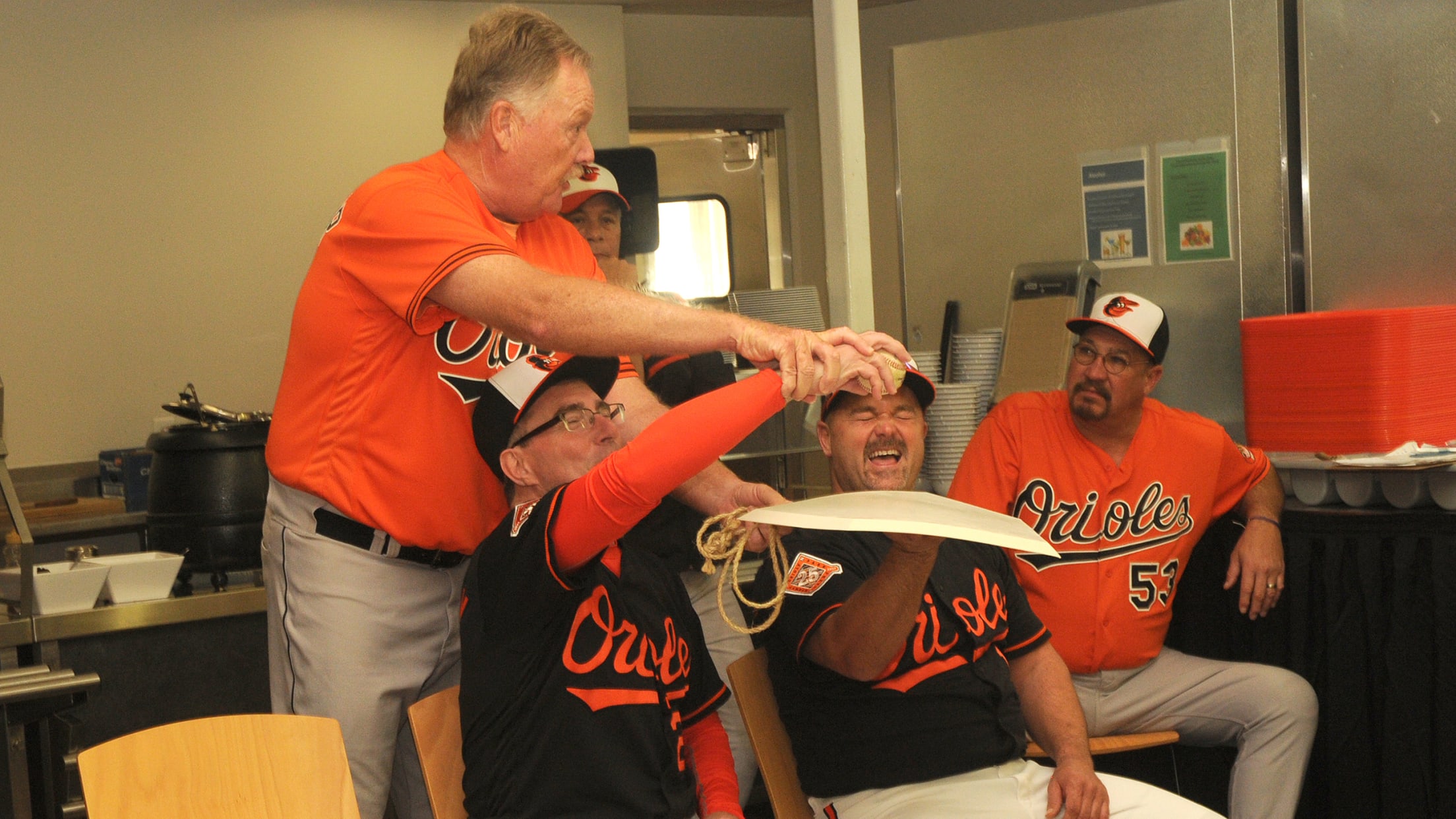 Standard Package Price: $4,900
Seven (7) days/six (6) nights hotel accommodations at Lido Beach Resort in Sarasota, FL

Roundtrip airfare between Baltimore and Tampa and ground transportation to and from Sarasota

Transportation to/from the ballpark each day

Breakfast and lunch each day at the ballpark, just like the big leaguers

Personalized authentic home and alternate Orioles jerseys and cap, along with other authentic accessories (pants, belt, socks). Bring your own glove and non-metal cleats.

Your own personalized clubhouse locker and access to playing equipment and batting cages

Games and instruction each day, including a game at Ed Smith Stadium, the Orioles spring training home
Access to the team clubhouse staff and medical ATC's (trainers).

Social events throughout the week, including an Opening Night Reception, mid-week barbecue at Ed Smith Stadium and Closing Night Awards Banquet

Q&A and autograph opportunities with the pros

Dream Week Camp

Video from the Orioles' award-winning video productions staff

Team and pro staff

photos as well as your own baseball card

Camp gifts and other extras

Reunion Game at Oriole Park at Camden Yards during the 2020 season!
Frequently Asked Questions
I haven't touched a baseball in 30 years and I don't want to make a fool of myself.
This is the single biggest concern among new campers. We can't stress enough that there is no pre-requisite for experience, talent or physical prowess. The camp is meant to be fun, and we have campers of all ages and abilities. All that is required is that you enjoy the Orioles and the game of baseball.
Do most people attend with a friend or attend on their own?
There really is a mix. Some friends and co-workers come down together, and there are father/son combinations, even mother/son, father/daughter and husband/wife combos. But about 75% of campers come down completely on their own. It's a chance to meet and socialize with other Oriole fans, and many lifelong friendships have gotten their start at Orioles camps.
What is the average age of a camper?
The minimum age to attend camp is 30 years old. Our campers range in age from 30 to 80+ years old. The median age at last year's camp was 54. Regardless of age, each camper has the same opportunity to play - as much or as little as they want to take part.
I'm a woman who loves baseball and would like to play. Can I take part?
Everyone is welcome to participate in Dream Week to experience the thrill of putting on an Orioles uniform. 
What equipment do I need for camp?
We provide authentic Orioles home and road uniform jerseys, as well as pants, belt, socks and undershirt. We also provide all bats, helmets, catchers gear and other general baseball equipment. Each camper should bring their own glove, non-metal cleats and any accessories they may want for the week (sunglasses, batting gloves, etc.).
Are there photographers and videographers available to capture the week's events?
Yes. We have professional photographers and videographers on site throughout the week to capture the events. You'll receive a team photo and one with all the pros. Additional photos will be available for purchase both at the camp and afterward. We provide a video after the Reunion Game as part of the package at no additional charge.
Are family and friends allowed at camp?
Yes. Friends and family are allowed to attend all games free of charge. We do discourage general fans from attending the games, as this is your time to be with the pros and we want it to be a special experience. If you wish to have your family member or friend attend the social functions and meals, these are available as part of the Fan Package which includes access to all events, transportation and other special amenities.
Do I need a rental car?
Transportation is provided to/from the Airport for those on the group flight, as well as between the hotel and ballpark each day. It is not necessary to rent a car, but some campers do to experience other parts of Sarasota.
What is the Dream Week Reunion game?
As part of the Dream Week package, all campers are invited to take part in a reunion game with their team at Oriole Park at Camden Yards during the 2020 season. There is no additional charge for playing in the game, but travel arrangements are on your own. The date of the game will be announced around the time of Dream Week.
What kind of physical shape should I be in for camp?
We recommend that ever camper try to be in the best shape possible to fully enjoy their Dream Week experience and will provide a training manual well ahead of camp. At the same time, we are not training to become professional athletes in one week so don't go overboard. Fun and moderation are the themes of the camp. The Orioles professional athletic training staff will be on-site at all times to help with any injuries or sore muscles that may arise.
Testimonials
The Dream Week experience was everything I hoped for and more. I can't decide if the most enjoyable part was the actual playing of the games on beautiful baseball diamonds or the easy access to the pros all week long.
- Bob Jacobsen
I thought the entire week in Florida was superbly managed. The facility is exquisite. The equipment men, dining staff and trainers were thoroughly professional and responsive to our needs…And most importantly, the pros, to a man, were personable, approachable and-even with the old "Dads" in camp - infinitely patient.
- Mark Kimble
Sometimes people sign up as infielders or outfielders, and you find out they can throw the ball okay, so they end up pitching. It's a chance for them to do something they never had a chance to do growing up.
- Mike Boddicker, 1983 ALCS MVP
I have sat beside Hall of Famers on the bench just like they were my teammates in little league and discussed baseball. I have had the best hitting instruction ever in my life…When you attend this event you actually become one of them and live every minute as they do and they are very normal guys and love us fans!
- Bob Shawver
The coolest thing is getting to know the pros, sharing a little of the life they led, hearing their stories. It's a whole bunch of people getting together, sharing the love of baseball. It's a big alumni group and I'm just happy to be a part of it.
- Mitch Ohl
What a fantastic, first-class, red carpet experience!! Great Great Time!!!!
- Ken Fey
Wearing the Orioles uniform… playing on immaculate fields with like-minded O's fans… hanging with former Orioles I grew up watching… Priceless!
- Sean Sesney
I hope the campers have as much fun as us pros do. I practically begged the staff to bring me back!
- Alan Mills, former Orioles pitcher