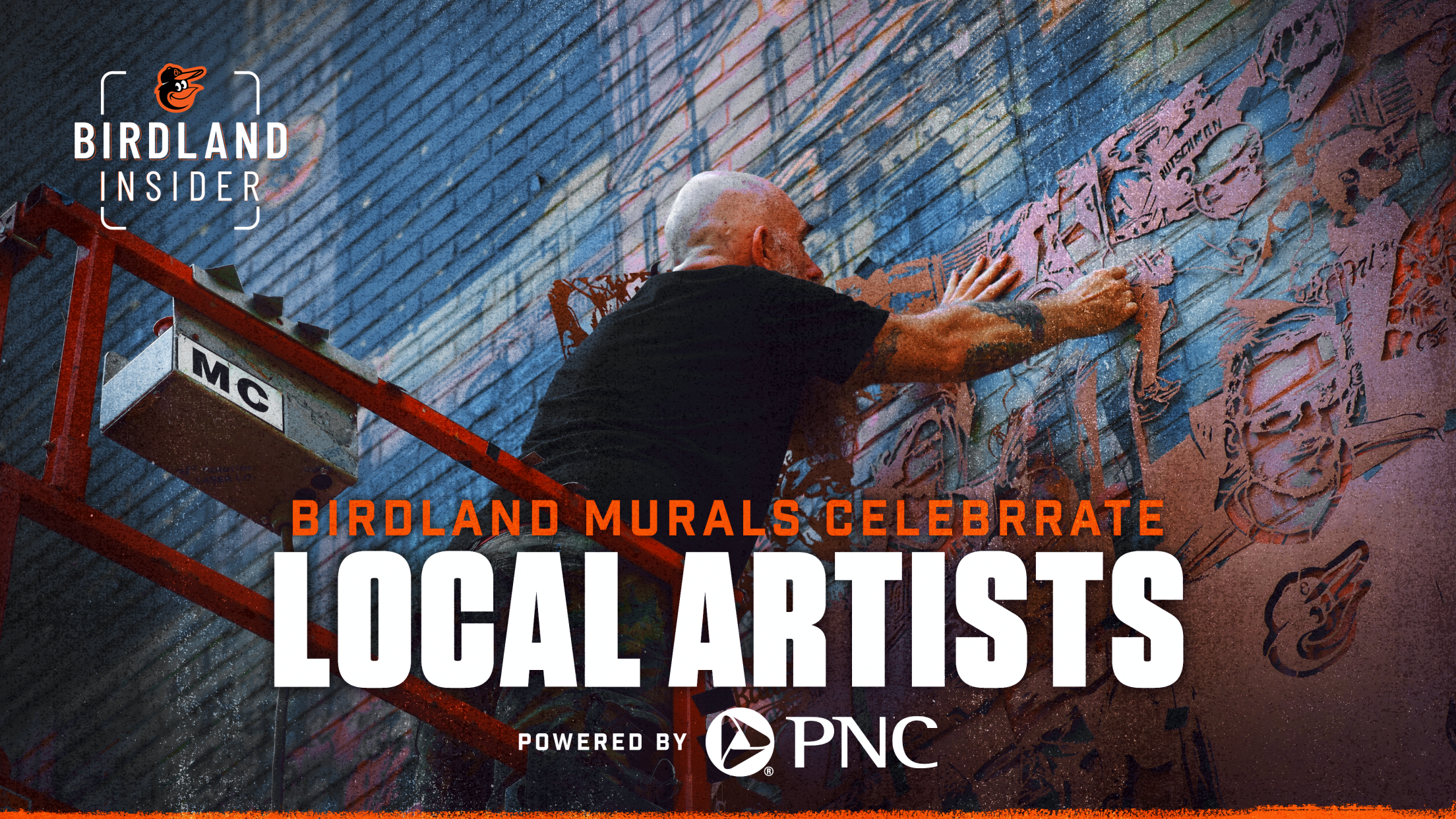 Scroll
Birdland Murals Celebrate Local Artists
Earlier this year, the Orioles unveiled the latest mural installations as part of the Birdland Murals series, powered by PNC Bank. The murals, featured at Oriole Park at Camden Yards and in the Waverly neighborhood, near the location of old Memorial Stadium on East 33rd Street, highlight Baltimore's vibrant arts community and give fans the chance to experience the incredible talents of several local artists.
"We are thrilled to build upon our partnership with PNC Bank to continue to support local artists and to highlight the importance of the arts in our communities," said Jennifer Grondahl, Orioles Senior Vice President, Community Development & Communications.
"PNC Bank is again honored to sponsor these important works for the benefit of all Oriole baseball fans and the Baltimore community in general," said Laura Gamble, PNC Regional President for Greater Maryland. "These murals are a window to Baltimore's celebrated past and shine a light on the future of our great city."
The Oriole Park mural, which is located near Legends Park and the Bullpen Picnic Area, was created by globally renowned artist Logan Hicks. The mural depicts a bustling Eutaw Street, celebrating the more than 72 million fans and visitors Oriole Park has brought to downtown Baltimore since the ballpark opened in 1992.
A Baltimore native, Hicks graduated from the Maryland Institute College of Art in the early 1990s. He is known for his impressive and hyperrealistic multi-layer stencils. Hicks creates stencils based on pictures. His works typically have more than five different layers, cut out piece-by-piece and painted one on top of each other. The result is hyperrealistic art showing urban situations in an exceptional nocturnal light. His work was featured as a part of the opening of Urban Nation Museum in Berlin, Germany in 2017.
The mural located on the 400 block of East 33rd Street was created by Thomas Evans, a.k.a. Detour, and Nether. It celebrates the Orioles' connection to the Waverly community and features a young man wearing a City College baseball cap, as well as a depiction of Memorial Stadium.
Thomas Evans, a.k.a. Detour, specializes in large scale public art, interactive visuals, portraiture, immersive spaces and creative directing. He focuses on creating work that brings art and innovation together. A born collaborator and "military brat," Detour pulls from personal experiences to help shape his landscapes. Detour focuses on expanding customary views of creativity and challenging fine-art paradigms by mixing traditional mediums with new approaches, all the while opening the creative process to multi-layered collaboration and viewer participation.
Originally from Baltimore, Nether has been painting murals in Charm City, as well as nationally and internationally, for 10 years. He is committed to painting murals that celebrate Baltimore's unique cultural heritage.
The Birdland Murals series, powered by PNC Bank, began in 2019 and currently features four murals, all of which can be found throughout Oriole Park. For more information on the Birdland Murals series, visit Orioles.com/Murals.