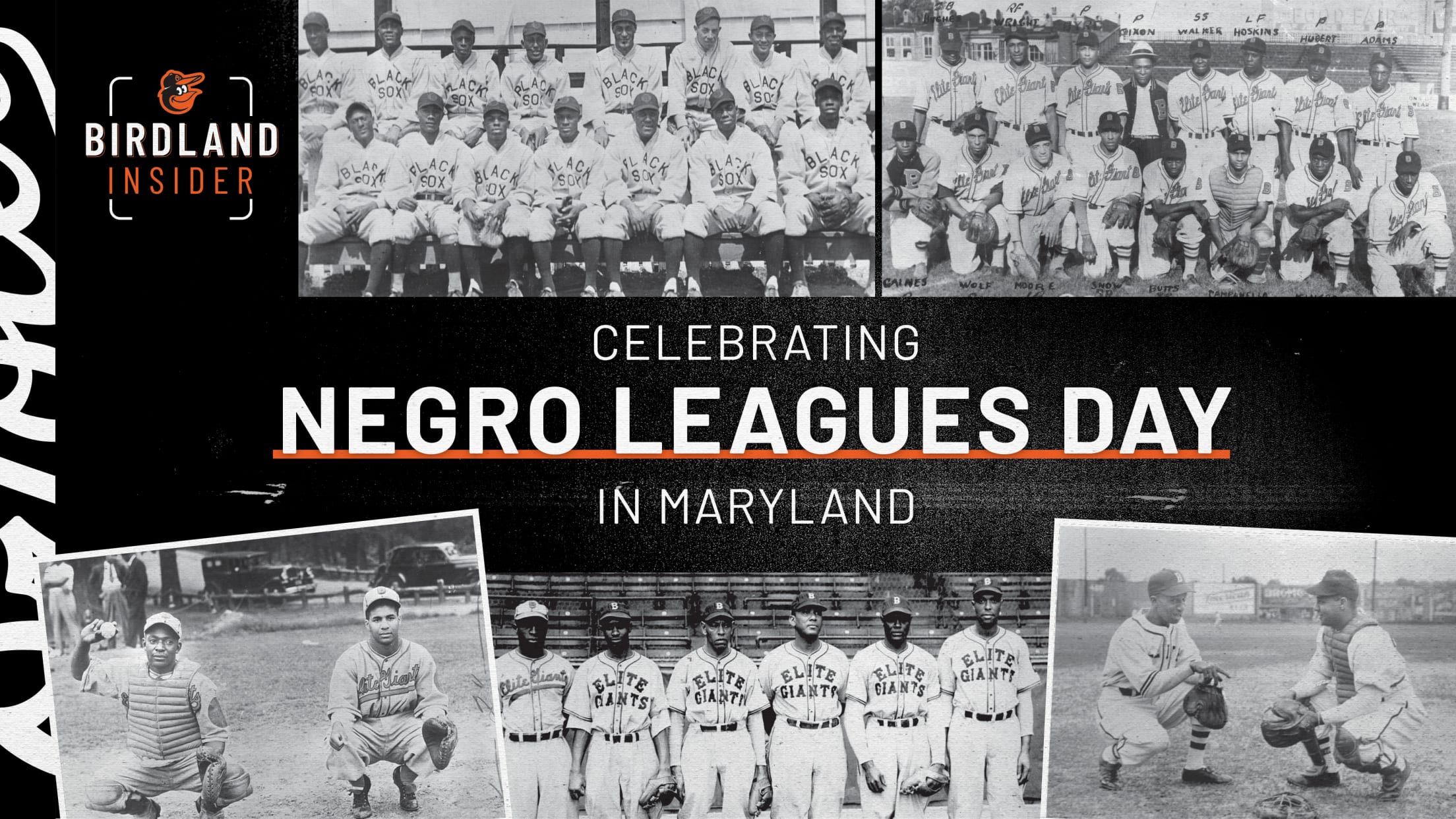 Scroll
Celebrating Negro Leagues Day In Maryland
How Baltimore's Negro Leagues teams stack up against the Orioles, old and new
Since 2009, the second Saturday in May has been celebrated as Negro Leagues Day in Maryland, following the state legislature's passing of a bill to celebrate the deeds of those who played for the Baltimore Black Sox and Baltimore Elite Giants before "organized baseball" – as the Major Leagues and Minor Leagues were called – became integrated.
Saturday, May 8 marks the 13th Negro Leagues Day in Maryland and the first since Commissioner Rob Manfred bestowed Major League status on seven leagues last December. The decision means that approximately 3,400 players in leagues that operated between 1920 and 1948 are considered part of the Major Leagues. Their statistics thus become part of Major League history.
Included in that decision are the records of two teams that played in Baltimore during that time: the Black Sox, who played from 1916 through 1934 in four leagues and as an independent team, and the Elite Giants, who moved to Baltimore in 1938 and played in two leagues through 1950.
So, if one were to compile a list of all-time "Baltimore Major League" records held by players, how many of the Black Sox or Elite Giants would erase marks held by the old Baltimore Orioles of the 1890s, the original American League franchise of 1901-02, or the current franchise, which began playing in Baltimore in 1954?
It's difficult to compare, because there still is debate over exactly what Negro Leagues statistics "count," given the scarcity of some records and the many non-league games that Negro Leagues teams played during that time.
Many records in the Seamheads.com data base – the largest, most complete compilation of Negro Leagues records and statistics – include not only exhibition games played against non-league teams, as well as All-Star Game and Postseason statistics. Some argue that is akin to including those stats as well as Spring Training game statistics among the regular season Major League stats.
Negro Leagues teams played, on average, from 50 to 70 games during a regular league season. The 1929 Black Sox, who won the American Negro League championship with a 46-20 record, played 23 other games against various independent, amateur and all-star teams. The player records are counted in each game.
So how to compare a season that is roughly one-third to one-half as long as the Orioles play?
Still, there is no doubt that some of the numbers compiled by some of Black Sox and Elite Giants would rank right there with the old and new Orioles.
Jud Wilson, who played first and third base for the Black Sox for 9 years, from 1922-1930, had the longest Baltimore career among Negro Leagues players. His .389 batting average and 1.052 OPS (on-base plus slugging percentage) over that time would easily top any record held by anyone from the older Orioles franchises or the current Orioles – and his total at-bats (1,727) would easily qualify among modern Orioles records despite playing only 472 games with the Black Sox in those 9 years. (Wilson played 24 total years in the Negro Leagues, with a career .358 batting average according to Seamheads.com.)
At that same time, his .495 batting average for the Black Sox in 1927 – "arguably the most impressive batting performance in professional baseball history" – according to Bernard McKenna in his book, "The Baltimore Black Sox: A Negro Leagues History, 1913-1936" – was accomplished in only 28 games. That is about a month of a current big league season.
"Wee" Willie Keeler batted .424 for the 1897 Orioles, playing 129 of the team's 130 games. And Keeler batted .345 over his 19-year career, playing nearly twice as many games as Wilson.
Midnight Smith, a pitcher for the Black Sox, struck out 17 batters in a game in 1921 against the Aberfoyle team from Wilmington, Delaware – better than the 15 strikeouts in a game posted by Erik Bedard and Mike Mussina (twice) for the current Orioles franchise record.. But the Aberfoyle team was an independent clubs, not in a sanctioned league, so the record remains fuzzy.
The 1929 Black Sox won the American Negro League championship with a record of 46-20 – a pace which would have them win 113 games in a current Major League season of 162 games. Their centerfielder, Rap Dixon, reportedly went 6-for-6 in a game at Pittsburgh's Forbes Field (matching Cal Ripken's club record at Atlanta on June 13, 1999) and followed that by going 8-for-8 in a doubleheader – 14 consecutive hits, two more than the all-time Major League record and four more than Ken Singleton's Orioles record. Dixon also walked twice during that stretch, giving him 16 straight times reaching base safely, three more than the Orioles' record held by Jim Dwyer (1982) and Harold Baines (1993). Cincinnati's Piggy Ward holds the MLB record with 17 straight times reaching base in 1893.
Dixon is also known for discovering pitcher Leon Day on the sandlots of Baltimore. Day went on to an 11-year career in the Negro Leagues, which included two games for the 1934 Black Sox, and was elected to the Baseball Hall of Fame in 1995.
Day is one of nine players who spent at least part of their career with the Black Sox or Elite Giants who have been elected to the Baseball Hall of Fame. The others:
* Jud Wilson, the Black Sox slugger from 1922-30
* Infielder Ray Dandridge, 1933 Elite Giants
* Outfielder Pete Hill, 1924-25 Black Sox
* Biz Mackey, who caught 2 years for the Black Sox and caught and managed 4 years for the Elite Giants
* First baseman Mule Suttles, 1930 Black Sox
* Ben Taylor, a first baseman for the Black Sox for four years in the late 1920s
* Third baseman Willie Wells, 1946 Elite Giants
* Roy Campanella, a catcher for the Elite Giants for seven years before being signed after the 1945 season by the Brooklyn Dodgers, where he earned three National League Most Valuable Player awards and was an 8-time All-Star.
That list compares favorably to the National League Orioles of the 1880-90s: Candy Cummings, Ned Hanlon, Hughie Jennings, Willie Keeler, Joe Kelley and John McGraw; and the 1901-02 American League Orioles: Roger Bresnahan and Joe McGinnity.
It may even compare to the 23 current Orioles players, managers and executive selected to the Hall of Fame over 67 seasons: Roberto Alomar, Luis Aparicio, Harold Baines, Pat Gillick, Vladimir Guerrero, Whitey Herzog, Reggie Jackson, George Kell, Lee MacPhail, Eddie Murray, Mike Mussina, Jim Palmer, Tim Raines, Cal Ripken, Robin Roberts, Brooks Robinson, Frank Robinson, John Schuerholz, Lee Smith, Jim Thome, Earl Weaver, Hoyt Wilhelm and Dick Williams.
Some of the actual Negro Leagues statistics may still be up for grabs, but its players' place in the game is not. It is as secure as the Negro Leagues' presence in Baltimore's Major League Baseball history, thanks to the Black Sox and Elite Giants.