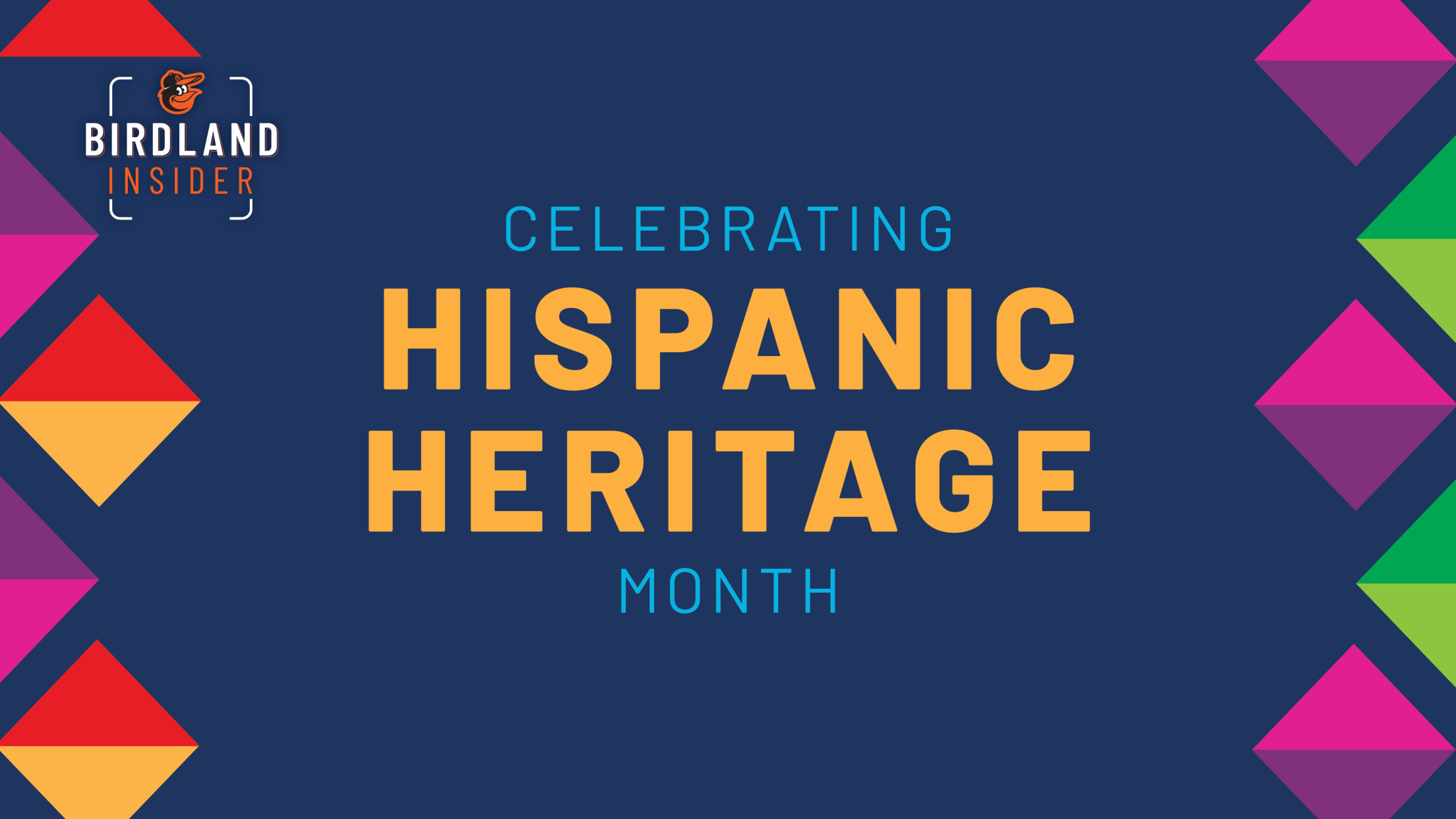 Scroll
Orioles Join Major League Baseball in Celebrating Hispanic Heritage Month
Proud. Honored. Blessed. When Orioles players and coaches were asked how they felt growing up in Latin America, those were the words that came to mind.
"I am very proud, same as my counterparts, to live there and grow up there," said catcher Pedro Severino, who was born and raised in Bonao, Dominican Republic. "It's such a beautiful country, so I'm just very proud and happy to be born there."
From September 15 through the end of the season, the Orioles will join Major League Baseball in celebrating Hispanic Heritage Month, allowing Latino players to share and celebrate their home countries with fans.
Hispanic Heritage Month also gives players and coaches a chance to reconnect with the place they call home. A place many of them have to leave to live their dreams.
"Unfortunately, due to the pandemic, I haven't been able to go as often as I want," explained outfielder Anthony Santander, a native of Venezuela. "In a normal year, I would go as soon as the season is over."
Relief pitcher Fernando Abad splits his time in the offseason between Miami with his dad and the Dominican Republic with other members of his family, including his son. While he is there, he tries to spend as much time as he can with his family, prepare for the upcoming season, and eat as much home cooking as possible.
"When I'm back home, my mom makes patimongo which is a very popular dish," said Abad. "It's one of my favorites, she makes it at least once a week. I also like locrio which is a combination of rice with chicken or a pork chop, or some local sausages. So, I have several dishes [I enjoy]."
When it comes to missing home, there are two things the players miss more than anything: their families and the food.
"The meals, and my family," said relief pitcher Marcos Diplán, who resides in Santiago, Dominican Republic. "That's the things I miss the most."
Diplán's favorite foods are goat, white rice, salami, cheese, and mangu. Mangu, a traditional Dominican breakfast food made of mashed green plantains and topped with pickled red onions -- usually eaten with fried cheese and salami or added to bacon or sausage and eggs --is also the favorite meal of catcher Pedro Severino and infielder Kelvin Gutiérrez.
Infielder Jorge Mateo prefers Dominican dumplings with salami. Infielder Ramón Urías loves tacos, especially seafood tacos prepared in his hometown of Magdalena de Kino, Mexico.
The players and coaches also miss the nature of their home countries.
"I love nature," explained Severino. "Every offseason I go back home and I try to spend it in the country area. I'm just trying to be out there and be one with the nature. I have horses, I have ducks, I have cows, I have a few other animals on a property of mine and I really enjoy spending time with them."
Assistant hitting coach José Hernández also takes time to appreciate the nature when he makes it home to Dorado, Puerto Rico. During the offseason he spends most of his time at the beach with his family, the two things he misses the most while he is away.
The offseason also serves as a time to reconnect with their families. That means enjoying family traditions, especially Christmas Eve.
"We celebrate Christmas on December 24," said Major League coach Fredi González. "That's when we get the big meal, the black beans, the pork, the yuca, all that stuff going on. And in January we have the Three Kings. A lot of Latin American countries celebrate the Three Kings. We celebrate a lot of the Latin traditions."
For Gutiérrez and his family, they celebrate a new tradition since he began his Major League career..
"Once I'm done doing my job here in the states, I go home and celebrate my achievements of that season with my family," said Gutiérrez. "And that's one of the biggest things for me."
Santander's favorite traditions revolve around Sundays. During the offseason, Sundays are the time he and his family get together to hang out and watch movies.
Being away from their homes and their families is not easy for any of the Latino players. But it helps for them to know they are living their dreams and representing their home countries, just like the players who came before them. For Jorge López, he is honored to follow in the footsteps of Puerto Rican legend Roberto Clemente.
"I think he represented our country in such a way, and he dignified our country," explained López. "He is definitely one of my heroes and my favorite players."
For the Dominican players -- Severino, Gutiérrez, Diplán, and Mateo – their idol was Manny Ramirez. Urías grew up admiring fellow Mexican native Vinny Castilla.
"My biggest motivation was Vinny Castilla," recalled Urías. "He was a big player and I'm a big fan of his. I always wanted to emulate him and try to play like him."
More than anything, the thing that motivates Latino players the most is the knowledge that their families back home are proud of them for living their dreams.
"I grew up in Hermana in 1985, a very humble neighborhood, and a very humble family," recalled Abad. "My family was really poor, and my dream was always to be a Major League Baseball player, like I am today. My dream came true when I made my debut on July 28, 2010. Ever since then, I've been fortunate to play at the Major League level. My family is proud of me because I work hard to make my dream come true."