Baltimore Orioles 2020 Season Updates
Statements from the Baltimore Orioles
March 12, 2020
The Orioles organization is fully supportive of Major League Baseball's decision to suspend Spring Training games and to delay the start of the 2020 regular season. The health and safety of our players, fans, staff, and partners will always be our top priority. We will communicate additional details directly to fans when they became available, as this is a rapid-evolving situation. We encourage everyone to continue to follow the important guidelines established by the CDC and other public health organizations.
---
March 17, 2020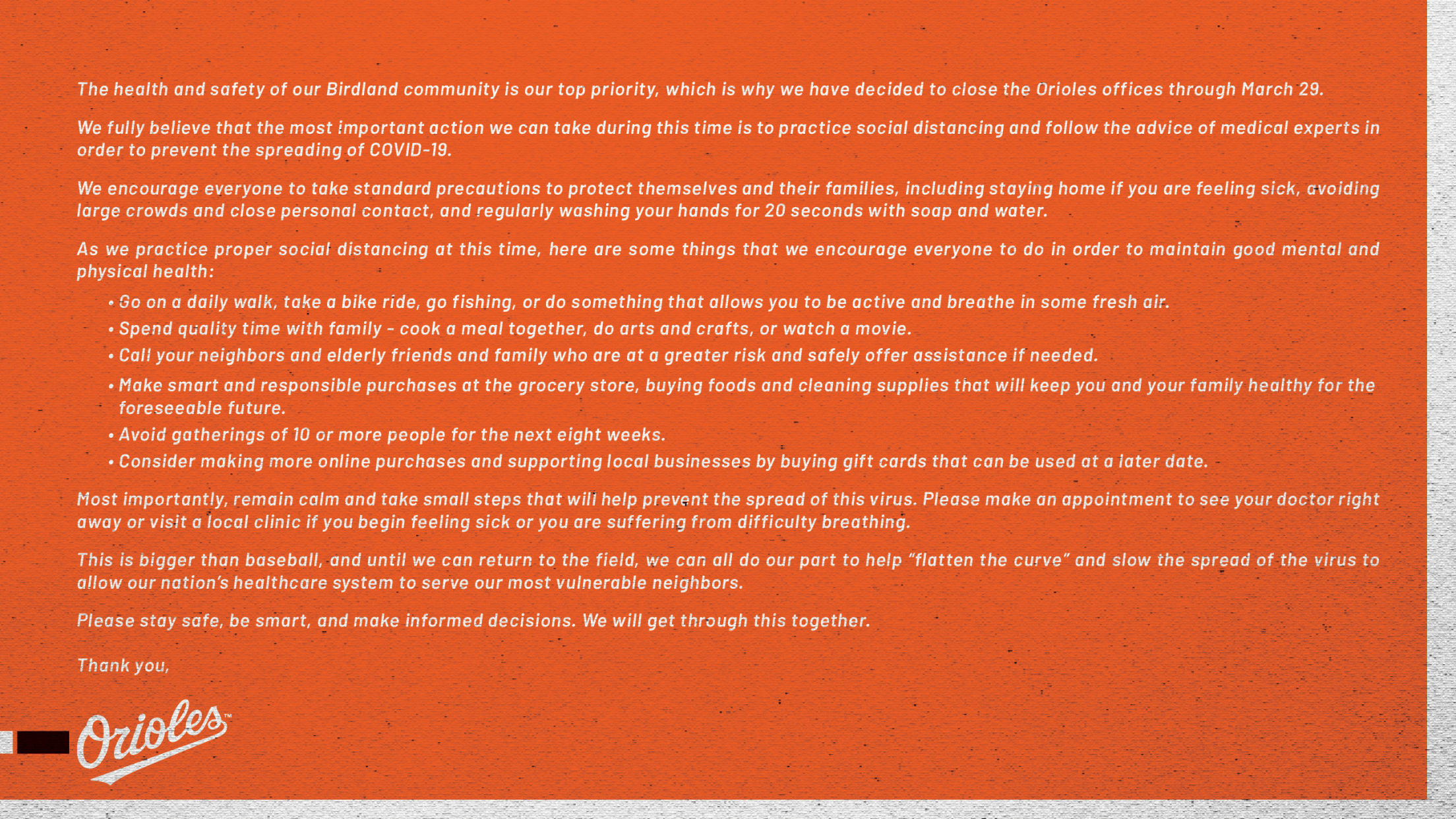 Sarasota Ticketing Policy
Refund policy for 2020 Spring Training games at Ed Smith Stadium:
Sarasota Season Plan Members will be automatically refunded for game tickets and parking purchased for remaining games at Ed Smith Stadium.
Fans who purchased tickets through Ticketmaster, Orioles.com, StubHub, or at the Ed Smith Stadium box office will automatically receive a refund to the credit card that was originally used for purchase.
Fans who purchased tickets with cash should send the original game tickets for a refund via certified mail to:
Baltimore Orioles
Spring Training Ticket Refunds
Ed Smith Stadium
2700 12th Street
Sarasota, FL 34237
Group Tickets will be refunded to the group leader who purchased them.
Fans who purchased tickets through a third-party ticket vendor (other than StubHub) should contact that vendor to obtain a refund.
In the interest of public health, the Ed Smith Stadium Box Office will not be open for refunds. Fans with questions should call (941) 893-6312 or email [email protected].
Baltimore Ticketing Policy
The Orioles realize fans have many questions, and we are working through all of the effects of this announcement on everything from ticketing to ballpark operations. We will communicate updates using our social media platforms and Orioles.com to inform fans of our policies and procedures as soon as we are able to, updating as necessary along the way. We expect to be able to provide answers to all ticket related policy questions shortly after MLB is able to announce the changes this situation will have on the 2020 schedule. These are unprecedented times, and circumstances may change by the hour. We thank you for your patience, and we wish you and yours the best of health during this difficult time.
FAQ's
What's going to happen with the rest of Spring Training?
Forthcoming Spring Training games were canceled as of 4 p.m. ET on Thursday, March 12, and 2020 World Baseball Classic qualifying games scheduled in Tucson, Ariz., were postponed indefinitely.
Is the exhibition game scheduled for Tuesday, March 24 between the Orioles and Mets on the U.S. Naval Academy campus also canceled?
Yes, the Orioles-Mets exhibition game is also canceled. If you are a ticket holder to this event, you will be receiving a refund for your purchase. Refunds should be processed by March 18.
When will the regular season start?
There is no official start date for the season at this time. What we do know is that the start of the season will be delayed at least six weeks. Opening Day had been scheduled for Thursday, March 26. MLB will continue to evaluate ongoing events leading up to the start of the season. Guidance related to daily operations and workouts will continue to be relayed to all 30 clubs as the information becomes available.
How will the schedule change to accommodate the late start?
According to the release sent by MLB, the league and teams have been preparing a variety of contingency plans regarding the 2020 regular-season schedule. MLB will announce the effects on the schedule at an appropriate time and will remain flexible as events warrant, with the hope of resuming normal operations as soon as possible.
I have tickets to the regular season home opener, what does this mean for me?
MLB will announce the effects on the league-wide 2020 regular-season schedule at a future date. All ticket holders for impacted games will be notified of our ticket policies once the 2020 schedule is finalized.
What about Minor League Baseball?
Minor League Baseball announced on Thursday, March 12, that the start of its regular season, originally scheduled for April 9, will be delayed indefinitely. Like Major League Baseball, Minor League Baseball will continue to evaluate the ongoing events leading up to the start of the season.