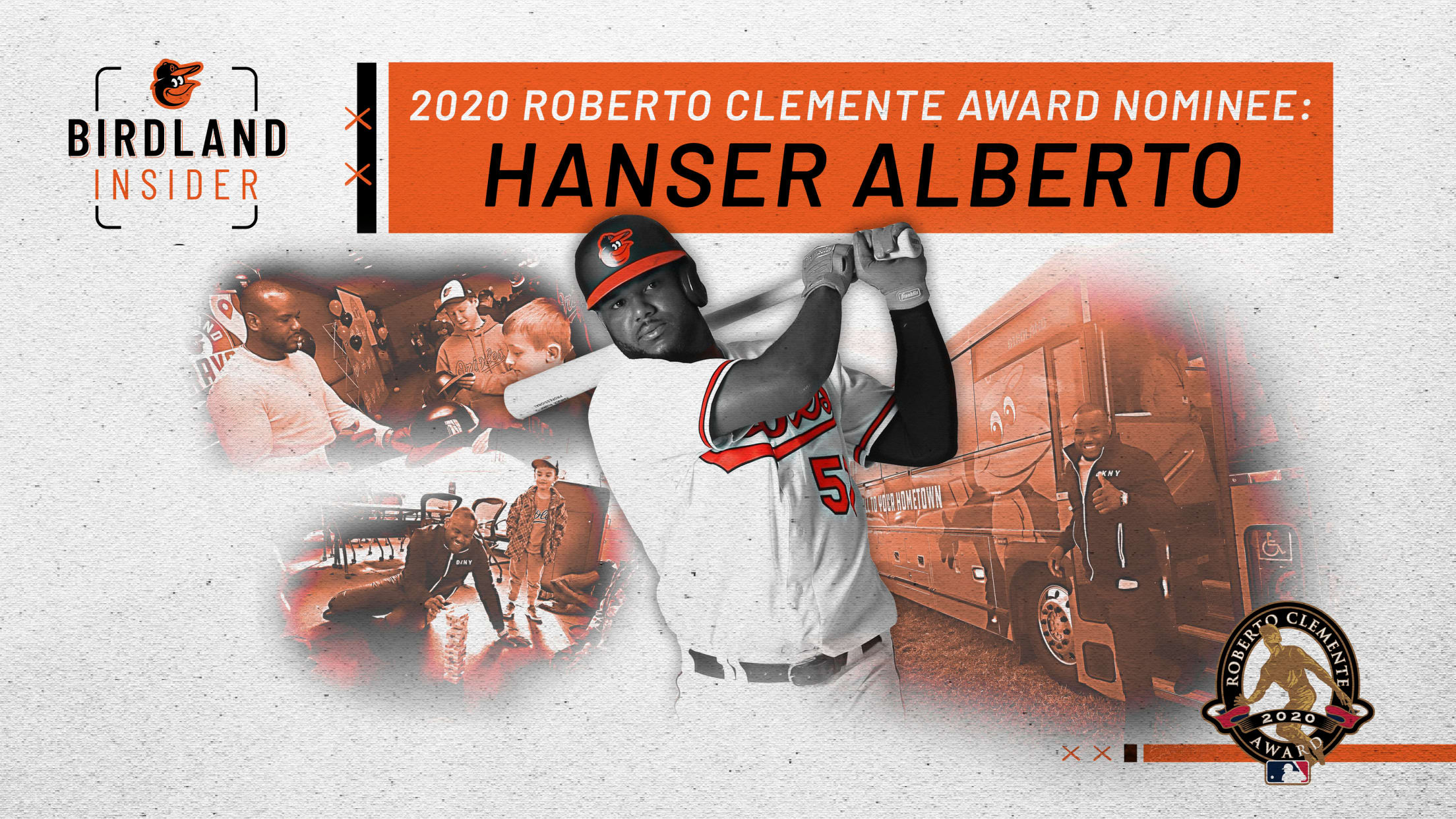 Scroll
2020 Roberto Clemente Award Nominee: Hanser Alberto
Hanser Alberto grew up in the Dominican Republic with very little to his name, but learned from an early age the importance of helping others and never giving up. His father, a gifted athlete and aspiring baseball player, tragically lost his hand during a workplace accident. Still, he continued working to provide for his family, and even learned to play baseball one-handed so he could continue to play the game he loved. Watching his father persevere at work and with baseball instilled a "never give up" mentality in Hanser, which pushed him to work hard in hopes of making it to the big leagues. Having experienced hardships during his youth, Hanser believes his responsibility as a Major League player is to help others and improve the lives of those in his community.
In the face of the COVID-19 pandemic, Hanser made it his mission to support his hometown as his community navigated an unprecedented crisis. In May, San Francisco de Macorís was the center of the Dominican Republic's COVID-19 pandemic and access to the city was completely restricted. Hanser and his family worked with former teammates Elvis Andrus, Adrián Beltré, and Robinson Chirinos to help distribute food, medicine, and other essential items to more than 500 families in need. To help combat the COVID-19 pandemic in Baltimore, Hanser has recorded essential public health announcements for the Maryland Department of Health in both English and Spanish, making critical health and safety messages accessible for all.
Hanser is the Orioles "go-to guy" for community service projects and appearance opportunities. "I like to go in the community. I always want to be able to do stuff to help them and show them that we are with them, especially in the pandemic," Hanser shared.
Besides being baseball players, we are humans. We have feelings and all we want is the best for people - not just in my country but around the world and here in Baltimore.
This offseason, Hanser joined Orioles Executive Vice President and General Manager Mike Elias during the Birdland Caravan to visit Fort Meade, Maryland's largest military base. The two spent the afternoon with the Better Opportunities for Single Service Members (BOSS) program, which provides unique and engaging experiences for service members who are on the base without their families or loved ones nearby. Hanser and Elias helped boost morale by joining the Gaming Club in playing board games and interacting with active duty service members. In addition, Hanser has recorded instructional training videos to engage with young athletes through the Orioles Digital Kids Corner, and regularly participates in the club's year-round community initiatives.
As a champion for his hometown, Hanser has worked tirelessly to provide for the San Francisco de Macorís community through his family foundation, which he launched in 2015. During the 2019 offseason, Hanser participated in "Game of Legends" in Santo Domingo, an annual charity exhibition and home run derby featuring current and former Dominican Major League players to benefit the St. Jude Foundation. He also visited the Hospital Infantil Regional Universitario to donate holiday gifts to patients, providing toys for over 500 children.
As part of this nomination and in recognition of Hanser's exemplary commitment to serving his community, the Orioles Charitable Foundation will match MLB in donating $7,500 to charities of Hanser's choosing. The $15,000 donation will be split between Fundación Alberto Brito, the Alberto's family foundation serving their hometown of San Francisco de Macorís, Dominican Republic, and a Baltimore-based charitable organization.
"It means a lot. I appreciate the Orioles for choosing me for this award. I feel really grateful," said Hanser. "That's what we want to show - we don't want to just try to do good on the field, but off the field too. Hopefully God will keep me healthy for many, many more years and I can keep doing what I'm doing."
The league-wide winner of the Roberto Clemente Award will be selected via a blue ribbon panel, including Baseball Commissioner Robert D. Manfred, Jr., representatives from MLB-affiliated networks (MLB Network, FOX Sports, ESPN and TBS), MLB.com, and Roberto's children, Enrique, Luis and Roberto Clemente, Jr.
From now until the conclusion of the regular season on Sunday, September 27, fans can vote for the overall winner of the Roberto Clemente Award at mlb.com/clemente21. The winner of the fan vote will count as one vote among those cast by the blue ribbon panel.