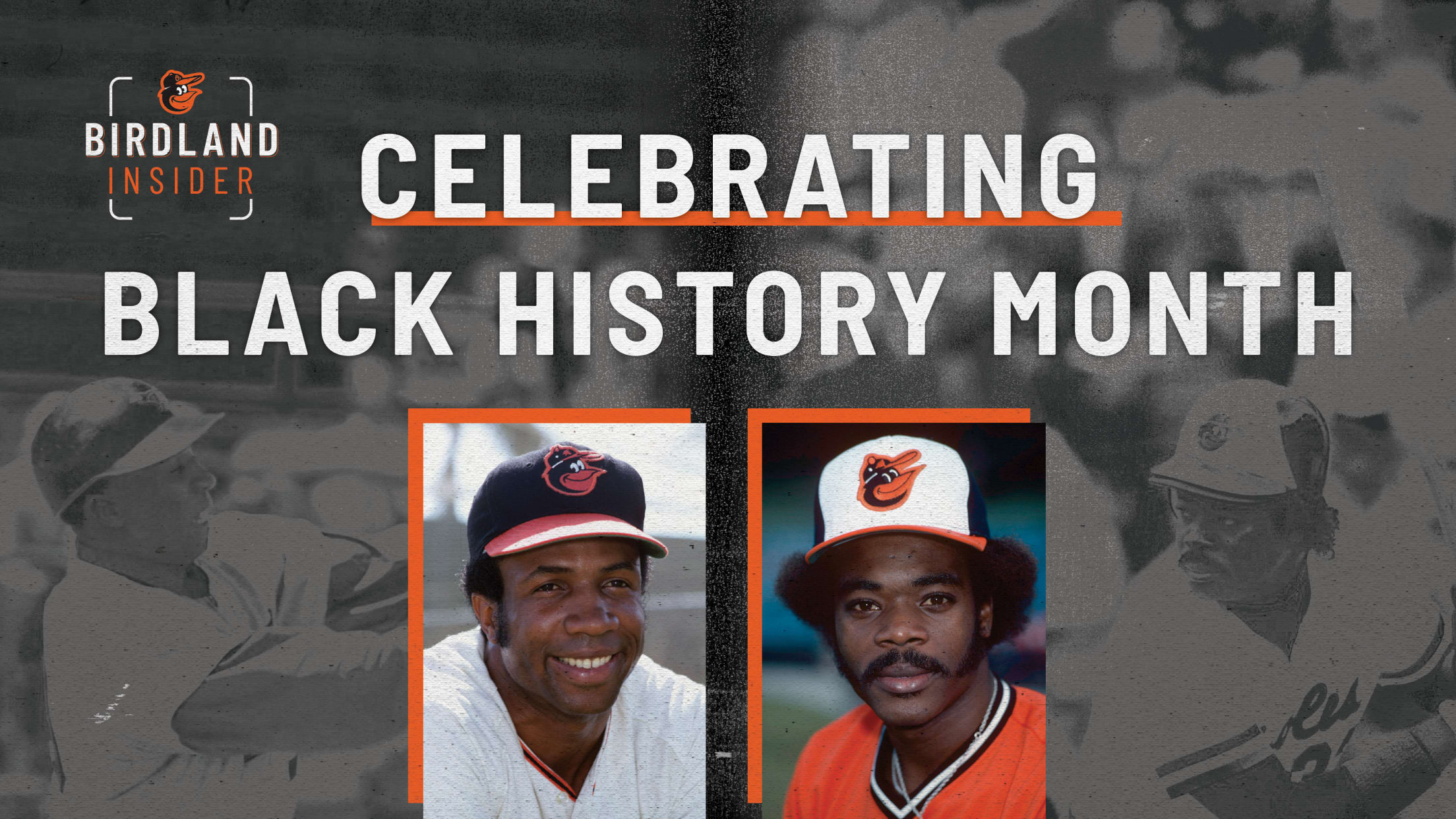 Scroll
Celebrating Black History Month
From Jehosie Heard, who pitched in two games in the Orioles' first season in 1954, to outfielder Cedric Mullins, who tripled twice in the final game of the Birds' abbreviated 2020 season, the Orioles have had 134 African American players through their 66-year history.
Some, like Heard, a former Negro League player who was past his prime when he signed into organized baseball, or outfielder Drungo Hazewood, whose big league career consisted of five hitless at-bats in 1980, had short stays with the club. Others, like Mullins, who has played 115 games over the past three seasons, or reliever Dillon Tate, who has made 28 relief appearances over the past two seasons, are youngsters filled with promise who the Orioles hope will be part of the club's renaissance in the coming years.
And there are those who had their "one shining moment" in team lore, like Tito Landrum, whose dramatic home run in Game 4 of the 1983 ALCS launched the Orioles into the World Series, or Robert Andino, whose final inning base hit in the 2011 season finale ended the Postseason hopes of the Red Sox.
Along with those are Black players whose exploits on the diamond have contributed greatly to the rich history of the game and the Orioles organization – some of them even inducted into Baseball's Hall of Fame in Cooperstown, NY.
In honor of Black History Month, we celebrate African American players whose records have stood out, and who have been – or no doubt will be – inducted into the Orioles Hall of Fame.
Harold Baines
The St. Michael's, Md. native spent three tours of duty with the Orioles in a 22-year Hall of Fame career. He hit .301 in seven seasons with the O's and hit .289 with 384 home runs in his career. One of the elite DHs of all-time, Baines was elected to the Orioles Hall of Fame in 2009.
Paul Blair
A seven-time Gold Glove centerfielder who played 13 years for the Orioles. Blair won two World Series titles with O's and two more with Reds and Yankees. He was elected to Orioles Hall of Fame in 1984 and served as a community ambassador before his untimely death in 2013.
Don Buford
The outfielder spent half of his 10-year playing career with the Orioles (1968-72) and later served as a coach, minor league manager, and director of minor league operations with the O's. He was elected to the Orioles Hall of Fame in 1993. Buford currently operates a sport and educational academy in Los Angeles and works with the MLB's RBI program there.
Al Bumbry
Bumbry was the AL Rookie of the Year in 1973 and the first Oriole to ever record 200 hits in a season. He spent 13 seasons with O's and was elected to the Orioles Hall of Fame in 1987. He has made numerous community appearances on behalf of the Orioles over the years.
Eric Davis
Davis spent the 1997-98 seasons with the Orioles during his 17-year career. He underwent colon cancer surgery in June of '97 and returned before season's end to help see the club to the Postseason. He set the Orioles' record with a 30-game hitting streak in 1998.
Joe Durham
The former Negro Leaguer was the first African American to homer for the Orioles in their inaugural 1954 season. He worked for the club in various baseball and community capacities for 25 years after retiring before passing away in 2016.
Jehosie Heard
The left-handed pitcher was the first African American to play for the Orioles in 1954, appearing in just two games. He had never played baseball before being drafted to the Army in World War II, but played for his base team and then in the Negro Leagues after his service.
Adam Jones
A five-time All-Star and four-time Gold Glove winner in his 11 years with the Orioles, Jones ranks among the club's top five all-time in hits, runs, home runs, RBI, total bases, and extra-base hits. He is currently playing in Japan and is a regular supporter of Boys & Girls Clubs nationwide. Jones also continues to support numerous local charities including Sharp Dressed Man, Living Classrooms, and MLB's RBI program.
Tito Landrum
The outfielder joined the Orioles late in the 1983 season. He became a Baltimore legend when his 10th-inning homer in that year's ALCS Game 4 at Chicago broke a scoreless tie and propelled the Orioles into the World Series, where they beat the Phillies.
Lee May
In his six years with the Orioles from 1975-80, May averaged 20 homers and 81 RBI per season and mentored a young Eddie Murray at first base. May helped give Brooks Robinson his nickname, "The Human Vacuum Cleaner," after being robbed by the legendary third baseman numerous times in the 1970 World Series. May later coached for several teams including the Orioles, before he passed away in 2017.
Alan Mills
Popular relief pitcher who had two stints with the Orioles, he wore #75 – issued to him in Spring Training and keeping it as a motivator after making the roster. He has coached or managed in the Orioles system since 2012 and currently serves as manager of the Gulf Coast League Orioles.
Eddie Murray
Steady Eddie's Hall of Fame career included 13 years with Orioles. He is one of six players in baseball history with 3,000 hits and 500 homers. His #33 was retired by the Orioles in 1989 and he was inducted to Baseball's Hall of Fame in 2003. Murray holds the MLB record for most games by a first baseman, and ranks 10th all-time in RBI, which is the most by a switch-hitter.
Frank Robinson
The 1966 AL MVP and Triple Crown winner turned the Orioles into champions in his six seasons in Baltimore. A Hall of Famer who hit 586 career homers, he is one of only two men to play, coach, and manage for the Orioles. He was the first Black manager in Major League Baseball with Cleveland in 1975. Robinson worked in the Commissioner's Office for many years after managing and working in the Orioles front office until he passed away in 2019.
Ken Singleton
A steady, productive outfielder/designated hitter, Singleton spent the last 10 seasons of his 15-year playing career with the Orioles. A three-time All-Star, he was runner-up for 1979 AL MVP and was elected to the Orioles Hall of Fame in 1986. Singleton is involved in numerous local charitable efforts, including hosting annual golf tournament for the Cool Kids Campaign.