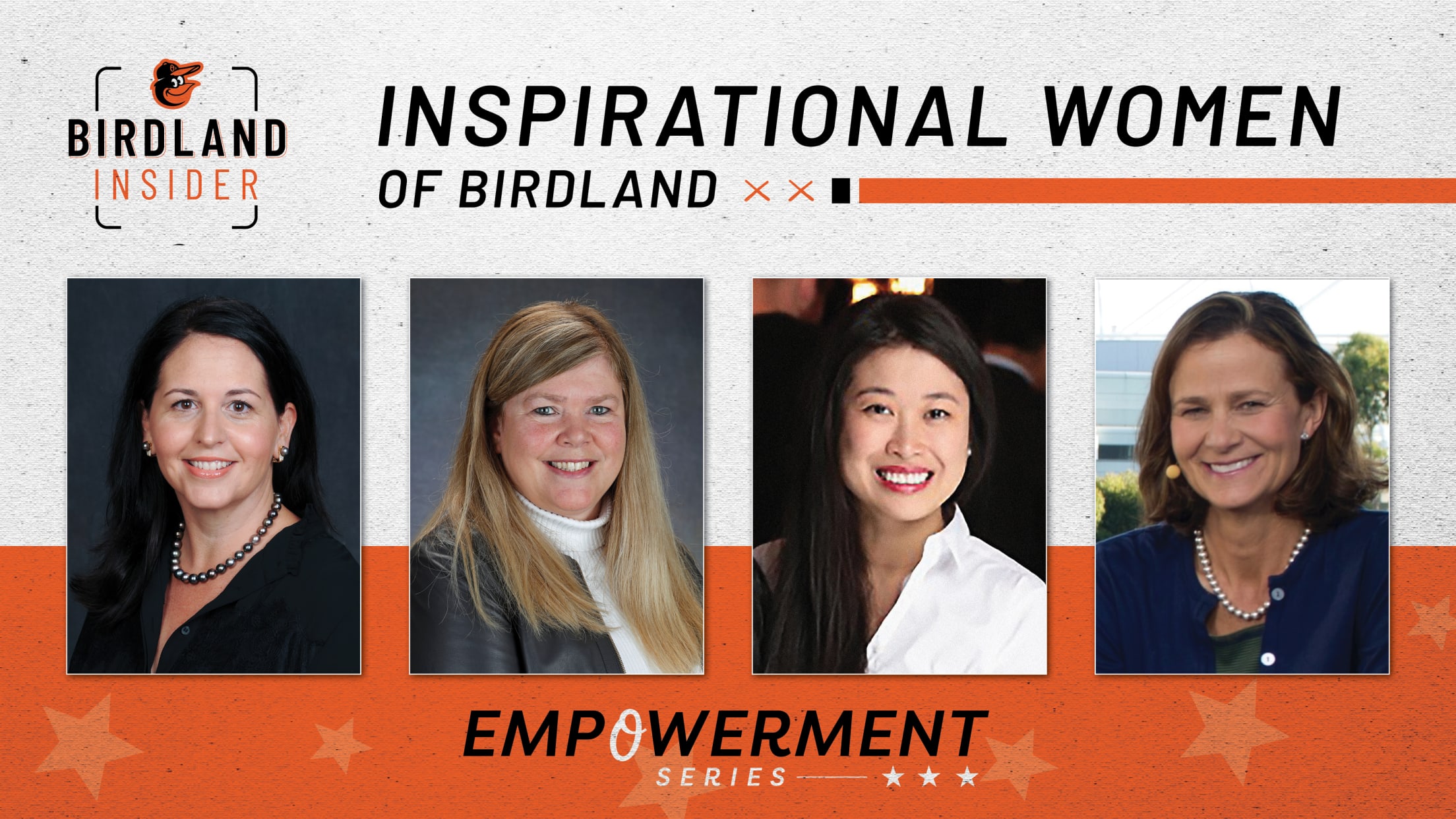 Scroll
Inspirational Women of Birdland
"Women belong in all places where decisions are being made."
In 2020, those words ring true more than ever. At the peak of a pivotal time for social justice and equality, there is an obligation to institute diversity in the workplace as we call for a more inclusive representation of gender, race, sexual orientation, and much more in leadership roles.
When it comes to gender, women have made tireless strides to have a seat at the table. This desire comes from the many years women have been told "no" by their male counterparts. As a collective, women have advocated for equality on the basis of sex since the mid-19th century. The same movement toward equality continues to this day.
With the creation of new initiatives and new roles, the Orioles organization has contributed to the movement. Birdland has been given a taste of where society is headed in the era of women's empowerment. For years, the sports industry has been male dominated, but women have remained resilient while overcoming this challenge. Women have proven to be a force to be reckoned with as they take on executive roles within the industry.
As part of the Empowerment Series, we recognize four influential women of Birdland as they discuss their continued effort to overcome adversity and represent leading roles in the sports industry during an exclusive roundtable discussion with Orioles broadcaster Melanie Newman.
Marina Bui, Executive Director of Orioles Entertainment, joined the organization in 2018. She spearheads the effort to recognize emerging female country artists with the Birdland Summer Music Series.
Tennis legend and ESPN broadcaster Pam Shriver made her mark in the tennis world for nearly two decades. As a former professional tennis player, she has won several titles, many of which came in major tournaments such as Wimbledon, US Open, and French Open. Pam is one of only six women players in the Open Era to exceed 100 career titles. She is also a part of the Baltimore Orioles Limited Partnership Group.
As the Senior Vice President of Community Development and Communications, Jennifer Grondahl joined the club's Senior Leadership Team in 2019. In this executive role, she is at the forefront of all facets of the Orioles communication efforts. Since joining the club in 2018, her passion for the Birdland community has contributed to the organization's increase in community partnerships and civic engagement.
Lisa Tolson, Senior Vice President of Human Resources, began her career with the Orioles at the age of eighteen years old. In her current role as part of the Senior Leadership Team, she oversees the Human Resources and Accounting departments, and is instrumental in the implementation of diverse onboarding initiatives.
These women have worked so diligently to get where they are today. During the discussion, they touch on the meaning of women's empowerment, the art of pivoting, and life lessons that act as advice for the younger generation. We invite you to read what they have shared on these topics.
In the year 2020, what does women's empowerment mean to you?
Jennifer: In 2020, women's empowerment is an opportunity for us to be fearless – to accomplish more than ever before. A lot of groundbreaking things have happened just in the past couple of years that have lent themselves to us being able to continue to pursue leadership roles. Supreme Court Justice Ruth Bader Ginsburg said, "Women belong in all places where decisions are being made." There is no time like the present to make that happen for women.
Pam: Empowerment has happened in so many different ways in 2020. I'm inspired in my sport of tennis this week. We're celebrating 50 years of the original group of nine women who decided to break away from the establishment of tennis, where they were getting paid 10 cents on the dollar, and decided to join forces with the corporate world in order to build a women's professional tennis tour, WTA. And 50 years later, we have equal pay and we are the number one sport globally for women.
So, empowerment is being bold, being brave, speaking up. And maybe knowing how to speak up in a way that it will be received by not only other women, but also by men. Then realizing when we speak up, we don't want to speak up on behalf of women, we actually want to speak up on behalf of people and children – of all people in an equal sense, so I'm feeling a lot of empowerment in 2020.
Lisa: Women's empowerment in 2020 means support, opportunity, and mentorship. I love the quote, "Behind every great woman are great women." And that is so true, but it is equally important to have men who are supporting women. I couldn't do what I do without the support of my husband who has made sacrifices along the way, who changed his work schedule so I could pursue my career. We as female leaders in the industry are to be mentors and to provide opportunities for both our coworkers and to young women who are entering the workforce today.
Marina: It has a lot to do with equality and the role of everybody. It is about being able to support each other in having these new platforms. And it's great because not only is somebody able to speak and say some of the things that they're thinking and feeling, but there's a lot of conversation that comes out with that as well.
Lisa, you have a pretty big role helping shape the people that make up the organization. Can you take us through the evolution that you've watched happen when it comes to the landscape of the front office?
Lisa: A lot has changed in the 35 years that I've been with the club. When I started in the mid-80s, there were not many women in leadership positions at all. There were very strong women in the Orioles organization, but they didn't hold the title, they didn't have the salaries. I think if they were here today, they would have very different titles and very different responsibilities. That started to change in the mid-90s. Major League Baseball hired Wendy Lewis as an executive and her focus was on diversity initiatives. Clubs started promoting women into the roles of managers and directors of departments, but there were still very few women in the boardroom or at the senior executive level. Today, I am happy to say that women in baseball are not limited to business operations. They now hold positions in baseball operations such as coaches, scouts, athletic trainers, and head groundskeepers. It sometimes feels like a lifetime ago when I started at the age of eighteen working for the club and I never thought I would be here 35 years later, but I am so inspired by these women who are breaking down barriers and leading the way for young girls who want to work in baseball.
Jennifer, you are one of the women alongside Lisa who has an executive role with the club. What does it mean to you to look back where you started to now?
Jennifer: I'm so proud to be a part of this organization. We have been a groundbreaking organization. It is remarkable to be a part of an organization that is so forward thinking. When I was sports editor of my high school newspaper, it was not my goal to work in sports. In fact, I had a very crooked path to get here, but I know all of my experiences really came together and brought me to a place where I feel that I belong because I think that I can make a change in our community. I can serve as a mentor to young women who are in our organization or who want to be in the organization. We can work together to be very proactive and to think about what we can do better to create places for women in sports.
What is it like to know that women have the opportunity to pursue tangent paths on the way to our overall goal?
Pam: I think having many different pathways to get to a particular place helps bring diversity into the equation. I think about the sport of tennis and how global it is, and all the different number ones in the world and how they each have a distinctly different pathway. There's no two that are the same and I would assume it's the same with great baseball players.
It's just fun to see how many different ways there are to reach your pathway and how sometimes when you're at a certain age, you think you're going to go one way, but then life changes. I truly believe at the end of this exercise in challenges and adversity, that we're all going to be better for it.
What has been the big pivot moment that you have found this year?
Jennifer: My pivot moment this year was recognizing the importance of connections and trying to figure out how to develop connections with others in a remote way. And in a way, COVID-19 has shown the importance of being with people, of being able to develop as a person by connecting with others. This opportunity to be at home has also given many, including many of our staff, the opportunity to better themselves through additional education online, or to participate in lunch and learns about topics that the club has brought forward, such as the 19th Amendment, women's empowerment, and voting.
I think that, ultimately, we want to be together, and we want to continue our mentoring roles and it's a lot easier to do that when you have people with you, and you can see their development every day and can interact with your peers across departments. So, for me, the biggest pivot has been losing that day to day connection with others and having to work in this virtual world.
Pam: I live in Los Angeles, and things got pretty serious very quickly here. I was given some really good advice which was to accept what you still have and to not dwell on what you don't have. So maybe it's more time with my kids, maybe it's less time stuck in Los Angeles horrendous traffic, a little bit of a quieting of the schedule.
I feel like if I had that maturity as an athlete in my teens and in my 20s, I would have been a lot more successful and I also think for my kids, I need to model being the best version of myself. If they can see me doing that, then they're more likely to do that as well."
Marina: We're always on the road or we're always at the ballpark, so this was a really great opportunity to take advantage of some of the work-life balances that we've been hearing about.
I remember in my younger years where it was exciting to travel to all the tennis tournaments and to do all this stuff. And now, I can catch up with all the things that I have ignored. In a way, this pandemic has taught us how to value our time and give a little back to yourself.
Lisa: It was very difficult at first. Jennifer and I were in Spring Training when all of this happened, and we were trying to figure out how to get home. There were a lot of decisions that had to be made very quickly. And on the Senior Leadership Team, we were in constant communication trying to figure out how to protect the staff and the steps we should be taking. There was a lot of weight on the shoulders of the team and trying to do what was best for everybody.
Working in Human Resources, employees would stop by to talk to me, and that's not happening now. We really did have to pivot, and we realize how much we miss the interaction with our coworkers. It's a lot of stress, a lot of anxiety, but I think that we're realizing how important those relationships are.
Marina, you have such a huge involvement with the Orioles' Women in Country Music Series. What has that experience been like?
Marina: The Women in Country Music Series is such an important initiative to the club, because it really allows us to use our platform to give voice to something that we're very passionate about. And that is women's empowerment and equality. The program was started three years ago as a lightweight way of bringing entertainment to the ballpark, and just showcasing emerging talent and artists, but we very quickly realized what an opportunity it was because there was still this huge battle in the country music space. So, in curating the series, we specifically wanted to make it for women in the music space where they were allowed the same opportunities as their male counterparts.
It's been terrific and I'm hoping that you'll recognize some of the names that we have brought through the ballpark. This will make everybody else aware that there is space for some of these really fantastic artists who are coming out on their own, who have changed the landscape of songwriting and music and just really diversify that art.
What does empowering those who come behind us look like in this day and age?
Jennifer: I feel like we have an obligation when we reach a certain point in our careers, and in your life, you have the benefit of wisdom and experience. You can impart a certain level of confidence on others that everything is going to work out, and that you should take risks, and that one should pursue dreams that they have, despite the fact that they don't think they're worthy, or that they don't think that they can accomplish them. I think that's one of the most important things, especially working in community and philanthropy.
Pam: In this day of social media, I think it's so important that we model saying positive things about ourselves for younger girls and teenagers. We want to be uplifting and support ourselves in public settings. One of the things my daughter loves to do is dance and there's somebody in the dance studio that every time one of the dancers says something negative about their bodies, they're immediately told to say something positive about themselves. I think being positive and being upbeat, particularly in 2020 is really important.
Marina: For me, I'm still on this path of empowerment. Especially working in this industry, I've been so lucky and so privileged to have many male mentors who have really opened the door and allowed me to be part of the dialogue. I hope that it's something that I will then take with me and be able to be a mentor to the future generation of women or women in the organization who wants to achieve success and to be part of this industry.
Lisa: From a Human Resources standpoint, there's a lot that we can do in the organization and have done. We recently started the women's empowerment committee that brought a group of women together who don't typically work together and it's great to hear from the different perspectives. It's important that we continue to encourage and build each other up.
Who is the woman in your life who makes the biggest difference?
Pam: My mom, Margo Shriver. She's survived a lot – the loss of her eldest child, her husband, her parents, but she has that ability to just keep moving forward. She's that woman for me.
Marina: My mom. I think it's because she's always challenged me. I knew at a really young age that sports were a passion of mine. And when I was growing up, I was lucky because of the breakthrough with women in sports. My mom's question to me was, "Why do you want to do this?" and it was always about being able to answer that. Thanks for challenging me, Mom!
Lisa: My mother – She is the strongest woman I know. She is a caregiver, she raised three daughters. She took care of three of my four grandparents when they were ill. I lost my dad at 57 and for twelve years, she cared for him.
She is in her 70s now and if I go to her house today, she could be cutting the grass, cleaning the gutters, or fixing a washing machine. She's always supported me and my decisions. She is the perfect role model, and such a warm, loving person.
Jennifer: We talk about mentors and people that have made a big difference in our lives. I was bullied when I was in middle school severely for several years and I had a teacher named Mary Zani, unfortunately, she's since passed, but she stepped in and reminded me that the future is more important than the past and we have to move forward. She believed in me, and she told me one day, "You're going to look back, and you're going to say, 'Look at me now.'" I remember her saying that to me. I also remember her saying, "Think about the difference that you'll make one day in other people's lives," and that stuck with me for my entire career and I took it on as a responsibility.
The older that I get, I only surround myself with people who are positive, who believe in me. My husband and my colleagues. I am very fortunate to work around people every day who have a lot of positive energy and really do want to lift people up. If you are willing to be a mentor, you can make a tremendous difference in someone's life.