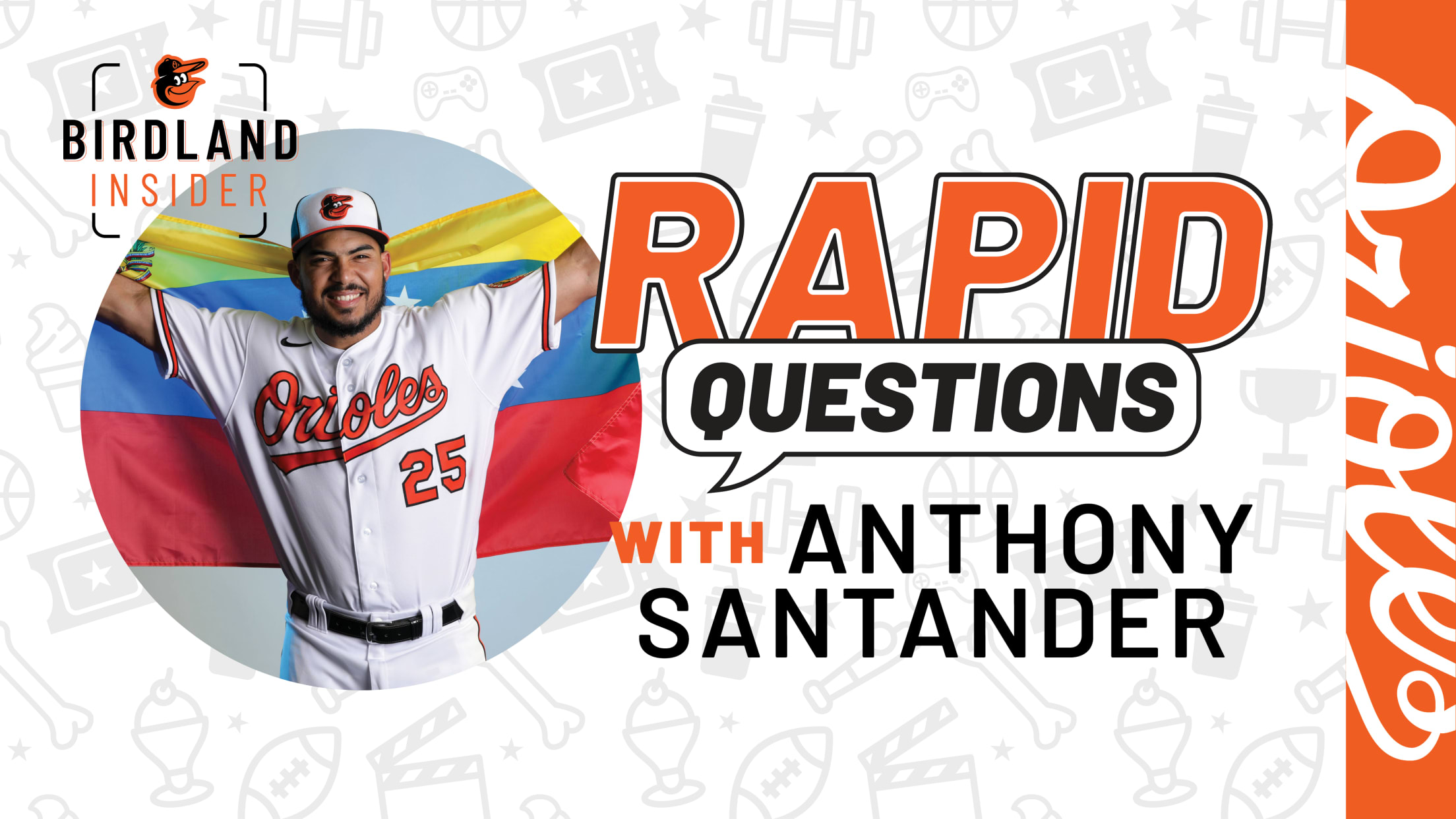 Scroll
Rapid Questions with Anthony Santander
Since being selected by the Orioles in the 2016 Rule 5 Draft, Anthony Santander has gone from promising prospect to one of the most powerful hitters in the Baltimore lineup.
Despite an injury-shortened season in 2020, he was named the Most Valuable Oriole after a dominant offensive performance that included 11 homers, 32 RBI, and a career-high 18-game hitting streak. He continued upon that success this season, batting .241 with 18 home runs and 50 RBI in 110 games for the Orioles. The 27-year-old outfielder recorded four Eutaw Street home runs this year, the most in a single season, bringing his career total to seven, the second most by any player in club history.
Birdland Insider sat down with Santander for our Rapid Questions series, where the O's slugger discussed his favorite things, his hometown in Venezuela, and much more.
What's your favorite ballpark to play in and why?
I like Camden Yards, being at home. Because I hit a lot here.
What did you want to be when you grew up?
I wanted to be a chemical engineer.
If an ice cream truck pulled up right now, what would your order be?
Strawberry ice cream with banana.
If you could trade places with one person for a day, who would it be and why?
I love what I do. I don't want to trade with anyone.
What is your favorite way to spend an off-day in Baltimore?
Just being in my bed alllll day. Resting.
Does your number have any special meaning behind it?
No, I'd play with any number.
What's your go-to karaoke song?
No Se Puede by Porfi Baloa and Gilberto Santa Rosa.
You have to make a dish for a potluck; what is your go-to dish?
Arepas.
Which teammate do you think was the biggest troublemaker in school?
Tanner Scott.
What is your favorite show that you never get tired of watching?
Two and a Half Men. I love it.
If you weren't playing professional baseball, what would you be doing?
Chemical engineer or a businessman. I like business.
Which actor would you choose to play you in a movie about your life?
Dwayne Johnson, The Rock.
What's your favorite video game?
FIFA.
Tell us one fun fact or unique piece of information about the town you grew up in.
Where I grew up -- Agua Blanca -- we have the best rivers and waterfalls. Tourists from all over come to my town to bathe in them. They are better known as Los Arroyos.
Do you have any pets? If so, what type and what are their names?
No pets. But one day I will have a tiger.
What superpower would you like to have and why?
To be the Hulk.
If you could play any position other than your own, what would you play?
Pitcher.
Who's the greatest athlete of all-time and why?
That's a big question. For me, Muhammad Ali. Boxing is the toughest sport in terms of how an athlete should prepare. And he was the best.
What's your favorite thing to do in the offseason?
Spending time with my family. Anything as long as I am with them – go to a good restaurant and go to the beaches.
Are you going to practice the harp again?
Oh yeah.
Orioles fans can follow Birdland Insider on Twitter for more Rapid Questions with O's players throughout the offseason.