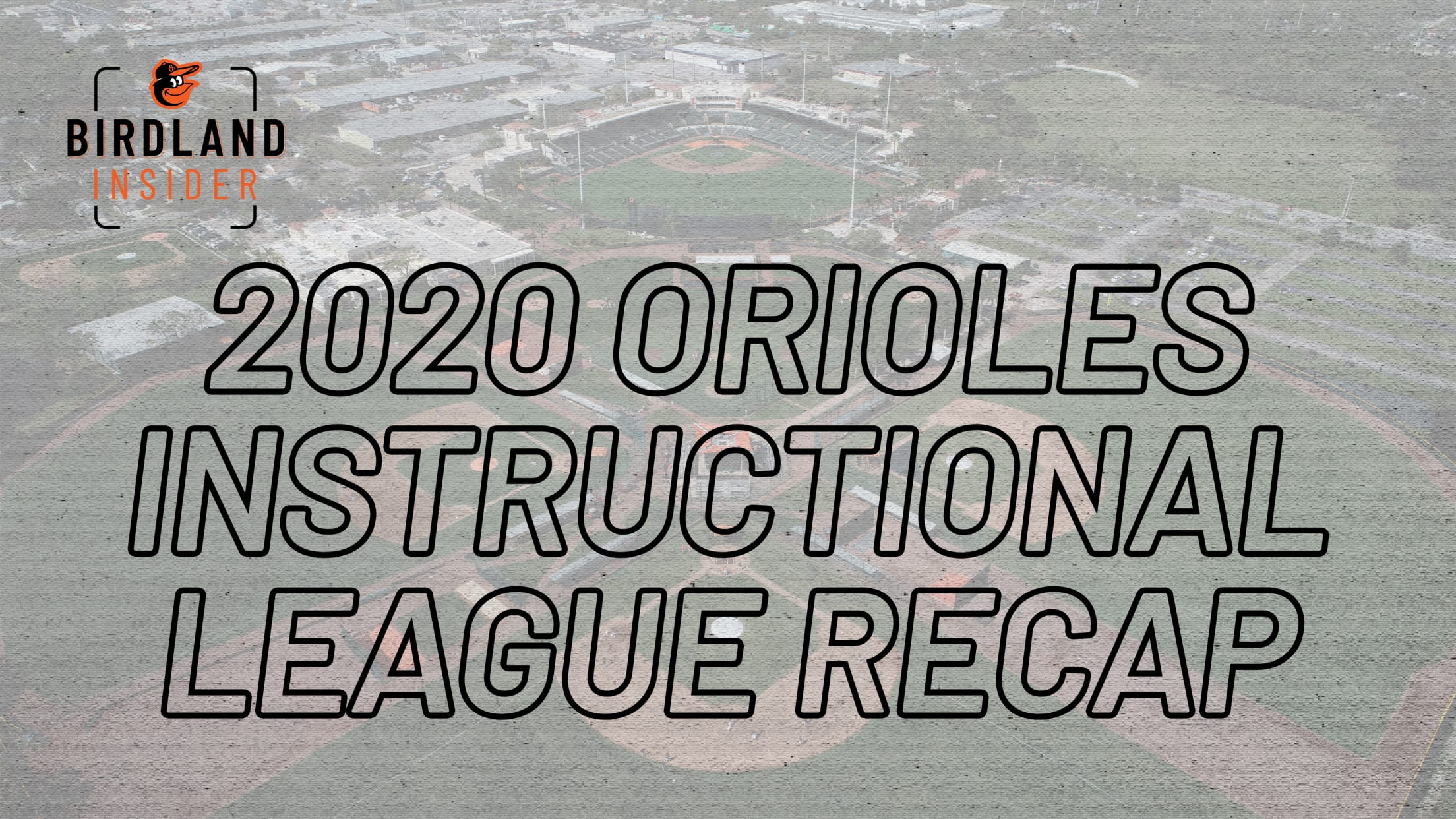 Scroll
2020 Orioles Instructional League Recap
In a normal year, young minor league prospects would arrive at their team's fall instructional league workouts to continue their development after the regular season. Players on the roster would receive supplemental instruction from coaches and staff in order to prepare them for the start of Spring Training in February.
But 2020 has not been a normal year. After the cancellation of the minor league season due to COVID-19, many minor leaguers had to make do with the facilities and resources available to them in their hometowns. Even with steady virtual instruction from coaches and baseball operations staff, the situation was not ideal from a player development perspective, with many players not able to participate in organized baseball activities or face much live competition.
Because of the challenges brought on by the pandemic, the importance of this year's fall instructional league cannot be understated, something that the Orioles' baseball operations staff - which features some of the brightest minds in the industry - fully understood.
In October, the club announced that 55 players - including 15 of the club's top 30 prospects, according to MLB Pipeline - would continue their development in Sarasota. Among those players were C Adley Rutschman, RHP Grayson Rodriguez, and LHP DL Hall, the club's No. 1, 2, and 4 prospects, respectively, all of whom also participated at the Alternate Training Site at Double-A Bowie during the regular season with other top Orioles prospects.
Birdland Insider connected with three Orioles' staff members to discuss what they saw at Ed Smith Stadium during a critically important fall instructional league, and what it means for the club's future.
Matt Blood may be relatively new to the Orioles organization, joining the club in September of 2019 as the Director of Player Development, but he is certainly not new to the world of professional and amateur baseball. Blood brings with him a wealth of experience after spending more than a decade in the industry, including most recently as the Director of Player Development for the Texas Rangers in 2019.
Since migrating to Birdland, Blood has been responsible for implementing new technology programs and strategizing player development through the entire minor league system, which is currently ranked as the eighth-best in baseball, according to MLB Pipeline. Blood is also responsible for assembling the minor league coaching staff.
The work that Blood and his staff have done since he joined the club over a year ago was on full display at Ed Smith Stadium this October.
Q: Now that the instructional league has wrapped up, how would you evaluate the progress that was made by prospects, coaches, and the player development apparatus as a whole?
A: Instructional league was highly productive for us, especially in regards to building relationships and attacking specific growth opportunities. We are now well positioned to go into the winter with more specific development plans for the players to attack.
Q: Without a minor league regular season or Arizona Fall League this year, what kinds of metrics did you use to evaluate the development of individual players?
A: Without games, it is difficult to amass significant metrics, especially remotely. We did keep meticulous performance stats both at the Alternate Site and during instructional league. We also track specific swing metrics via Blast and K-Vest for position players and overall innings pitched for pitchers.
Q: 29 of 30 Major League teams have held or will hold some form of instructional league practices. How did the Orioles attempt to create a competitive advantage over other clubs?
A: We really focused on creating a highly challenging and competitive environment. Practice design is critical for skill acquisition, and I feel that our coaches are well versed in creating optimal learning environments.
Q: Which player(s) impressed you the most during the instructional league?
A: On the position player side, Jordan Westburg had a great month. He's a five-tool athlete and fierce competitor. Of the new pitchers, Brandon Young made a nice first impression. He showed plus stuff and a professional demeanor on the mound.
Q: The instructional league roster was very diverse in terms of professional experience and background. It included three MLB Pipeline Top 100 prospects, international signees, players from the 2020 draft class, and some new faces acquired via trade. What went into choosing the roster, and how does this diversity help strengthen the organizational culture you are trying to develop?
A: In choosing this roster, we leaned towards the newer players in our system; however, we did want to include a handful of "veterans" that we knew needed to work on specific areas in order to better position themselves to compete for upper-level positions next season. It ended up being a great mix of guys. They came to the complex everyday ready to compete and push each other to get better. #RisingTide
Kent Qualls has more than 20 years of baseball operations experience, including eight years as the Orioles' Director of Minor League Operations. In this role, he oversees the administration of the Orioles' Player Development department, minor league affiliate relationships, the Dominican Academy, and Winter Ball assignments.
Qualls, who knows the organization's minor league system as well as anyone, breaks down what he saw in Sarasota last month.
Q: How beneficial was it to be able to hold instructional league practices at the Ed Smith Stadium complex, which features a Major League-caliber athletic training facility?
A: We are extremely fortunate to have such great training facilities at both the Ed Smith Stadium complex but also at our minor league Buck O'Neil facility as well. Using the Ed Smith facility for instructional league allowed us to use the entire facility for proper social distancing practices inside the facility and also to spread out and use all of the fields and bullpens for efficient on-field work.
Q: We know how important these practices have been for the players, but how have the coaches benefited from the instructional league?
A: Probably the biggest benefit was having the group together to collaborate on the practice plans and individual player plans for the players who attended.
Q: Considering the extra health and safety protocols in place because of the pandemic, how were you able to ensure that this operation was successful? Who are some of the behind-the-scenes employees that made this possible?
A: We had great planning and collaboration amongst our staff and outstanding health and safety protocols provided by MLB and our Head Athletic Trainer Brian Ebel. Our Athletic Trainers, headed by Dave Walker, handled our testing and safety protocols, Trevor Markham and Linda Jones coordinated all of the facility issues, and Jake Parker and our clubhouse staff managed the day to day clubhouse and meal protocols for the club.
Q: What was the most exciting part of the instructional league from your perspective?
A: Two things come to mind. It's always exciting to see the newly drafted and signed players in person for the first time. I also thought that it was great for our players to be able to play games against other organizations, which we missed this summer.
Q: The Orioles farm system is ranked among the top 10 in baseball by MLB.com and MiLB.com. After a successful instructional league, what is the next step for the organization so that it can continue to climb the rankings and see more and more prospects graduate to The Show?
A: Hopefully, we will be able to hold a normal 2021 Spring Training and minor league season. Many of our players missed valuable games, at-bats, and innings pitched. I also believe one of the keys to our success will be the development of our players from Latin America. Many of them are projected to advance to play in Sarasota during the 2021 season.
Kevin Bradshaw took over as the Manager of the Aberdeen IronBirds in June of 2016, and has been coaching since 1990. As one of the coaches at the instructional league, Bradshaw was in the trenches with the players while also consistently collaborating with front office staff members like Blood and Qualls.
Bradshaw has been a key part of the Orioles' revamped player development system, and has seen the progress made by individual players firsthand.
Q: You had the opportunity to coach several players this fall whom you also managed last summer in Aberdeen, including three of the club's top 30 prospects according to Baseball America (No. 1, C Adley Rutschman; No. 22, OF Kyle Stowers; and No. 24, OF Zach Watson). How was their development impacted by the cancellation of the minor league season, and how did the instructional league strive to keep them – and others – on track to advance through the minor league system?
A: Their development was greatly impacted by the cancellation. Missing out on 400 to 500 at-bats at any level sets all the players back. All three of these players are solid defensive players so it was more of not seeing the live pitching and live game situations that hurt all the players. With Adley going to the Alternative Site in Bowie, he was able to work on his catching skills, catching some quality arms. Plus, he was able to get at-bats against those same quality arms, which helped him in his development. We were able to create individual player plans for all the players that were coming to the instructional league. What the instructional league did was give us 25 days to walk all the new players through all of our baseball philosophy (hitting, fielding, base running, and pitching) and to fine-tune the returning players so hopefully they return to Spring Training ready to advance through the system.
Q: As the Orioles continue to prioritize international scouting, several young international prospects were named to the instructional league roster, including outfielders Stiven Acevedo, Isaac Bellony, and Luis González, along with left-handed pitcher Luis Ortiz. As a manager, how beneficial is it for you to have a chance to develop strong relationships with these young players even before they make their way to Aberdeen?
A: Any time you have a chance to build a relationship with a player and to make them feel more comfortable, especially young Latin players who are making their first trip over here, it is huge. All these players are very talented and are going to play a big role in our rebuilding efforts so to get them over here and put them through the instructional league was great for their development.
Q: Five of the club's six draftees from the 2020 First-Year Player Draft participated in the instructional league. What did you see from them during what was their first experience in professional baseball?
A: We saw some very athletic players. We saw speed, we saw baseball awareness and the ability to adjust and to learn new things. I cannot say enough of how all these new players came to this camp and were not afraid to try new things. As a staff we are trying to challenge all players in our practice routine, especially in our hitting program. These new players stepped right in and accepted all challenges and really excelled in learning all the hitting, the defensive shifts and base running techniques that we threw at them.
Q: We've heard that infielder Andrew Daschbach – who Baseball America ranked as the club's "Biggest Day 3 Upside" pick in the 2019 First-Year Player Draft – has had a strong instructional league camp. What have you seen from him compared to last year when you managed him at Aberdeen?
A: He has been able to slow the game down. You can see that in his hitting approach. In Aberdeen he was a little jumpy at the plate, trying to really attack the ball which led him to have poor balance at times and not being able to recognize the off-speed pitches. Now he is calmer and understands how the pitchers are trying to get him out. He has also spent a good amount of time in left field so now he is more versatile being able to play first base and left field.
Q: From a coaching perspective, what was the most beneficial part of the instructional league?
A: After missing a whole minor league season, it was the opportunity to challenge these hitters with a 90-minute hitting session almost every day. It was a combination of block and random practice plans for our defensive work and team fundamentals, and the opportunity to play games against the Rays and Pirates.
Although the COVID-19 pandemic created many challenges for baseball operations departments across the Major Leagues, the Orioles - thanks to the work of people like Matt Blood, Kent Qualls, Kevin Bradshaw, and so many others - made sure 2020 would not be a lost season of development for the club's prospects. And now, following two years under the leadership of Executive Vice President and General Manager Mike Elias, the club's future looks as bright as ever.