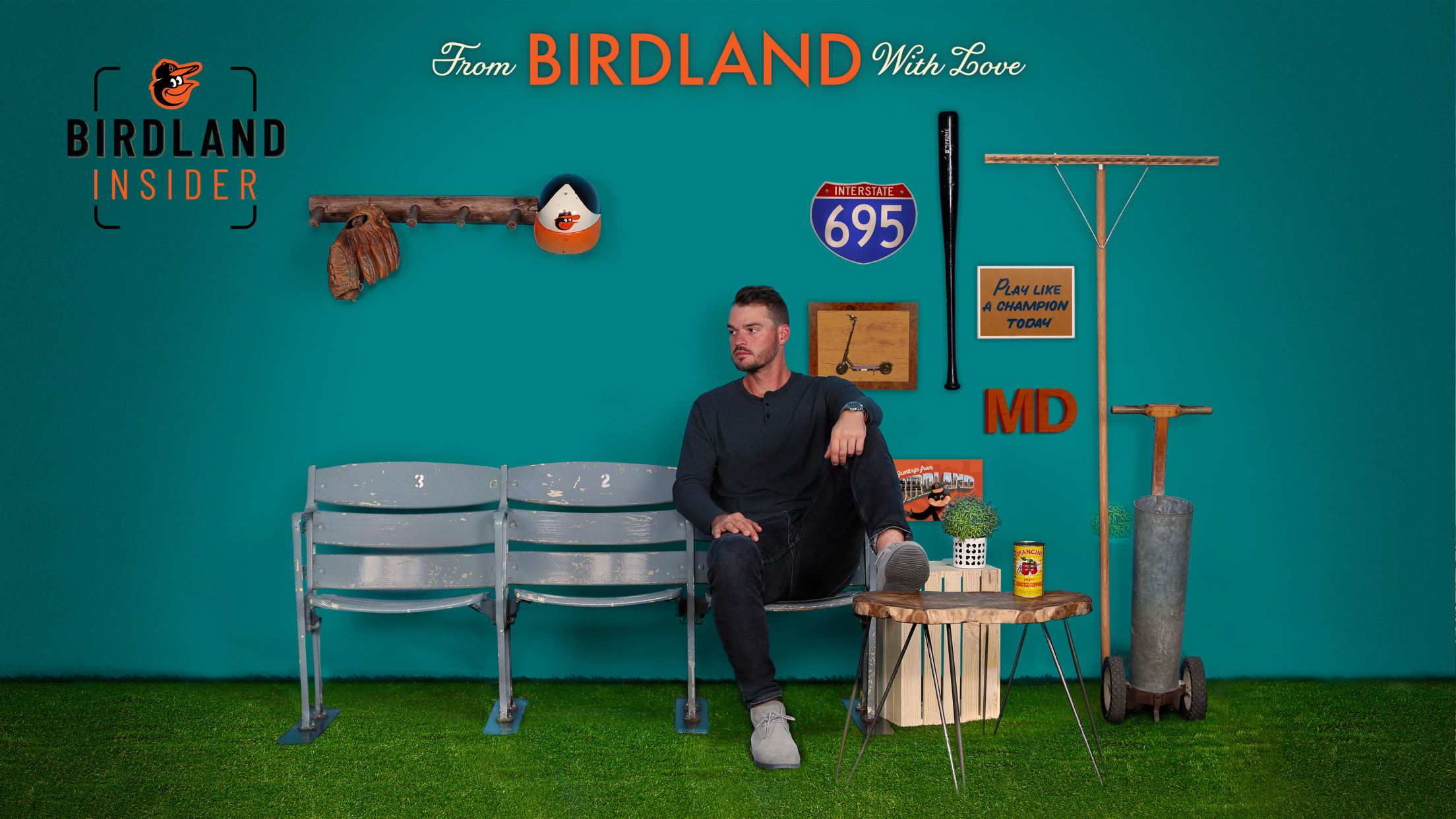 Scroll
All in the family
In March, Trey Mancini was diagnosed with Stage III colon cancer. In support of Mancini's fight, the Orioles are selling #F16HT t-shirts to benefit the Colorectal Cancer Alliance. Join the #F16HT today and purchase one here.
The mid-1960s through the early '80s marked not only the greatest era in Orioles history, but also one of the most dominant runs by any team in the history of baseball. Baltimore was home to the best team in the league year after year, with the O's winning eight American League East titles and appearing in six World Series -- winning three -- during an 18-year stretch from 1966-83.
Brooks Robinson, Eddie Murray, Jim Palmer and Rick Dempsey were household names for all Marylanders. This was especially true in Michael Ryan's home.
An Orioles season-ticket holder for nearly 20 years, Mike was an avid O's fan, who knew the names and stats of every player on the field. A father of seven and grandfather to nine, he shared his love of baseball with everyone in his life. Mike would often drive from his home in Bowie up to Baltimore to spend many summer nights watching the Orioles at Memorial Stadium and later at Camden Yards.
The Orioles were a big part of Mike's life -- so much so that those legendary names of Robinson, Murray, Palmer and Dempsey were mentioned in the eulogy read at his funeral when he passed away in summer 2012. Little did anyone at the funeral know that Mike's grandson, Trey, would be drafted by his beloved team just one year later.
---
Mancini grew up in central Florida, but for one week each summer, he'd travel to Baltimore to visit family and friends. His mom, Beth, was born and raised just 30 miles south of Charm City in Bowie, and she was the oldest of Ryan's seven children.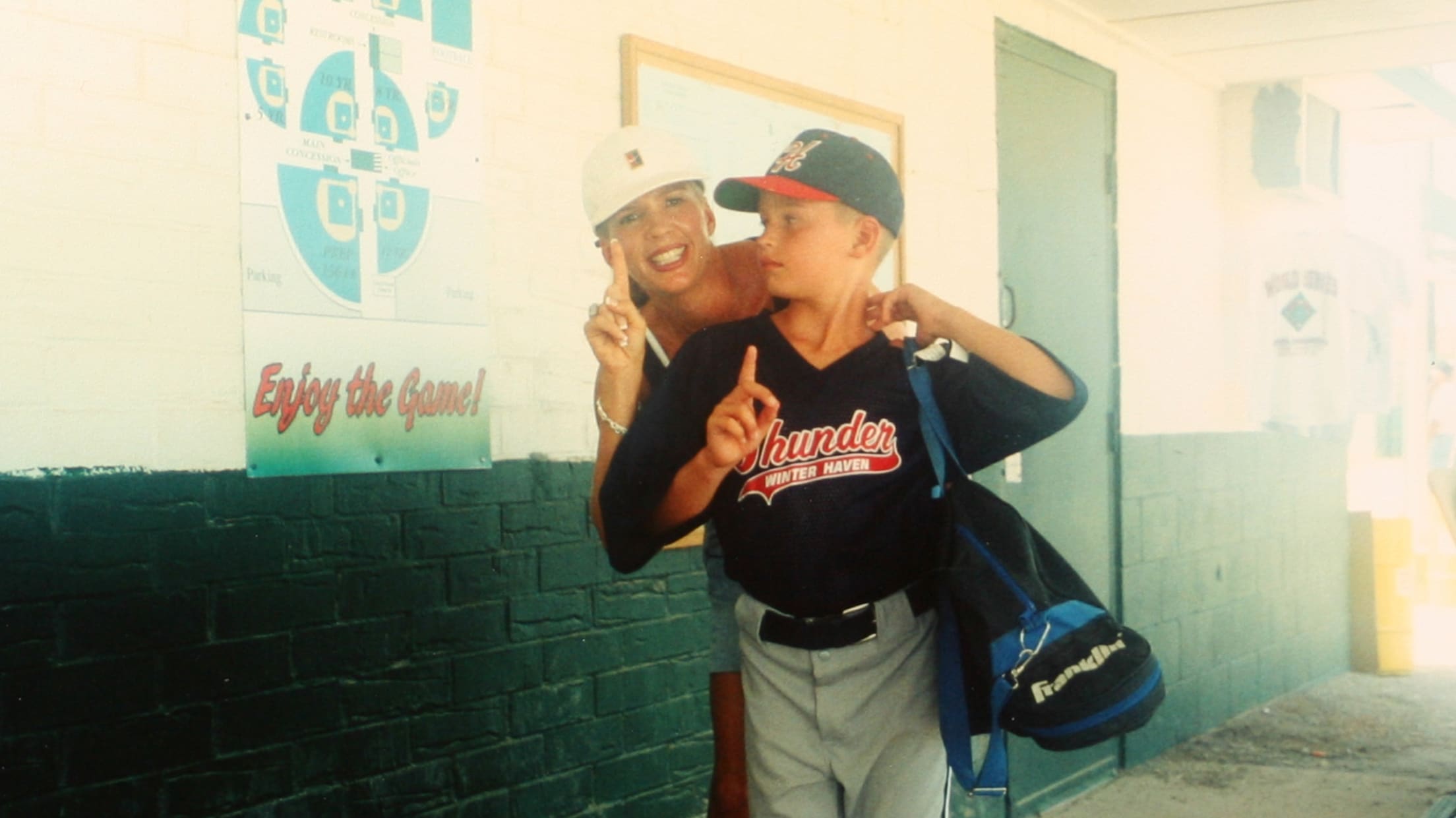 Mancini's summer visits always included catching an Orioles game at Camden Yards with his grandfather. The two bonded over their love of the game, a cornerstone of their relationship for Mancini's entire life, as Mike would travel to watch his grandson play all the way through the final months of his life.
So when Mancini was selected by Baltimore in the eighth round of the 2013 Draft, it was an amazing moment for his family.
"It was huge for my whole family," said Beth. "We live in Florida, but most of the family still lives here. So to have him close by was very special."
"It was pretty surreal," Trey added. "My mom grew up right here, so it was pretty special."
The Orioles have one of the most centralized farm systems in the Minor Leagues, with four of the seven affiliates within 120 miles of Baltimore. For Mancini, that meant coming up through the Minors surrounded by friends and family. It also meant automatic host families in most of his stops along the way, living with an aunt in Frederick and family friends in Bowie and Norfolk.
"You can end up pretty much anywhere in the country with Minor League baseball -- I mean you name a place, there's a team there usually," Mancini said. "So it was really nice that all of the Orioles' teams are local and I got to play in front of family and friends up here."
Mancini quickly rose through the ranks, spending parts of just four seasons in the Minors before making his Major League debut on Sept. 20, 2016 -- what would've been his grandfather's 79th birthday, at the same ballpark they visited together all those years ago. His family was in attendance to watch as he belted a solo home run that night for his first big league hit.
"It was a huge day for my whole family," said Beth. "[My father] was such an Orioles fan and baseball fan in general, so it was really special."
"I remember very well coming to games here," Trey said. "It was so cool -- it's still so cool -- that I get to play here and was here growing up."
The support Mancini gets from his family has been unwavering throughout his baseball career. Among his biggest supporters are his two sisters, Katie and Meredith, who spent their childhoods cheering on their brother and now continue to spend their summers at ballparks across the country to show their support.
"We pretty much grew up at the ballfields," said Meredith, the youngest of the three Mancini children. "We did our homework there, we ate dinner there. Right after school, that's where we went. We've been there through everything."
With his parents living near Tampa, Fla., one sister in Chicago and one sister in upstate New York, Mancini has visitors in many road cities throughout the season. They also make frequent trips to Baltimore -- sometimes as a family, other times individually -- to spend even a few days with Mancini.
Mancini's family has been by his side through every success. They were there as he made a name for himself in college at Notre Dame, where he dominated the Big East Conference. They watched as he earned constant recognition in the Minor Leagues, including Brooks Robinson Minor League Player of the Year in 2015. And they were with him as he became one of baseball's premier players during his remarkable rookie season in the Majors. More importantly, though, they have been by his side through every struggle.
---
Following a breakout campaign in 2017 that ended with being named as one of three finalists for the American League Rookie of the Year Award, Mancini entered the '18 season with high expectations -- not just for himself, but for the team as well.
But as the Orioles struggled through loss after loss, so did one of their brightest young stars. After a draining few months to start the season, Mancini entered the All-Star break with some of the worst numbers of his career and a feeling of hopelessness.
"It was really tough. Before the All-Star break, there were times it was almost hard to get out of bed in the morning," Mancini said. "I had never really struggled like that, and our team was struggling, too. The All-Star break was a huge turning point."
As always, his family was there to support him through every high and low. This time, it started with a message from his older sister, Katie.
"She sent me a text that really resonated with me," said Mancini. "She sent a picture of me when I was like 8 years old in a Little League uniform with a message that pretty much said, 'You're a broken person right now, but we always knew you'd make it when you were this age, and we know you'll get through it now.'"
With a few days off to clear his head, and at a time when most players would travel home and relax, Mancini decided to stay in Baltimore for the break and spend time with another member of his support system, Orioles superfan Mo Gaba.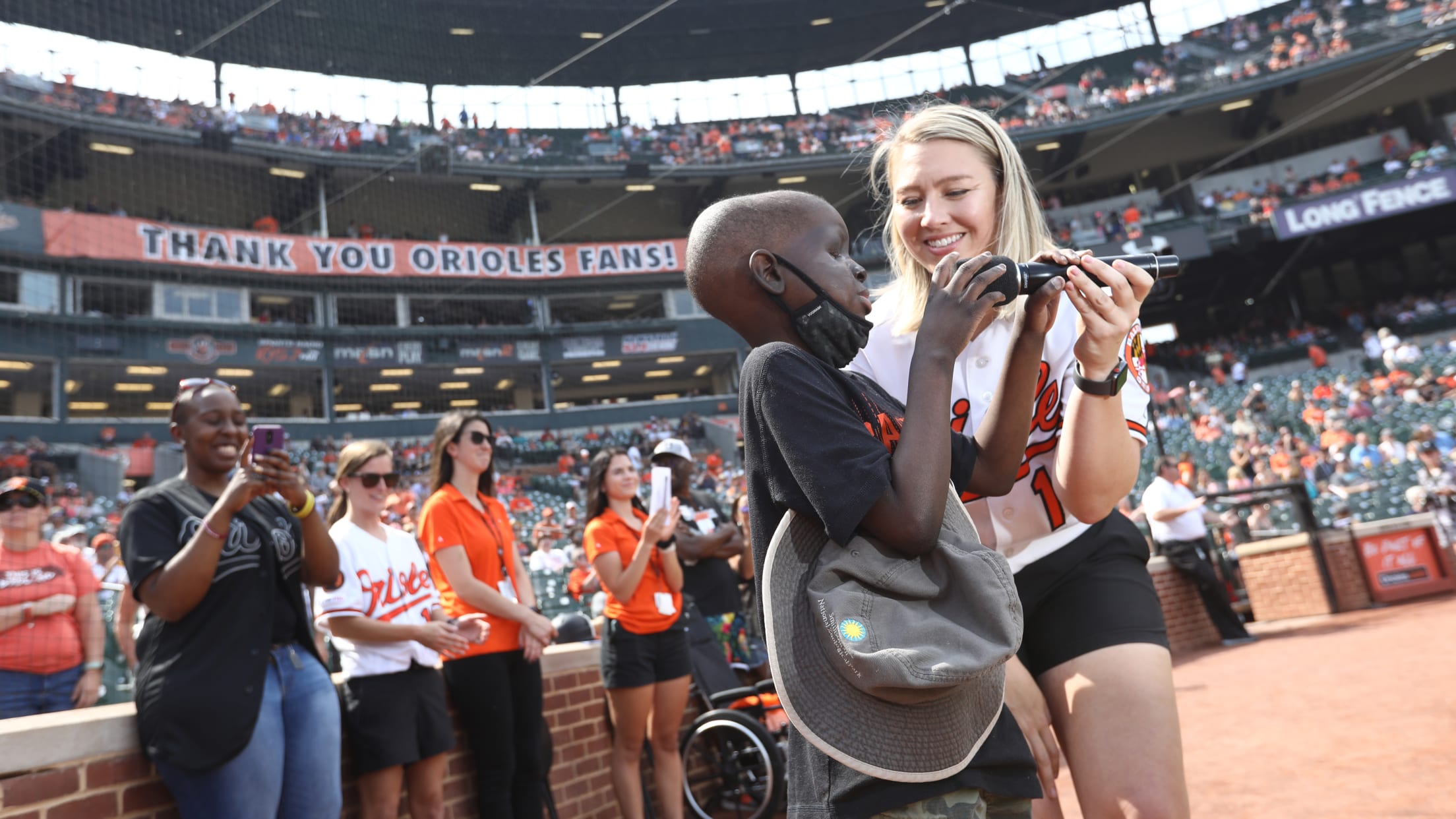 Mo, a 14-year-old cancer fighter and local sports fanatic, first met Mancini in 2017, starting an extraordinary friendship. Despite losing his vision as a baby, and currently battling cancer for the fourth time, Mo has never lost his passion, sense of humor, or positivity -- something that has always inspired Mancini.
"Hanging with Mo actually helped a lot," said Mancini. "I went to Dave & Buster's with him and his mom, and it was just a great day. It always puts things into perspective, and that really did help."
With a new outlook, Mancini entered the second half feeling better than he had in a long time. And it showed -- not just in his attitude, but in his numbers as well. He raised his batting average nearly 30 points and had the 10th-most hits in the AL following the All-Star break.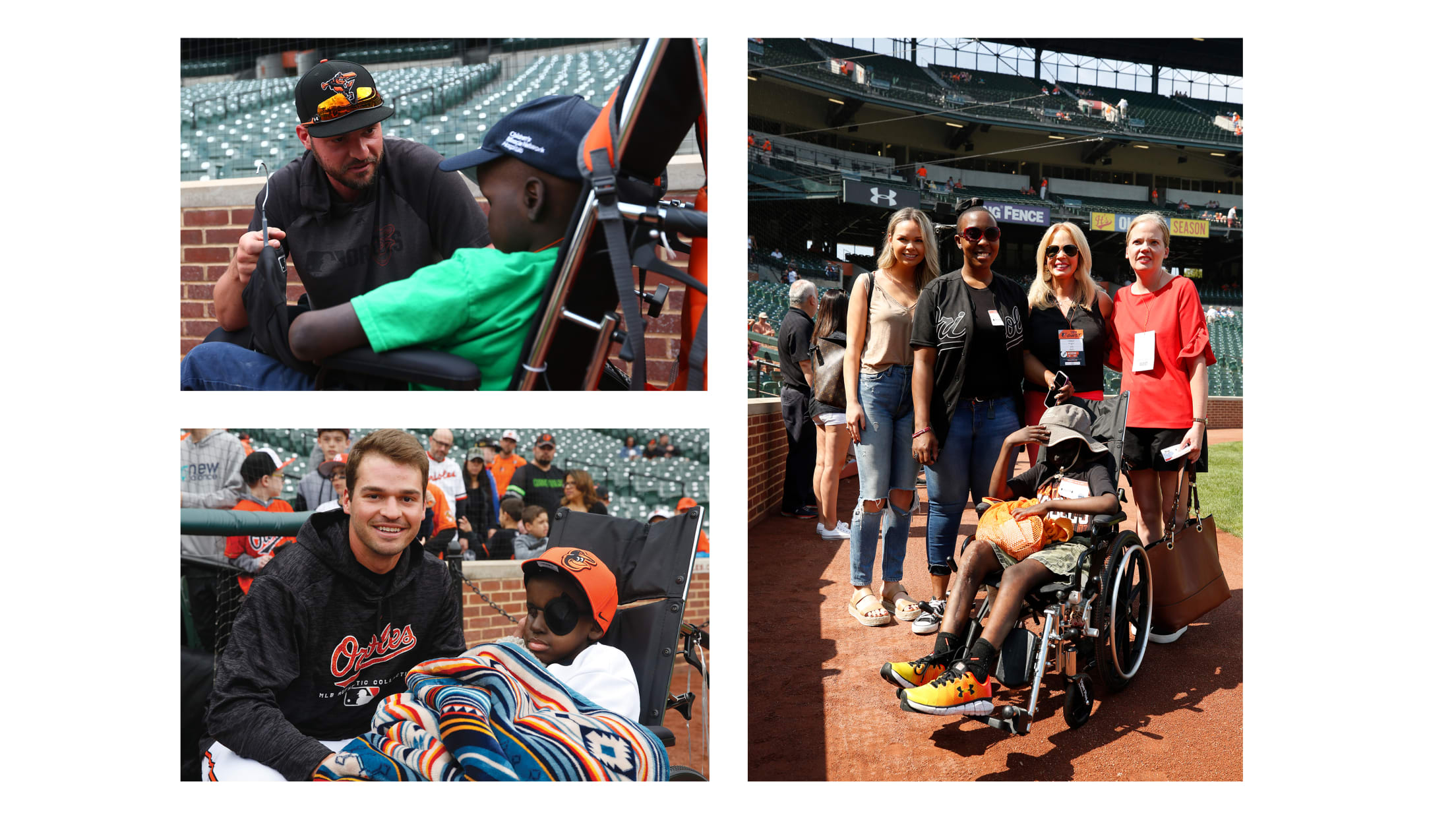 "Looking back, I'm almost a little appreciative of going through that," Mancini said. "But I think I came out much stronger and I know how to deal with failure a lot better because of it."
---
Heading into 2019, the Orioles were coming off a historically bad season -- one that saw the departure of almost all of the club's most-seasoned veterans. While he wasn't a veteran by ordinary standards, with just over two years of big league service at the time, Mancini decided to step up as a new leader in the O's clubhouse.
"I don't know if it was expected of me, but it's something I kind of took upon myself," said Mancini. "I tried to change the way I do a few things and carry myself really well every day. And I think last year's struggles really helped, because I feel like I'm a lot better equipped for guys that are struggling right now. I feel like I've been through enough experiences, even in my short amount of time in the Majors, that I can help these guys out if they need me."
It's not just his attitude that is setting an example for this young Orioles team. Mancini began the 2019 season with one of the hottest starts in baseball -- ending April as the AL leader in hits and in the top five for batting average, runs scored and extra-base hits.
It certainly appeared that the struggles of 2018 were a thing of the past. And while no player wants to go through a slump, those disappointments may have been a contributing factor to the success Mancini saw in '19.
"I would say the adversity he had [in 2018] has helped shape how he's facing things this year," said Tony Mancini, Trey's father. "He's better. He's stronger. He can define a slump a little differently than he did before. He had to go through that."
Despite being the hottest hitter in the Orioles' lineup, Mancini did not focus on personal achievements. A team player through and through, his only goal was to win. He remained committed to pushing himself and his teammates to keep competing every day, despite the circumstances of another tough season.
"I never really set too many personal statistical goals or anything like that. I just want to help my team win," said Mancini. "I believe if that's your focus every day, then your individual statistics or whatever else you want to accomplish on a personal level will be there in the end. And I'm very aware that we're in a rebuild right now as an organization, but there's no reason you can't go out and try to win a game every night."
It's that kind of work ethic that resonates with his teammates and stands out to his mentor, former Oriole Mark Trumbo.
"Trey is the type of player that everyone wants on their team. He goes out there and gives a consistent effort that motivates other guys to give it their best," Trumbo said. "He never takes an at-bat off or gives a lousy effort down the line. To me, that's the best way to lead, especially on a young team -- showing the more inexperienced players what is expected and how it's done at the big league level. I think Trey is only going to get better both as a player and a leader as he gains experience."
Even with everything Mancini has been through in the past three seasons -- some of his greatest success and some of his hardest times -- he remains the same person he's always been. He still prefers to lay low, help others and just play the game he loves.
"He's not an attention-seeker. He likes to fly under the radar, and he's always been that way," said Beth. "Even in college, if he would win an award or something, I'd sometimes find out from other people. He'd always be like, 'It's no big deal.' And he really means that. He hasn't changed."
With his impressive start in 2019 and an already impressive big league resume, it doesn't seem like "flying under the radar" is something Mancini will be able to maintain much longer. Everyone around Birdland knows it, including manager Brandon Hyde.
"Trey is a future impact player in this game. And I think he's just scratching the surface."
Mancini went on to finish the 2019 season as the team leader in several offensive categories, including doubles (38), home runs (35), RBI (97), extra-base hits (75) and OPS (.899). He was named the Most Valuable Oriole by members of the local media and was also named the '19 Orioles Heart and Hustle Award winner by the Major League Baseball Players Alumni Association, which is presented annually to an active player who demonstrates a passion for the game of baseball and best embodies the values, spirit, and traditions of the game.
This story was originally published in the 2019 Second Edition of Orioles Magazine. Birdland Insider features original content from Orioles Magazine, including new articles and stories from our archives.