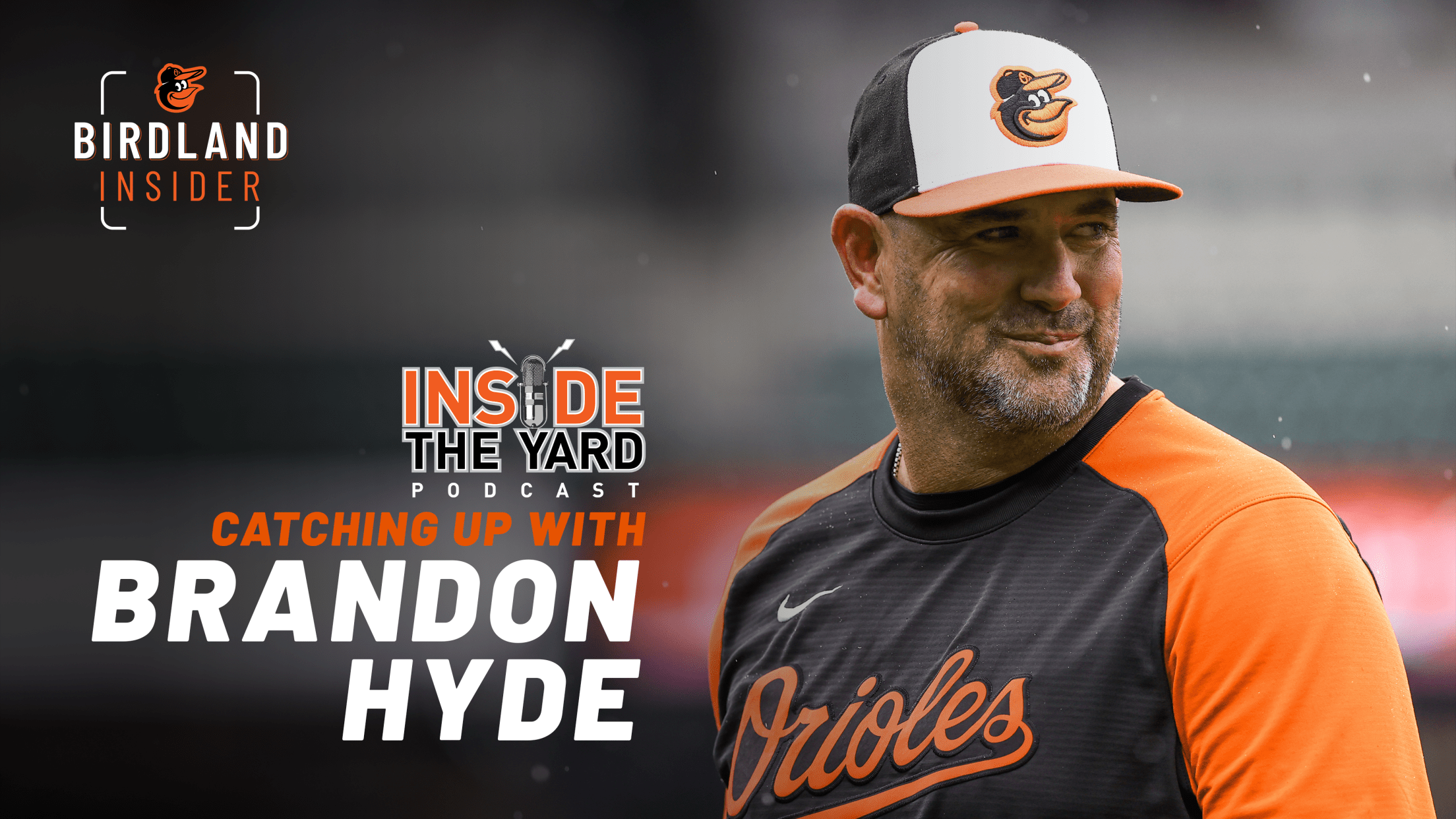 Scroll
Catching Up with Brandon Hyde
With his third season as the Orioles manager coming to a close, Brandon Hyde recently sat down with Geoff Arnold and Brett Hollander for "Inside the Yard" to talk about some of the top performers of the season, what it's been like to manage in the AL East, and what the skipper's offseason will look like.
"It's not easy when you're trying to compete night after night, but when you look at the big picture there are some things for me to be excited about," said Hyde. "Cedric, two years ago we didn't know Cedric was going to be a 30/30 guy, a premiere leadoff hitter in the game and one of the best players in the American League. Ryan Mountcastle, we had high hopes for, but he's living up to them and that's what you want to see – your prospects continuing to show improvement once they get to the big league and Mounty has, putting up a 30-plus home run season and hopefully an American League Rookie of the Year Award to go along with it. John Means continued to do well and has continued to show that he is a legitimate Major League starter in the American League East, and one of the better ones when he is going well. There are some bright spots in an extremely tough few years, and you hope that every year we get a few more."
The trio also discusses how quickly players get labeled after making their debuts, and Hyde explains why that is unfair.
"I think that's professional sports right now," said Hyde. "Sometimes it takes guys, even if they are extremely talented, sometimes it takes guys two or three years to show what they can do, to get comfortable. You look at it in football, all these quarterbacks who are rookies, they're already getting labeled third week in and that's so unfair. That's so unfair to jump from college to the NFL and in the third week you're already a bust or you're going to be an all-pro quarterback. And it's the same in our sport and we play in the toughest division there is. It's not easy."
It's no secret the AL East is one of the hardest divisions in baseball. But competing in the division isn't just a challenge when it comes to wins and losses on the field – it can also make things more difficult when it comes to evaluating players.
"That's the hard part," explained Hyde. "It's really sometimes unfair a little bit in that you are throwing these guys to the wolves in playoff contenders that are big money markets. And to break in like that is challenging. I don't care who you are, it's extremely challenging. You're really going to know where you are when you play in this division, how you stack up, but it's also not easy to break in as a young pitcher, or a young hitter, in this division."
One young hitter who has played well against the division, especially the last month of the season, is Austin Hays.
"He just continued to grind and continued his approach," said Hyde. "And you've seen a guy really take off here since August. Hopefully he can carry that over into next year and the rest of his career. I think pitchers will make adjustments back to him also, whenever someone is having success, everyone's got a video system and everyone has analytics. Everyone understands where guys handle certain pitches better than others, and Austin at some point is going to have to make some adjustments as well. But it's great to see a young player get every day at-bats who's extremely athletic and has a ton of tools produce for a period of time. Now I just want to see him take that forward."
Arnold and Hollander asked Hyde if he has any plans for the offseason, and how often he will check in with his players.
"When the season gets over I think it's important to let everybody unwind for a while," said Hyde. "We are in fantasy football, so there seems to be fantasy football conversations and a little smack talk goes on in our clubhouse. But I try to let players have their space. Once we start getting into the winter, maybe around December, you start to check in. I usually try to send a note for Thanksgiving. But we've been going since the beginning of February and now we are getting into October and I think it's important the players can unwind as well."
For Hyde personally, the first day of his offseason is spent taking his kids to school and trying to make up for lost time with them. When he's not with his kids, he plans on spending his time improving his golf game and reading.
"I golf," said Hyde. "That's a nice getaway for me. Now that I've moved to southern Florida and out of Chicago, my golf game can get back to where it should be. I want to read more. During the season, I tend not read enough, I watch so much baseball. When our games are over I'm watching west coast games and the next thing you know I'm going to bed. I have a big stack of books that I want to dive into."
Hyde leaves with a promise to Arnold and Hollander.
"I want to get back to around a five handicap," said Hyde. "And I will. I can promise you that. Spring Training next year I'll be down."
You can listen to the episode above or wherever you stream podcasts.