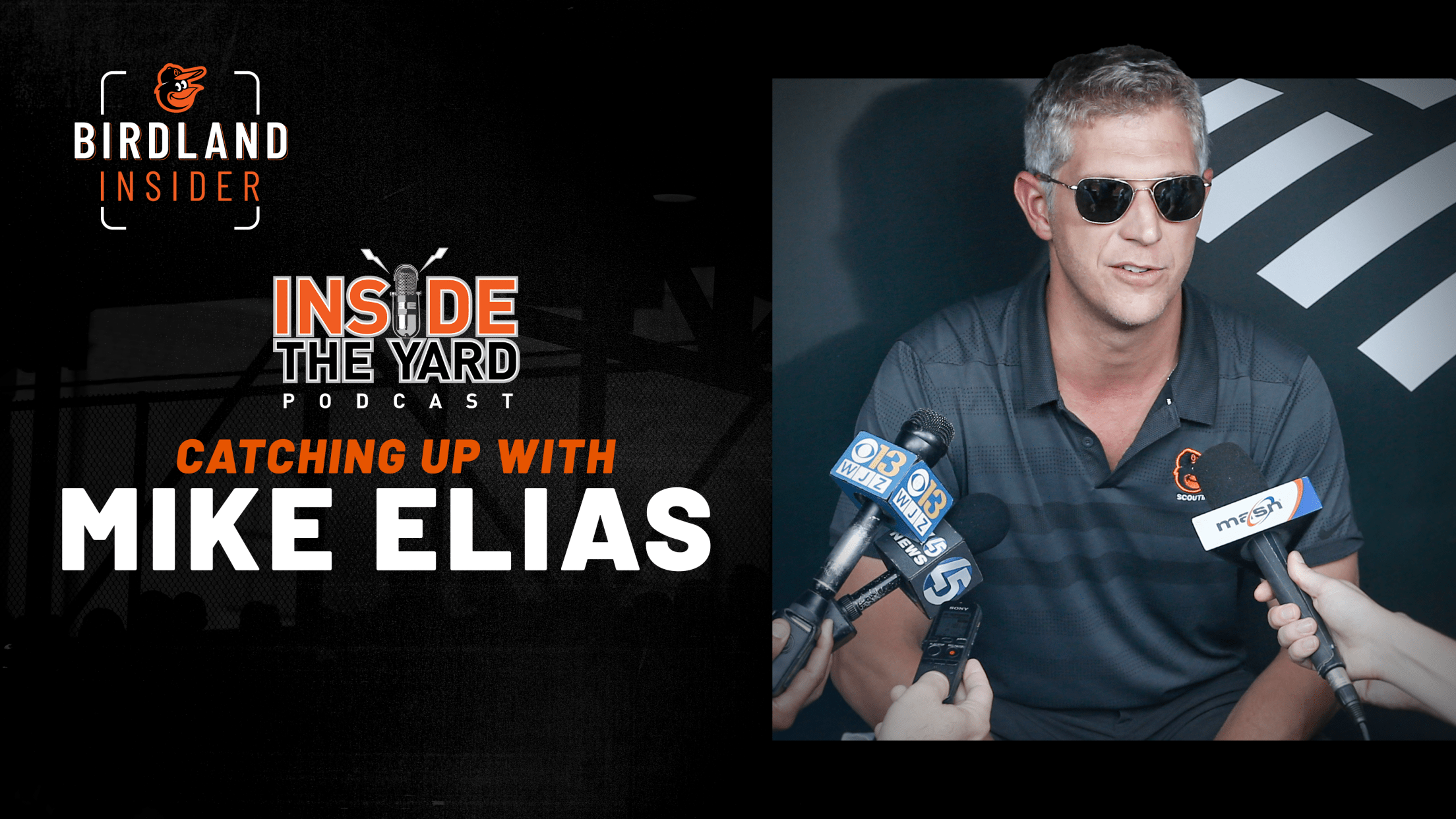 Scroll
Catching Up with Mike Elias
Since being hired in November 2018, Executive Vice President and General Manager Mike Elias' impact on Orioles baseball has been evident. The O's minor league system – home to the best overall prospect in baseball, Adley Rutschman and the best pitching prospect in baseball, Grayson Rodriguez – is stronger than ever, now ranked as the top farm system in baseball according to MLB Pipeline.
Elias recently talked with Geoff Arnold and Brett Hollander about his busy offseason, how coaches are evaluated during a rebuild, filling out the 40-man roster, and an update on the No. 2 overall pick in the 2020 First-Year Player Draft, Heston Kjerstad.
"It's extremely hectic every year and I think we are all looking forward to this offseason in particular because it's going to be hopefully much more normal than last year's offseason," said Elias. "This year is much more normal. While preparing for player market moves is a huge part of the offseason, an even busier part is on the human resources front for any baseball operations department. You are filling out staffs, minor league staffs, handling your own people, and often times you will get some calls from other organizations who want to interview your employees. It's just a lot, and juggling it all is a huge part of any offseason now-a-days. But when it comes to players, we've had several meetings identifying several players who seem like they might be fits, whether those are trade targets or free agent targets. And once we've identified those players, we are following up with leg work now in terms of knowing everything we want to know about these guys prior to the offseason, really starting in earnest after the World Series is over."
An important part of filling out coaching staff in the offseason comes from in-season evaluations. But when it comes to evaluating coaches, there is a lot more to look at than just wins and losses, especially during a rebuild.
"We have a little bit of a proxy for that in the minors," explained Elias. "We are prioritizing player development in the minors over winning games. We kind of have that to look at and there are ways to evaluate minor league coaches based on the development of the players, and the environment they've created. Obviously, the Major League job is a lot more complicated. You're in the fishbowl of the Major Leagues, and there's a component of media relations and working with the front office that's way above and beyond anything the minor league coaches have to deal with, and that's all part of it, too. But these are categories of things that we can observe and evaluate our coaching staff on, and how they are fitting our needs and our plans and our future plans without just looking at the record or the results or somebody's ERA. It's hard to be overly objective in that regard, there are too many factors that go into a good coach."
There are also a lot of factors that go into making a good player, and one of those is time. Arnold and Hollander asked Elias about the difficulties of letting a player go too soon.
"It's going to happen," said Elias. "Because of the way the 40-man is structured and the rules you just cannot keep every interesting young fringe player you have and ride it out. You do have to make decisions. We do the best we can, especially in a rebuild, to exhaust these opportunities, but it's not easy with the ways the roster rules are set up to see everybody to the end, and you are inevitably going to pass off some guys who will blossom elsewhere."
Elias also talks about the strategy that goes into the Rule 5 Draft and how the Orioles work to figure out which players they will end up protecting and adding to the 40-man roster.
"There's always a group of players in a vacuum that in a perfect world you want to protect within reason," said Elias. "That number is always larger than the number that you end up actually protecting when you sit down and look at your overall 40-man roster. Who we want to keep on the current team all winter, how many spots we are going to need for free agents and waiver claims, our own Rule 5 pick, and so on. You have to remind yourself that you're not just protecting against them getting selected in the draft, but it sticking. So you take some calculated risks leaving players off and you hope you do well with your decision making there."
In looking at building the 40-man roster and keeping high ceiling players, Arnold and Hollander ask Elias when he thinks the Orioles will be ready to start looking to trade some of their prospects in order to get more big league help.
"I think when we get within a good arm's reach of good playoff odds for the upcoming season," said Elias. "I think we would very much start to look at expending prospect capital from the farm system to bring in major league help. You never know, that can happen next year. But we make internal projections with our current roster of where we are expecting to be next year, and you wouldn't want to trade a bunch of prospects for a hope and a prayer at the playoffs, but more so a good probability and a good step forward. And I am hopeful that season is coming very soon, and we will be sure to identify it when we are in that position."
The trio finish up the season finale of "Inside the Yard" with an update on Heston Kjerstad, the Orioles first-round selection in the 2020 First-Year Player Draft.
"He is in Sarasota working out on the field every day," said Elias. "He has not begun to face live pitching in game situations, but that's coming very soon. We are having a fall program in Sarasota that starts in the middle-to-late part of October, where we will have some simulated game action, and he will be a part of that. It's been an awful year for him; he's lost a lot of time, and this is something you wouldn't wish upon anyone. But we are really hopeful that he is through it. He is in great spirits, and his physical condition gets better and better every day in terms of his strength and regaining his physical barring, and he's looked good swinging his bat in batting practice so far. So that's been a really nice development the last couple of months. And the rest of that draft class is doing well by and large. So, getting him back as the top pick in that class will be enormous and I think really tie that whole class together."
You can listen to the episode above, or wherever you stream podcasts.