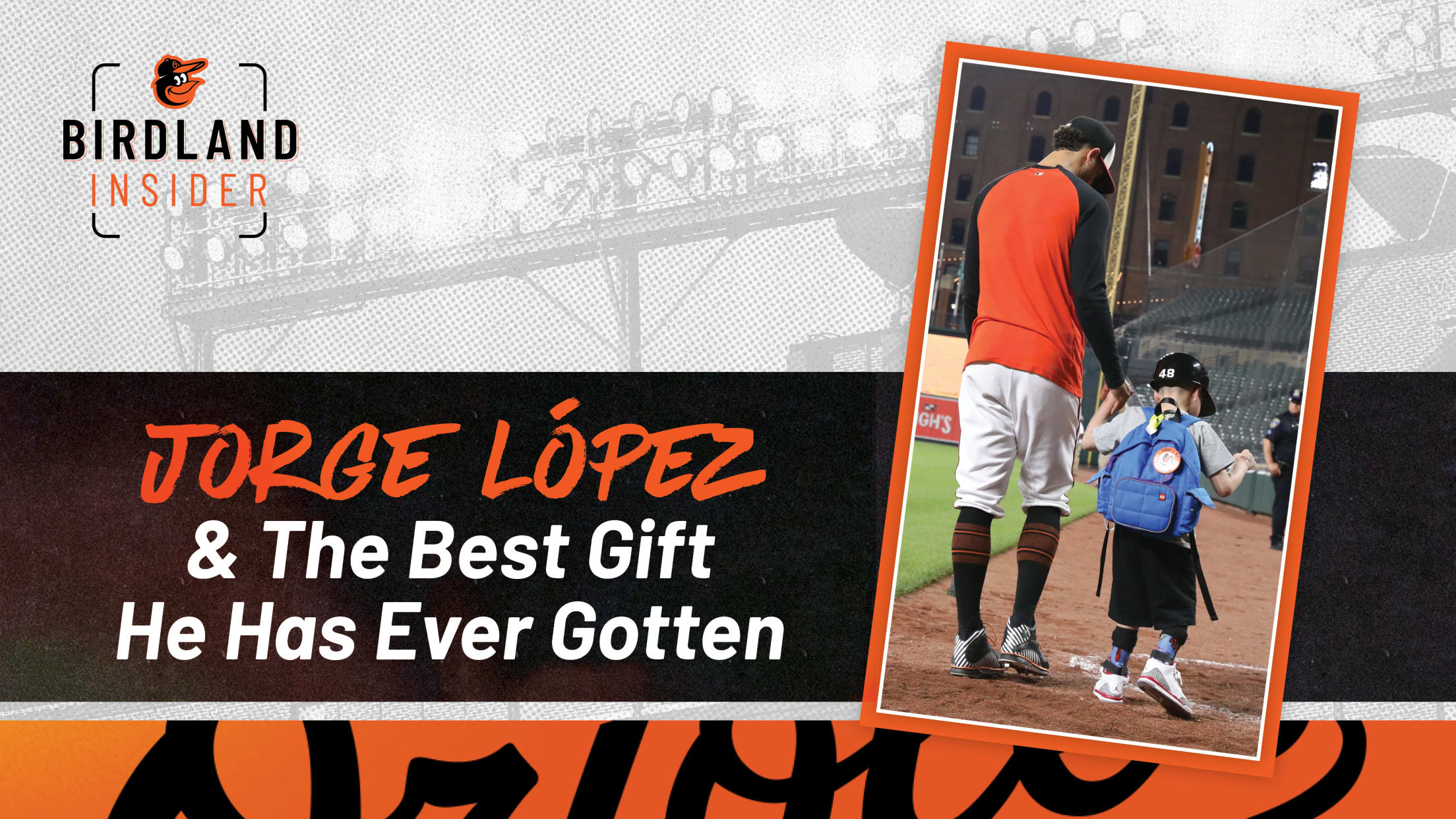 Scroll
Jorge López and the best gift he has ever gotten
The final score of the Orioles game on May 31 did not matter to Jorge López and his family. What mattered was that Mikael, López's 9-year-old son, was in the stands at his dad's home ballpark for the first time in his life, cheering on the team.
That moment was nine years in the making -- and one the López family was never sure they would get to experience together.
"Having him here with me, I'm so happy," said López. "It's the best gift I could have for Father's Day. I can't ask for more than this."
López was 20 years old and playing rookie ball in Arizona when his wife, Karla, called to tell him she was pregnant. Being a dad at 20 years old was not something López had ever planned for himself. But as soon as he got the call, he knew it would be the best thing to ever happen to him.
Nine months later, he was playing in the Midwest League and flew from Wisconsin to Puerto Rico to be there in time for the birth of his son. On May 28, 2013, Mikael was born.
"You can tell how fragile we are when you see that little thing in your hands," said López. "It was so emotional. I was so happy."
It only took seven days for López to learn just how fragile Mikael's life really was.
Exactly one week after his birth, López and Karla woke up and found blood in Mikael's diaper. They immediately rushed him to a hospital in Puerto Rico, not knowing that moment would define the next nine years of their lives.
"It was a really hard moment in that time because we didn't know what was wrong," said López. "We took him to the hospital and they started doing all the tests and all the exams to find out what was going on. That's when everything started."
Despite the tests and exams, the hospital in Puerto Rico was unable to diagnose Mikael. Instead, they transferred him to a hospital in Miami -- where, once again, they were unable to confirm a diagnosis. All the while, Mikael's condition was worsening -- and the odds of losing him were increasing.
Those were the scariest times for López and his family. Not only was Mikael suffering, but no one knew how to properly treat him. While López and Karla were focused on managing Mikael's pain, the doctors and nurses were preparing them for the worst possible outcome.
"He got to a point where they told us he could be gone," said López. "We heard a lot of things like that from every hospital we went to, but we just kept positive. We took things day by day -- and he is a fighter. He is an inspiration."
Finally, after 2 1/2 years of waiting and hoping for answers, the López family was transferred to Cincinnati Children's Hospital -- where they finally received Mikael's diagnosis: Crohn's disease.
Crohn's is an inflammatory disease characterized by abdominal pain and fever. In Mikael's case, it also led to infections, leading him to be hospitalized for long periods of time. Those hospitalizations were made even more stressful due to López's baseball schedule. He would be gone for days and months at a time -- not knowing for certain, if or when, he would see Mikael again.
"His mom is the one who spent most of the time with him," said López. "Every once and a while, when I could, I would go see him. But if baseball is one of the things that is going to take care of him, then I have to be able to come here and do my job until he gets his treatment."
Making time to see Mikael has been López's number one priority. Last year, when the team's game scheduled for May 28 -- Mikael's eighth birthday -- got rained out, López rented a car and drove from Chicago to Cincinnati to celebrate with him. He also spent time on the bereavement list last July to be in Cincinnati when Mikael underwent a life-changing bone marrow transplant.
But it is in the most challenging of times, when his family needs him the most, that López has learned he needs baseball just as much. It is no longer just a dream for him, it is his support system and his family's lifeline.
"Baseball is a family," said López. "The people we've been around, my teammates, all the organizations, they know our situation and I think that gave me motivation to keep going. But for Mikael, too. He's fighting for his life. I'm going to keep playing baseball until I can't. Everything I do, even outside of baseball, I will try to do my best for him."
López's career and Mikael's health have both seen their highs and lows, often mirroring one another. Which is why, as unfair as it seemed at the time, López suffering a season-ending right ankle sprain last September -- just as he was starting to find success in the Orioles bullpen -- may have been just what he needed.
On September 13, 2021, just six days after López was placed on the injured list, Mikael was discharged from the hospital following his bone marrow transplant. López was able to be right by his side.
"It was one of the happiest moments ever," said López. "I don't even remember how long he was in the hospital that time. But to be able to trust the process from that day, it was huge for him. Now, it just carries him to his future and a better life."
The better life for Mikael and the rest of his family seems to have finally arrived. And just like when López found out he was going to become a dad, the news started with a phone call from Karla.
Three days before Mikael's ninth birthday, Karla called López to tell him that Mikael would be discharged from the hospital. López immediately had Karla ask Mikael's doctors if he would be allowed to travel to Boston, where the team had a weekend series.
"We didn't know," said López. "We didn't think they weren't going to let him fly commercial -- and I was trying so hard to get a private flight. But the doctors said, 'Yes.' As soon as I found out, my heart was beating like crazy. When I saw him, I started jumping. I couldn't wait to see him. He gave me a great huge hug. It was so good."
The reunion between father and son was four long months in the making. But now for the first time in more than two years, the López family is together again. Whether it is at the ballpark or at home, whether the team wins or loses, they are not taking a moment for granted.
"I think we just love to have mom angry," said López with a laugh. "No, we love to help mom and to stick together. We like to just be together and play whatever -- it could be music, it could be sports, it could be in the kitchen. It's been a journey to have him here and we are just so thankful. He is one of the best gifts I could have ever gotten."