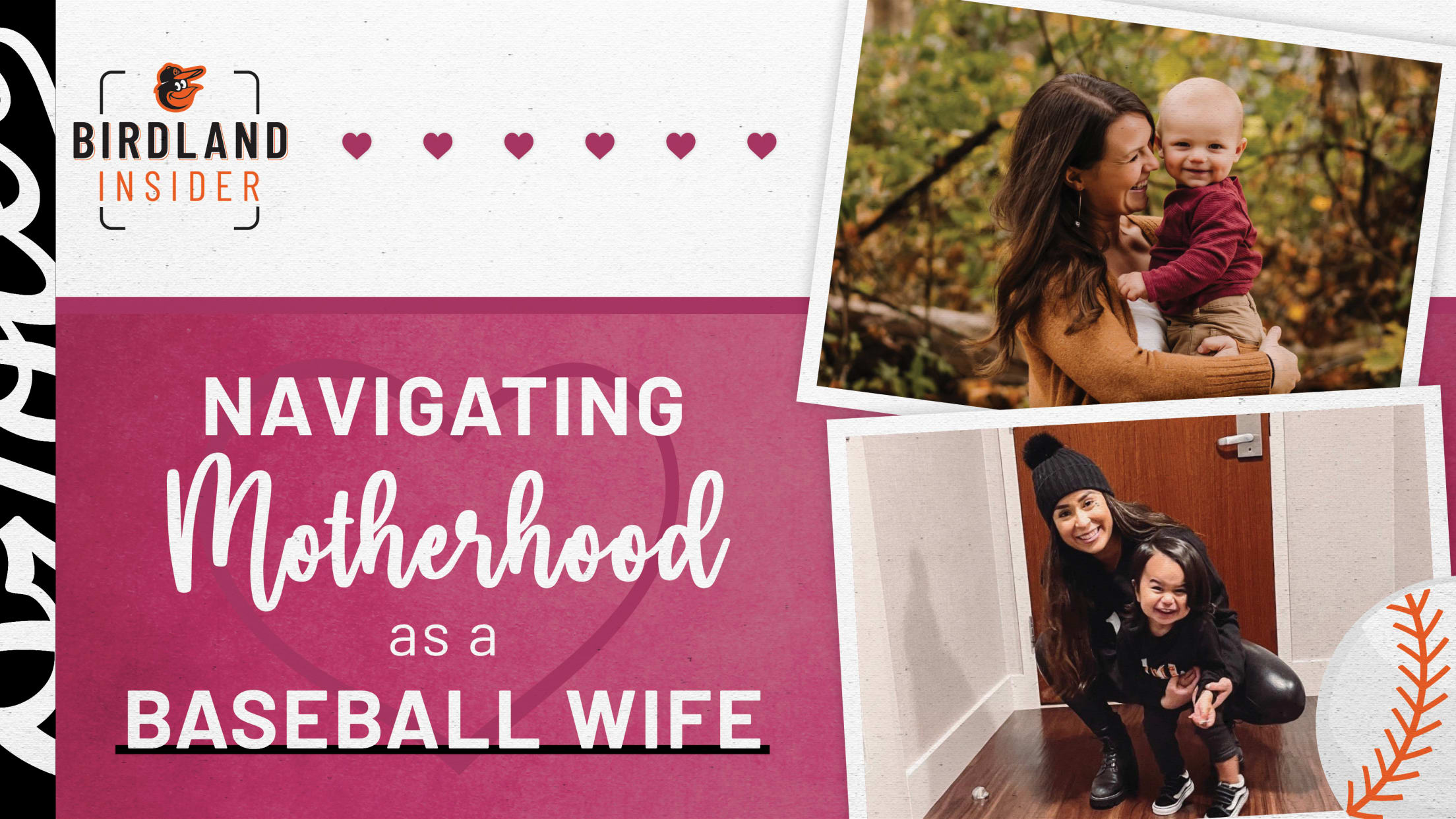 Scroll
Navigating Motherhood as a Baseball Wife
For the first time in months, Paige Fry got a break. She was able to lie down on the couch and relax while her mom played with her 19-month-old son, Forrest.
Living nine hours away from her home and family in Michigan, Paige does not have the luxury to call on a family member when she needs a break. When her husband, Paul, a left-handed reliever for the Orioles, is on the road, it becomes even harder.
"I think the road trips do seem long right now," said Paige. "I don't remember last year being alone for this long, but maybe I was."
On top of the everyday struggles of motherhood, Paige is also dealing with the uncertainties that come with being married to a Major League Baseball player. One of those struggles is never knowing where you will be. This past Spring Training, Paul was not pitching as well as he hoped. Paige had no idea where her family would end up come April, but that is what it is like to be a baseball wife and mom.
"It's so different," said Paige. "I don't want to say not glamorous, but it's interesting. It's hard, but it's great at the same time. It's a lot of unknown. I love it, but it's definitely different than I ever anticipated."
Paige and Paul met in high school when they were randomly paired on their school's homecoming court. They didn't win king and queen, but Paige remembers going home after and telling her mom "I think I like him." They've been together ever since.
Eventually, Paul made it to the big leagues. And Paige was suddenly the wife of a Major League Baseball player, making sacrifices, like leaving her job as a second grade teacher, to support her husband and his dream.
"It was really hard not having something for myself at first," said Paige. "And it is still hard. There are days when I wish I could go to work and do what I love to do, but being with Paul is priority right now. We don't want to miss out on this. The time to be with him is now, I can always be a teacher."
Luckily, Paige has a group of Orioles wives she can lean on who know all about the difficulties and uncertainties she faces. One of those wives is Michelle Ruiz.
When she was around 36 weeks pregnant, Michelle, the wife of Orioles' infielder Rio Ruiz, was told her amniotic fluid was low, and her baby could come early. A week later, Rio packed his bags and headed off for a nine-day road trip that would take him from Arizona to Los Angeles to San Diego.
Four days into the road trip, on July 25, 2019, Rio was optioned to Triple-A Norfolk. He came home to Baltimore, knowing he would have two days to get packed up and ready before he had to report. But, someone had difference plans.
Two days later, on July 27, 2019, baby Luca was born.
"I guess that it was God's plan," said Michelle. "Yes, Rio was upset that he got sent down, but it worked out for us because Luca came early. That was obviously scary not knowing if someone was going to be there, or if I was going to be alone. But thankfully it all worked out. Someone was on our side I guess."
Even though Rio was there for Luca's birth, he and Michelle were still alone with a newborn baby for the first time. With their family living in California, they had no one to lean on for help, which is one of the hardest parts of being a baseball wife and mom for Michelle.
When it comes to their day-to-day life, a lot of the work is put on Michelle. While she knew going into this it would be like that, she would be lying if she said it wasn't hard.
"Rio works hard to provide for us and he's living his dream and I would never complain about him going out there every day and doing what he dreamt of when he was a little kid," said Michelle. "It's hard to be by myself a lot when I'm with Luca, but you don't realize how strong you are until you have to do things alone."
Her strength has never been on display more than this past year as she and her family navigated the COVID-19 pandemic. When Spring Training was abruptly shut down on March 12, 2020, and the MLB season postponed, both the Ruiz and Fry families, like so many others, had a decision to make. Would they stay where they were in Florida, or go back to their homes?
In the end, baseball made the decision for them.
"We really didn't know what to do," said Paige. "I think the gyms were closed in Michigan, so if we were going back to Michigan, Paul would have had nowhere to work out and it was still freezing in Michigan. And he would not have had anyone to workout with either. There were a couple guys in Florida, so that was kind of what led us to decide to stay there. We had a couple guys he could throw with outside there."
The Ruiz's also made the decision to stay in Florida because Rio would be able to continue to work out. Luckily for them, they were renting from family friends and were able to extend their stay without any problems.
At the end of May, after four months in Florida, both families decided it was time to go home. That meant traveling with a one-year-old, and in the Ruiz's case, driving cross country to Arizona.
"I did dread it," said Michelle. "But it wasn't as bad as I thought it was going to be. I think now if we tried to do that with Luca, he would not have it. He thankfully slept most of the way, so it wasn't too bad. And we broke the trip up. But if we were to do that now, I don't know if I would be brave enough because he just wants to be out and running and be free and he would not stay in his car seat that long, that's for sure."
While she may not want to drive cross country with Luca now, Michelle was brave enough to fly cross country with him alone, making the team's most recent road trip to Oakland and Seattle. After debating whether or not it was a good idea, Michelle got the push she needed knowing they would see family members they hadn't seen in months.
To get ready for their trip Michelle stocked up on snacks, coloring books, cars, and stickers, and headed to the airport. Luckily, Luca slept most of the way.
"Seriously the diaper bag is like a Mary Poppins bag, you just keep pulling things out because that's what keeps him occupied," said Michelle. "
When they don't make the road trips, which was the case during the 2020 season and has been the norm for most families in 2021 due to COVID-19 protocols, the families rely on FaceTime, pictures, and videos to stay in touch with their husbands and dads.
The time spent apart is one of the biggest differences between last year and this season. Before he left for the most recent road trip, Paul and Paige were sitting together looking through pictures of Forrest from when he was still little.
"He was so chubby and Paul was laughing," said Paige. "And he said 'I'm so happy I was there when he was so little, for a lot of the time.'"
Now, Michelle and Paige are back on their own as their husbands travel around the country playing baseball. And while there are times when it is hard and the uncertainty gets stressful, neither of them would trade it for anything. Especially if it means their sons get to grow up watching their dads live their dream.
"It's amazing," said Paige. "Forrest will look and he watches he might say 'Dada' and point. And he will pretend to throw a ball, he's right handed though, unlike his dad. It's really amazing to see, his face lights up anytime he sees Paul. So it's really exciting for him and for me and for Paul, too."
Michelle realized early how magical this journey was going to be soon after having Luca. Rio got recalled to the Major League team on August 9, 2019. That day, he hit a walk-off home run.
"That was pretty awesome to be there with Luca," said Michelle. "I have video of it where he's coming home, everyone is at the plate, and his newborn son is right there and that's something I'll always remember, to be there all together as a new family."
---
In celebration of Mother's Day, the Orioles will be honoring local healthcare hero Mary Simpler as part of Major League Baseball's "Honorary Bat Girl" program, as well as welcoming a member of Baltimore's Marian House to throw a virtual first pitch on Sunday, May 9.
Simpler is a nurse in the Cardiovascular Recovery Unit at MedStar Union Memorial Hospital and overcame breast cancer in 2013. Inspired by her own battle, she formed a non-profit charity called Mary's Army. Through this charity, a team of volunteers holds fundraises to provide support to breast cancer patients at local MedStar Health Hospitals. They deliver flowers, balloons, and gift baskets that typically include gift cards for essential needs, to the patients. As Honorary Bat Girl, Simpler will be provided with a prize pack from MLB. The Honorary Bat Girl program was introduced in 2009 as a league-wide initiative to raise awareness and support for the annual "Going to Bat Against Breast Cancer" initiative celebrated on Mother's Day. In 11 years, thousands of unique testimonials have been submitted and more than 300 individuals have been honored at our 30 MLB ballparks.
Founded in 1982, Marian House has offered high quality rehabilitative series and housing to homeless women and their children. They focus on helping women break down the barriers of homelessness, heal from past traumas, and move toward a life of independence and wellness.