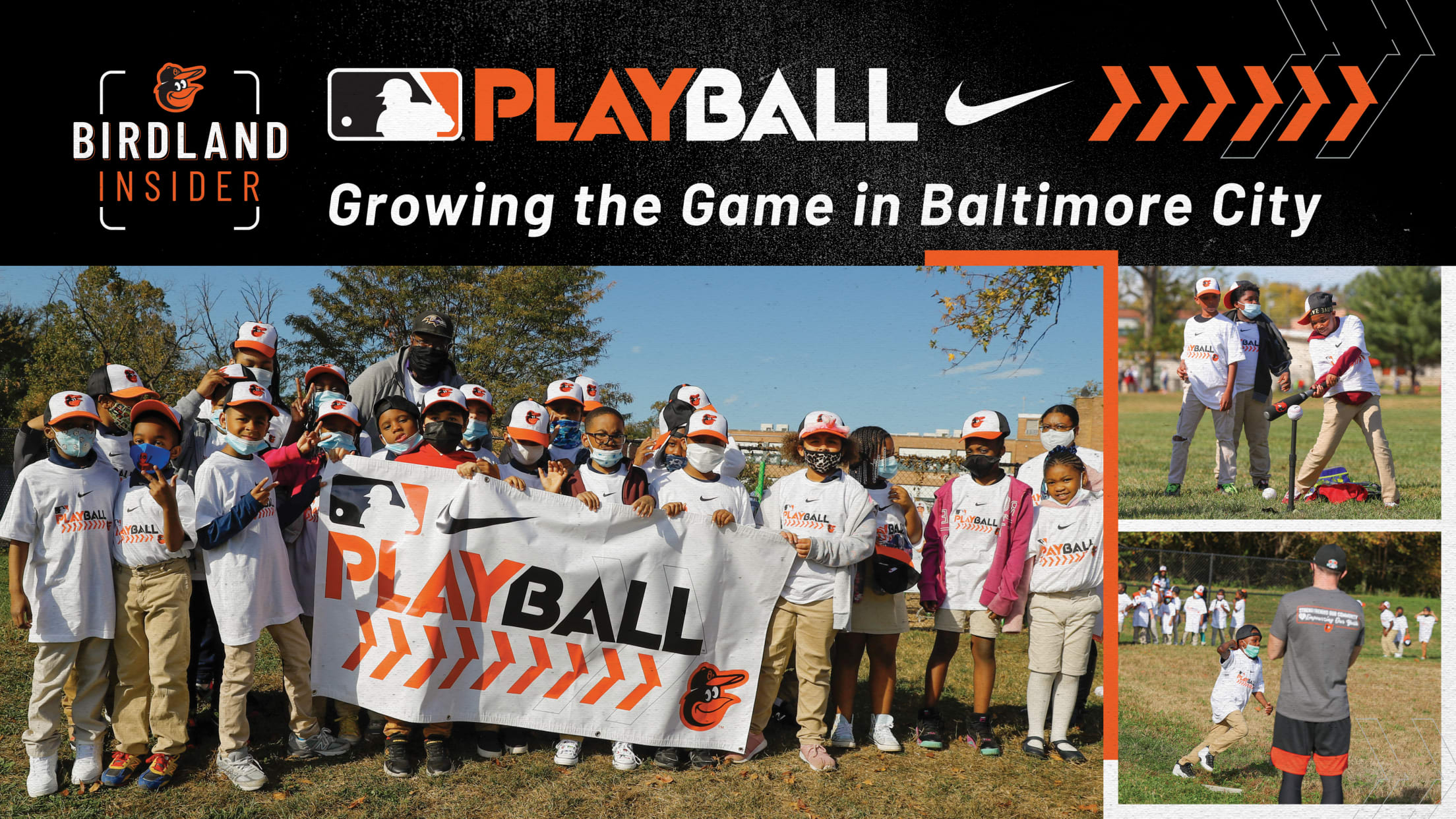 Scroll
Play Ball: Growing the Game in Baltimore City
The Baltimore Orioles are committed to empowering local youth and growing the game of baseball. This past week, they continued both of those missions as they expanded upon Major League Baseball's Play Ball campaign and hosted Play Ball Day events, presented by Nike, at three local Maryland Title I schools.
The three schools included Beechfield Elementary Middle (Baltimore City), Edgewood Elementary (Harford County), and East Salisbury Elementary (Wicomico County).
A fourth event will be held at Oxon Hill Middle (Prince George's County) on Monday, November 8. Through the four different events, more than 2,200 children will be impacted by Play Ball Day.
The goal of Play Ball Day is to grow the game of baseball, inspire recreational play in underserved areas, and teach life lessons including teamwork, perseverance, and resilience. The event combined a series of outdoor physical activities, with different educational opportunities, including learning about the history of the Negro Leagues.
After an Opening Ceremony, students, aged elementary to middle school, were split into small groups, rotating through up to 20 different stations. At the stations, students learned the fundamentals of throwing, hitting, fielding, and base running through interactive games such as "Catch Tag," "Alligator Arms," "Relay Throwing Race," and "Hitting Derby."
Throughout the week of events, there were numerous volunteers that assisted at the stations, including Orioles Hall of Famer Al Bumbry, pitcher Dave Johnson, outfielder Larry Bigbie, Salisbury University's Physical Education program, the Oriole Advocates, and members of the Orioles employee volunteer program, Orange and Black Gives Back.
"It's fun for me to do it because I can see kids having success," said Bumbry. "And I see the smile on their face when they hit the ball well, and that's what it's all about."
The students were able to take a break from the physical activities to draw and color Orioles themed coloring pages, practice basic math skills through jersey math, matching solutions to math equations with the jersey number of a former or current Oriole, and complete a reading activity about the history of the Negro Leagues, learning about the Baltimore Black Sox and Elite Giants, along with local greats including Leon Day.
The Orioles teamed up with SHAPE Maryland and the Orioles Minor League affiliates, located in each community, to volunteer and assist with the activities. SHAPE Maryland is an organization that works to enhance and promote the health and wellness of citizens of Maryland by providing advocacy, resources, and professional learning opportunities for current and future PreK-12 health and physical educators.
Play Ball Day events expand upon the Orioles' community pillars of Strengthening our Community and Empowering our Youth as the club actively works to provide opportunities to grow the game of baseball and create new generations of Oriole fans. Schools interested in hosting a Play Ball Day event can visit Orioles.com/PlayBall to download the event packet.