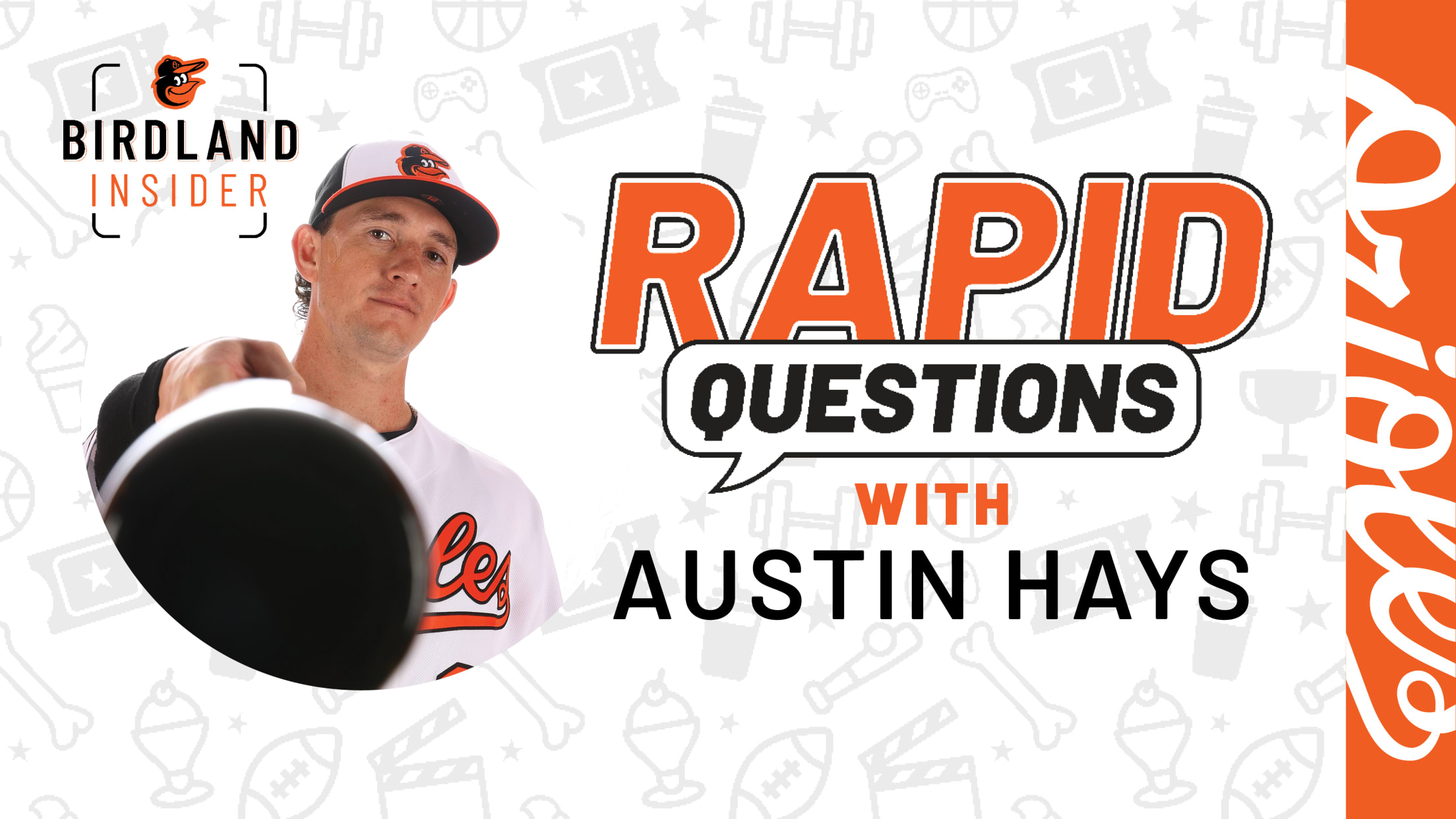 Scroll
Rapid Questions with Austin Hays
There is a lot Oriole fans already know when it comes to outfielder Austin Hays. After reaching base safely in 20-straight games to close out the 2021 season, Hays picked up right where he left off to begin 2022. He is one of four players in Major League Baseball, and the only in the American League, to record four-or-more hits in multiple games this year. Hays reached base safely in nine-straight plate appearances earlier this year, becoming the first Oriole to do so since Cedric Mullins reached in 11-straight appearances in 2021.
Birdland Insider sat down with Hays for a rapid-fire Q&A to find out more about Hays off the diamond, including his favorite offseason activity, his go-to potluck meal, and favorite ice cream truck dessert.
What's your favorite ballpark to play in and why?
My favorite ballpark to play in is probably Camden Yards. I hit really well here, and I love playing in this ballpark. My non-home favorite ballpark is probably Fenway Park. The experience there is just great and my wife loves taking our son there, too. We really like that trip.
What did you want to be when you grew up?
Major League Baseball player. I always wanted to be one. That was always it.
If an ice cream truck pulled up right now, what would your order be?
The original ice cream sandwich. The rectangle one that has the little holes and the chocolate outside.
If you could trade places with one person or a day, who would it be and why?
I would love to trade places with my wife so I can see what type of person I am.
What is your favorite way to spend an off day in Baltimore?
I love going to Annapolis. We usually like to walk around down there and maybe stop into Pussers for a little bit on the water, and then go to Tsunami for sushi for dinner. That's my wife's favorite restaurant.
Does your number have any special meaning behind it?
No, I wore 22 all through high school and when I was in junior college, but I was never number 21 until a couple years ago. It was just given to me. Actually, a funny story about my number was I was 18 when I first got called up and I had number 18 for two years. When [manager] Brandon Hyde got hired, he became number 18, and I was changed to number 21. But I was the first player, because [Wayne] Kirby our [former] first base coach wore it, since Nick Markakis. And Markakis was an unbelievable outfielder here, so to be the first player to wear it since Markakis is pretty special to me.
What's your go-to karaoke song?
"Friends In Low Places" by Garth Brooks.
You have to make a dish for a potluck; what is your go-to dish?
I recently invested in a turkey fryer, so I might fry a turkey and bring it for the potluck dinner.
Which teammate do you think was the biggest troublemaker in school?
Biggest trouble maker would be Tanner Scott.
What is your favorite show that you can never get tired of watching?
I don't know about older shows. I'm stuck on the Nine Perfect Strangers show right now. It's new, so I haven't really rewatched it, but I just watched that for the first time and it was really really good.
If you weren't playing professional baseball, what would you be doing?
Before I knew that I was going to go play college baseball my friend and I talked about joining the military together. He actually joined the army, and I have a military background in my family so there was a possibility that I would've joined the military instead of playing college baseball. My dad was in the Marine Corps, so I probably would've joined the Marine Corps.
Which actor would you choose to play you in a movie about your life?
I would choose Matthew McConaughey because I have gotten that look-alike reference a lot from people. I don't know if it's the hair or what it is, but we just have very similar hair so I would pick him to play me in my life.
What's your favorite video game?
I haven't played video games since probably 2005, so MLB 2K5 was the last game I played on PS2.
Tell us one fun fact or unique piece of information about the town you grew up in.
There was a pretty long-time Oriole Luke Scott, he has some home runs out on Eutaw Street. He was also born and raised in De Leon Springs, Florida, where I was born and raised. My parents old house was about a mile away from where he lives in De Leon Springs.
Do you have any pets? If so, what type and what are their names?
I have one dog, her name is Lana.
What superpower would you like to have and why?
I definitely would not like to be able to fly because I'm scared of heights. So I would say to be invisible so you can be around people and see what they have to say about you.
If you could play any position other than your own, what would you play?
Definitely wouldn't catch. I think it would be fun to pitch. I haven't pitched since I was probably 10 years old so I think it would be fun to pitch. I can definitely throw a strike.
Who's the greatest athlete of all time and why?
I'll say Michael Jordan. He's just so iconic and I think not only his physical aspect but also just what he was able to do to other teams mentally before games just plays a big part in it. I think he's just the greatest athlete of all time.
What's your favorite thing to do in the offseason?
Hunt. Hunting is my number one activity in the offseason.