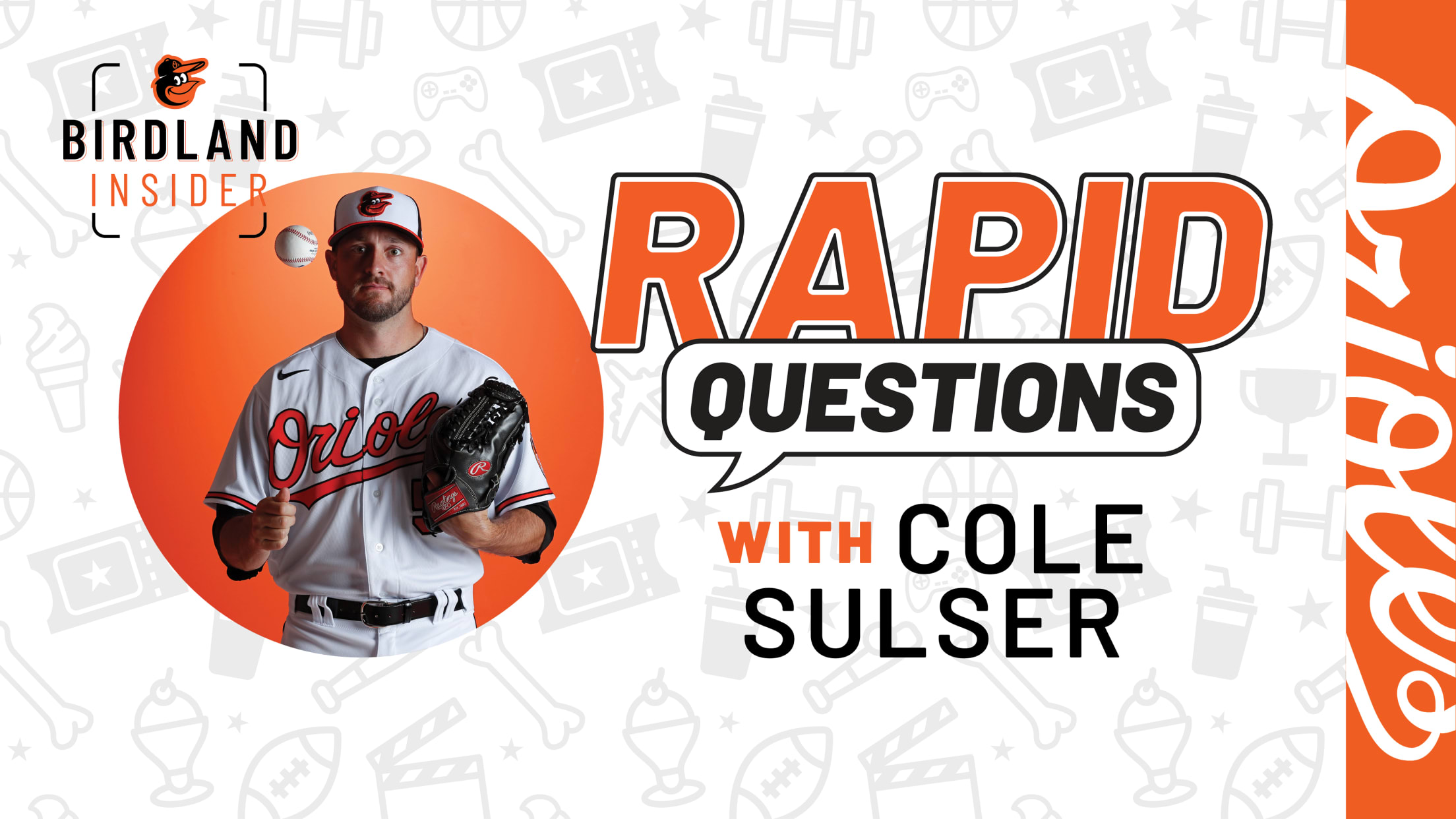 Scroll
Rapid Questions With Cole Sulser
Since joining the Orioles prior to the 2020 season, relief pitcher Cole Sulser has become a staple in the Orioles bullpen, on the mound, and in the clubhouse. As a Dartmouth University graduate, Sulser is impressive with his smarts both on and off the field.
Birdland Insider chatted with Sulser to learn more about the right-hander and his life away from the baseball diamond.
What's your favorite ballpark to play in and why?
Camden's got to be number one. I love playing for a hometown crowd, and with the Warehouse and the beauty of the stadium, I've always liked this place. Outside of that, I'm a big fan of history and historic ballparks, so I think I have to go with Fenway.
What did you want to be when you grew up?
I always wanted to be a baseball player. Outside of that, I am really not too sure. I was always dreaming that this would work out. Since it has so far, it's been awesome.
If an ice cream truck pulled up right now, what would your order be?
A Drumstick for sure. It's one of my favorites.
What is your favorite way to spend an off-day in Baltimore?
Usually it's walking around the harbor. I really like the Fells Point area, so I like walking around there too. I'll go get some coffee if it's in the morning. Or I'll enjoy some food and drinks in the evening.
Does your number have any special meaning behind it?
It does not. No special meaning. When I was first called up, I was given number 71, so when I got to be in the 50s it seemed like a promotion. Growing up I was always number 13, so that number has a special place in my heart. That's what I was in high school and college, so in some ways maybe I'd go back to that, but it's not much of a pitcher's number anymore.
What's your go-to karaoke song?
I do not sing karaoke. I am not much of a singer, I would avoid it at all costs probably.
You have to make a dish for a potluck, what is your go-to dish to bring?
I'd probably lean towards baking something, like dessert. I'm a big sweets person, so I'd go with some sort of brownie or cookie.
Which teammate do you think was the biggest troublemaker in school?
Tanner Scott. I think he's a guy that would get the whole classroom laughing, but wouldn't be the teacher's favorite.
What is your favorite show that you can never get tired of?
I was a big fan of Vikings. It has seven or eight seasons, so it's easy to watch that for a while.
If you weren't playing professional baseball, what would you be doing?
I went to school for engineering, so there's a good chance I would've gone down that route and used my degree to be in the engineering field somewhere.
What's your favorite video game?
I'm not much of a video game person. I don't really play.
Tell us one fun fact/unique piece of information about the town you grew up in.
I say I'm from Southern California, but I grew up in a very rural town there. It's got a little less than 500 people total. I grew up on a cattle ranch in the middle of nowhere. We had to drive to a different town to go to high school. I grew up in a very small area.
Do you have any pets? If so, what type and what are their names?
I have a family dog. A Schiller Hound named Cat, like Cat Dog. I love dogs, I definitely want to get one of my own.
If you could play any position other than your own, what would you play?
I feel like third base would be a lot of fun. Not a ton of range you have to cover, but some hot grounders and you get to throw all the way across the diamond to show off some arm strength. Hopefully you'd play third base and have a strong bat – that would be a fun spot.
What's your favorite thing to do in the offseason?
I'm big into the outdoors. I do a lot of fishing, hunting, camping, hiking, that sort of thing.