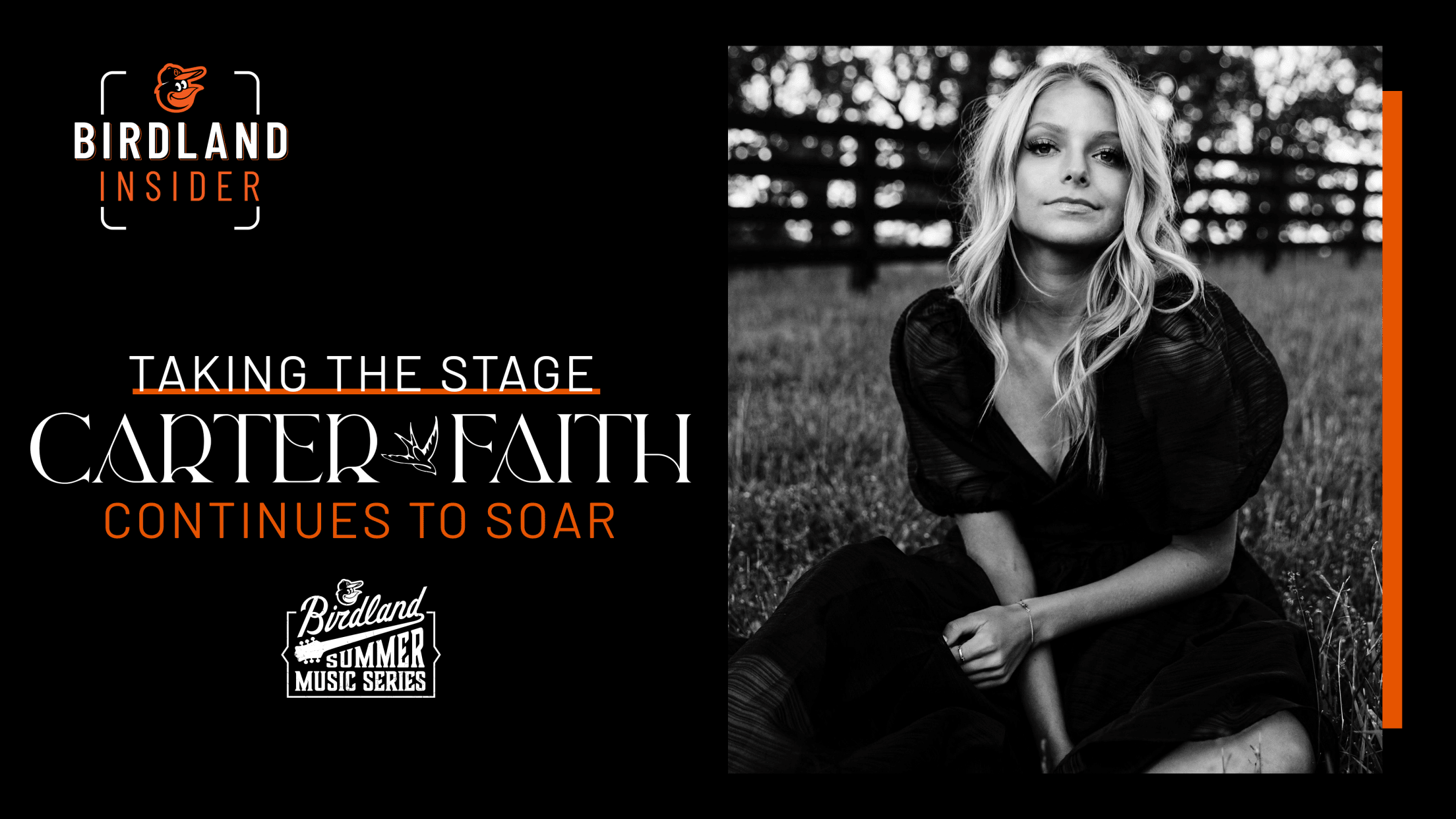 Scroll
Taking the Stage: Carter Faith Continues to Soar
When Carter Faith first took the stage at Oriole Park, she was a 17-year-old high school senior looking to make a name for herself in her first major performance. Four years later, she returns to the ballpark that helped launch her career as she opens for the Avett Brothers on Thursday, September 16.
The performance – part of the Birdland Summer Music Series – marks the return of live music to downtown Baltimore as one of the first concerts in the city since the pandemic began.
Faith first took the mic at Camden Yards as one of the original performers in the Friday Fireworks & Women of Country Music series, where she sang the national anthem prior to first pitch then played a postgame concert before the fireworks display.
"I was so nervous. I was like, what am I doing in this stadium? I was a senior in high school, so it was like my first real performance ever. It was awesome but I was freaking out," recalled Faith.
Throughout the years since, she has remained a regular in Birdland. Faith has regularly played at Oriole Park and at the club's annual Nashville's Music Row Comes to the Ballpark event in Sarasota, Fla.
Originally from Davidson, North Carolina, Faith taught herself to play guitar and piano at a young age. She later began crafting lyrics as a way to make sense of the world around her.
Although she's not a Maryland native, Faith is no stranger to Orioles fandom. Her mother was born and raised in Bowie, Maryland so she has been familiar with the Birds her entire life.
"I love being in Baltimore and at Camden Yards because of how awesome the fans are. My mom is from Maryland, so I know how Maryland sports fans are -- they are diehard. I love that. It's so fun."
Since her first visit to Camden Yards in 2018, Faith has emerged as one of country music's brightest stars. She just released her debut EP "Let Love Be Love" on August 20, which has already received more than three million streams. She has also shared the stage with prominent country artists like Cole Swindell, Old Dominion, Chris Young and many more – most recently closing out a sold-out show at the legendary Ryman Auditorium during Whiskey Jam's 10-year anniversary.
Faith has felt the reward of her hard work over the last several months, as she recently passed 14 million streams on Apple and was named "the future of the next 10 years of Nashville" by Apple Music host Ward Guether.
Just as she has grown professionally in the four years since her Orioles' debut, she has also grown personally. From a hopeful young 17-year-old to a now 21-year-old college senior, Faith knows she has transformed into a better musician and a stronger person.
"I'm such a different person [than I was in 2018]. I go to college here in Nashville, and you change so much in college. I got a music deal and I've been working really hard with that. Even the songs I wrote four years ago, I'm just shocked when I listen to them. I've come so far. I've gone through relationships and friendships and my own personal growth. So, I'm in a different place for sure."
As she continues to grow and garner recognition throughout the music industry, Faith is thrilled to return to Camden Yards for one of the biggest performances of her career. She will be surrounded by friends and family who have supported her each step of the way.
"This is going to be huge," said Faith. "I've never really gotten to do a show like this. The Avett Brothers are from Concord, North Carolina, which is close to where I'm from, so it's really like a full circle moment for me. I've been a fan of them and now I'm really excited to perform as part of their show."
About the Birdland Summer Music Series & Orioles' commitment to Women's Empowerment
What began in 2016 in Sarasota, Fla. as the first "Nashville's Music Row Comes to the Ballpark" charity event has now evolved to become an integral part of the Orioles' community development efforts. Expanding upon that first successful evening of song and sport, the Orioles have created several initiatives that help strengthen our communities and empower our youth through music education and women's empowerment.
In addition to Nashville's Music Row Comes to the Ballpark and the 'Athletes & Artists Play for Kids' events, the Orioles introduced the Friday Fireworks & Women of Country Music series, which provides a platform for up-and-coming female artists at Oriole Park. In 2019, the series was developed in partnership with Change the Conversation, a nonprofit organization that advocates for women's equality in the music industry.
Now having expanded their efforts to feature the Birdland Summer Music Series, the Orioles have steadily grown their programming to include large-scale entertainment events for fans and even more charitable components -- complete with fundraisers, artist-led music workshops for local youth, and health and wellness sessions for children of the community.
Since its inception, the Athletes & Artists and Birdland Summer Music Series has raised more than $400,000 for various charities and brought several award-winning songwriters to both Oriole Park and Ed Smith Stadium to perform for Orioles players, fans, and charitable donors.
By using their platform to promote women's equality in every industry, the Orioles are setting the stage for a brighter future in Baltimore, Sarasota, and the entire Birdland community.