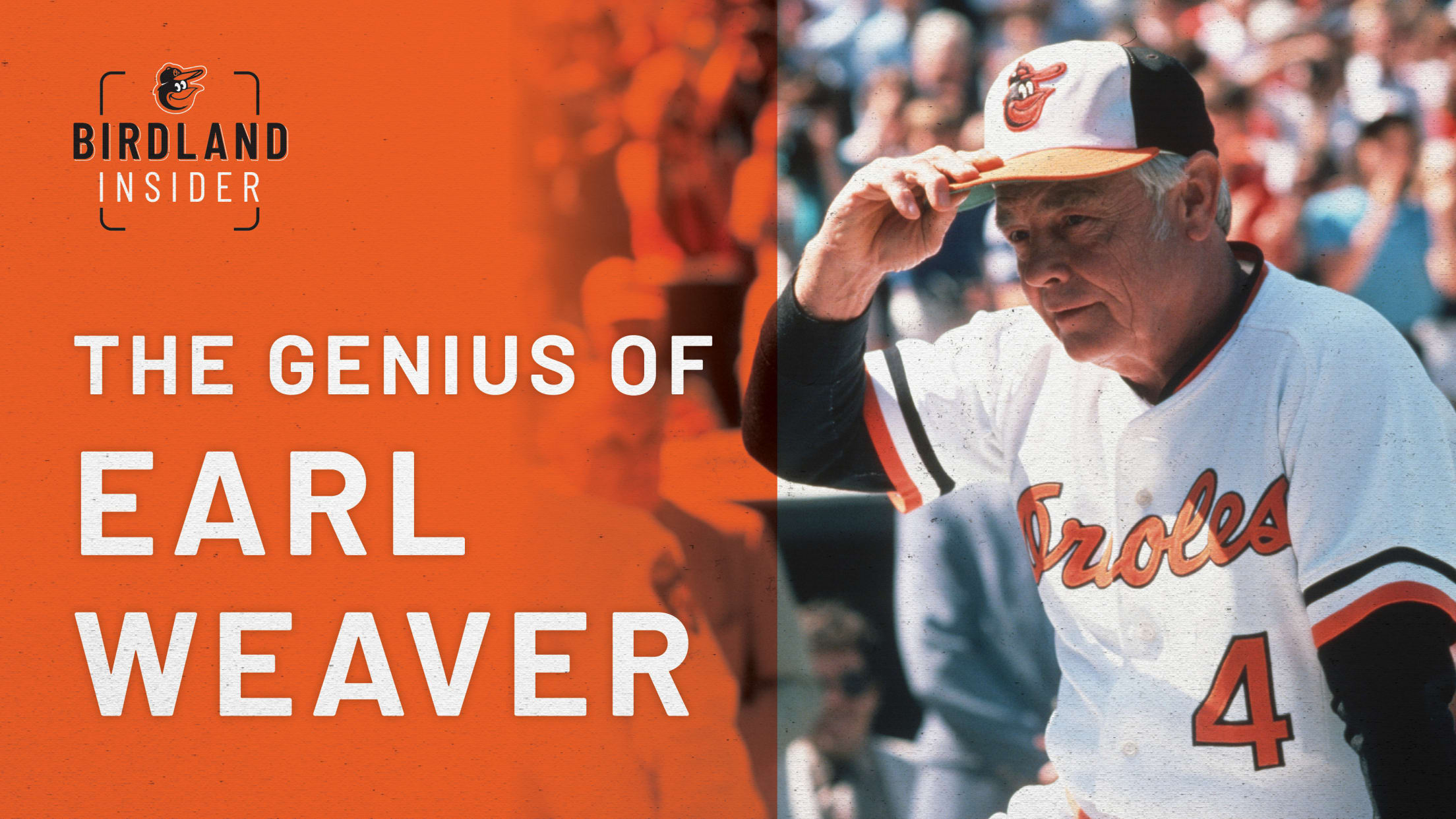 Scroll
The Genius of Earl Weaver
When his statue was unveiled at Camden Yards in June 2012, taking its place along with his former players – the Robinsons, Murray, Palmer, Ripken – legendary Orioles manager Earl Weaver was surprised at the reception he got from the fans.
"Each time I came back I was amazed how the fans remembered the past," Weaver said that day. "It was great to be remembered. It was always great to be asked for your autograph. You couldn't help but wonder how these people all remembered, and right now, right over there, I'm going to be remembered."
It didn't take a bronze sculpture for Orioles fans to remember their Hall of Fame manager. Earl Weaver already was larger than life.
When he died at age 82 on January 19, 2013 during his annual Caribbean cruise, every obituary and column written about him began with the same descriptions: bantam-sized, irascible, volatile, umpire-baiting.
While there's no denying his 5-foot-7 stature, the rest of those expressions were merely parts of what made him one of the greatest managers of all-time. But one description stood out most:
Genius.
Decades before computer analysis found its way into the game and the terms sabermetrics and "Money Ball" found their way into the baseball lexicon, Weaver was the first to use batter-pitcher match-ups, famously having the Orioles public relations department create index cards on every player in baseball and updating how each of his batters fared against every pitcher in the league and how his own pitcher's did against each opposing batter.
He had an infield cut into a small area beyond the stands at Bobby Maduro Miami Stadium so his spring training squads could work on pitcher's fielding practice and rundown plays while the main stadium field – the only one the Orioles had to use at the time – could be used for hitting and other drills.
In spring training in 1975, Weaver pioneered the use of radar guns to measure a pitcher's velocity as a way to know when he may be losing something off his fastball and tiring. In September of that year, with rosters expanded, he used call-up outfielder Royle Stillman to lead off in six road games, listing him at shortstop, before inserting light-hitting Gold Glover Mark Belanger in the field in the bottom of the first inning. Stillman went 3-for-6 in those games.
"We always felt like we had an advantage over the other team, because Earl was thinking four steps ahead of whoever was in the other dugout and whatever the situation was," said former pitcher Sammy Stewart.
It could be starting outfielder John Shelby at second base in place of a slumping Rich Dauer to get more offense; pointing out a rule book violation to the umpires; trying to grow bigger tomatoes than longtime friend and Orioles groundskeeper Pat Santarone; betting a $2 Nassau with his golf buddies; or playing charades, Jeopardy or some other parlor game during the baseball-themed Caribbean cruises he took every year with his wife, several of his former players and dozens of Orioles fans – Earl just wanted to win. More than that, he didn't want to lose.
"On my tombstone," he once said, "just write, 'The sorest loser that ever lived.'"
It's not something Weaver's teams did very often. In 17 seasons as manager, all with the Orioles from 1968 through 1982 and again in 1985-86, his teams went 1,480-1,060. His .583 winning percentage ranks ninth all-time and is second among those who have managed in the last 60 years (to Al Lopez, who retired in 1969 with a .584 percentage). He is one of only 17 managers in baseball's Hall of Fame in Cooperstown, NY, inducted in 1996.
He won four pennants and one World Series, in 1970. He won 90 games in a season 11 times. He is the only manager to win at least 100 games in each of his first three full seasons. In 15 full seasons at the helm, Weaver's Orioles finished first or second 12 times. He retired following the 1982 season, but came back to manage in 1985-86. His only losing season was his last.
Little wonder, then, that he was known as "The Earl of Baltimore."
Everything Earl did on the baseball field – including arguing with umpires and even his own players – was to get an edge, any edge, that could lead to an Orioles win. Because even if they didn't always agree with him, wrangling privately and publicly about his maneuvers, they knew there was a method to his madness.
"One thing about Earl," catcher Rick Dempsey said at the Florida memorial service for Weaver, "we hated him a lot of the time, but at the end of the day you loved him because he was a winner."
Earl was about winning, and that's what the Orioles did for 16 of the 17 years under his leadership. He disdained the sacrifice bunt, saying, "When you play for one run, that's usually what you get." Instead, his m.o. was "pitching, defense and three-run homers."
Most people will remember his tirades with umpires; Weaver was ejected from 98 games, more than all but two managers ever. But he usually had a purpose in that as well: "The job of arguing with the umpire belongs to the manager," he said, "because it won't hurt the team if he gets thrown out of the game."
More genius:
In 1977, the Orioles had minor leaguer Eddie Murray in spring training camp to get a look at him before sending him back to AAA for more seasoning. Except the more Earl saw, the more he liked the young switch-hitter. Every time cuts were made, Weaver argued against sending Murray over to the minor league camp, finally going out on a limb with General Manager Hank Peters and insisting that Eddie come north with the club. Murray won American League Rookie of the Year honors, and the rest is history.
Five years later, he moved 6-foot-4 Cal Ripken from third base to shortstop, arguing that Ripken's defensive abilities would be better utilized and his offensive power would put him above others at the position. At the time, it was about as radical as if Weaver had sought to move the pitching rubber back four feet. Again, the rest is history.
All of it was done for one purpose: to give the Orioles a better chance at winning. And no team in his era won more games. While Weaver was manager, the next best team, the Cincinnati Reds, finished a cumulative 57 games behind the Orioles; the second-best AL team, the New York Yankees, was 71 ½ games behind the Orioles.
Weaver's own 13-year playing career did not advance past Double A ball after signing with his hometown St. Louis Cardinals. By 1956, at age 26, he was managing as well as playing, and Jim McLaughlin, the Orioles farm director, hired him to manage in the Orioles minor league system in 1957 (he continued to play part-time for four more years). He worked his way up every rung of the minors, starting at Class D Fitzgerald, GA, before arriving in Baltimore as first base coach in 1968. In July he replaced Hank Bauer as manager, and in his first three full seasons as manager, the Orioles reached the World Series. They won the AL East in five of his first six full seasons at the helm.
Not reaching the majors as a player "broke my heart" he told a reporter for Time Magazine in 1979. "But right then, I started becoming a good baseball person, because when I came to recognize and, more important, accept my own deficiencies, then I could recognize other players' inabilities and learn to accept them, not for what they can't do, but for what they can do. And in the process, I suppose, I broke some hearts."
I once asked Earl what game or moment stood out most for him, given the number of division, pennant and Series clinching games he'd been in, the historic games and the games involving histrionics with umpires. He didn't hesitate.
"The night Brooksie hit that homer off LaRoche," he said, immediately recalling Brooks Robinson's last career home run, April 19, 1977. It was a pinch-hit, game-winning, three-run shot in the bottom of the 10th off Cleveland's Dave LaRoche after Brooks had fouled off a half-dozen 3-2 pitches. "You don't know how happy I was for him, knowing he's in the final stage of his career, with all he had done to help me."
Video and photos show the Orioles manager running out to meet Brooks halfway to home plate, smiling, clapping and slapping the soon-to-retire third baseman on the back, something Weaver never did. It was a show of joyous emotion rarely seen while he was in uniform. As a manager, he kept a distance from his players. He couldn't – wouldn't – let the players see his soft side. He was a genius at knowing how to motivate and integrate 25 different players and personalities into a winning team. He knew who to kick in the rear and who to leave alone. But pats on the back were as rare as an unassisted triple play.
Some of his quotes are as legendary as his record.
Of perennial 20-game winner Mike Cuellar, who often gave up early runs: "I gave him more chances than I gave my first wife."
To outfielder Pat Kelly, who asked Weaver for more time during a pre-game prayer meeting by saying, "Earl don't you want us to walk with the Lord?" Weaver responded, "I'd rather see you walk with the bases loaded."
On a mound visit to a pitcher who was struggling: "If you know how to cheat, start now."
Of course, what's to be expected from a man whose memoir was titled, "It's What You Learn After You Know It All That Counts"?
Even his most disgruntled players would grudgingly admit Weaver's brilliance as a strategist and for getting the most out of every player in an Orioles uniform, from Hall of Famers like Brooks and Frank Robinson to part-time players like Tom Shopay and Terry Crowley.
"No one managed a ball club or pitching staff better than Earl," said 17-year big league manager Davey Johnson, who won three Gold Gloves as a second baseman under Weaver but did not always see eye-to-eye on where he batted in the lineup. "He was decades ahead of his time. Not a game goes by that I don't draw on something Earl did or said."
Weaver's feuds with pitcher Jim Palmer were legendary, both during and after their days in uniform. And while they may have disagreed on some things (okay, a lot of things), each man acknowledged the other as keys to their own career greatness. While he publicly might complain about Palmer and even argue with him during mound visits, Weaver would give each young pitcher who came up to the big league club the same advice: "Just watch everything No. 22 does and do what he does."
At Weaver's memorial service in Florida in 2013, Palmer said, "Earl gave me the opportunity to get to the Hall of Fame. What more can you ask of anybody?"
Weaver loved his visits to Baltimore, rarely turning down an opportunity to return and watch a game, and he was a regular presence at Orioles spring training games in Florida – any chance to get a first-hand look at "my Orioles." Even in the last few years, when making his way around the ballpark was tough and he'd often have to stop to catch his breath, he was constantly amazed at the reception he got from fans who would ask to take a picture with him or shake his hand, and thank him for all those winning seasons. He never understood how fans who weren't even born when he last took off his uniform could know who he was.