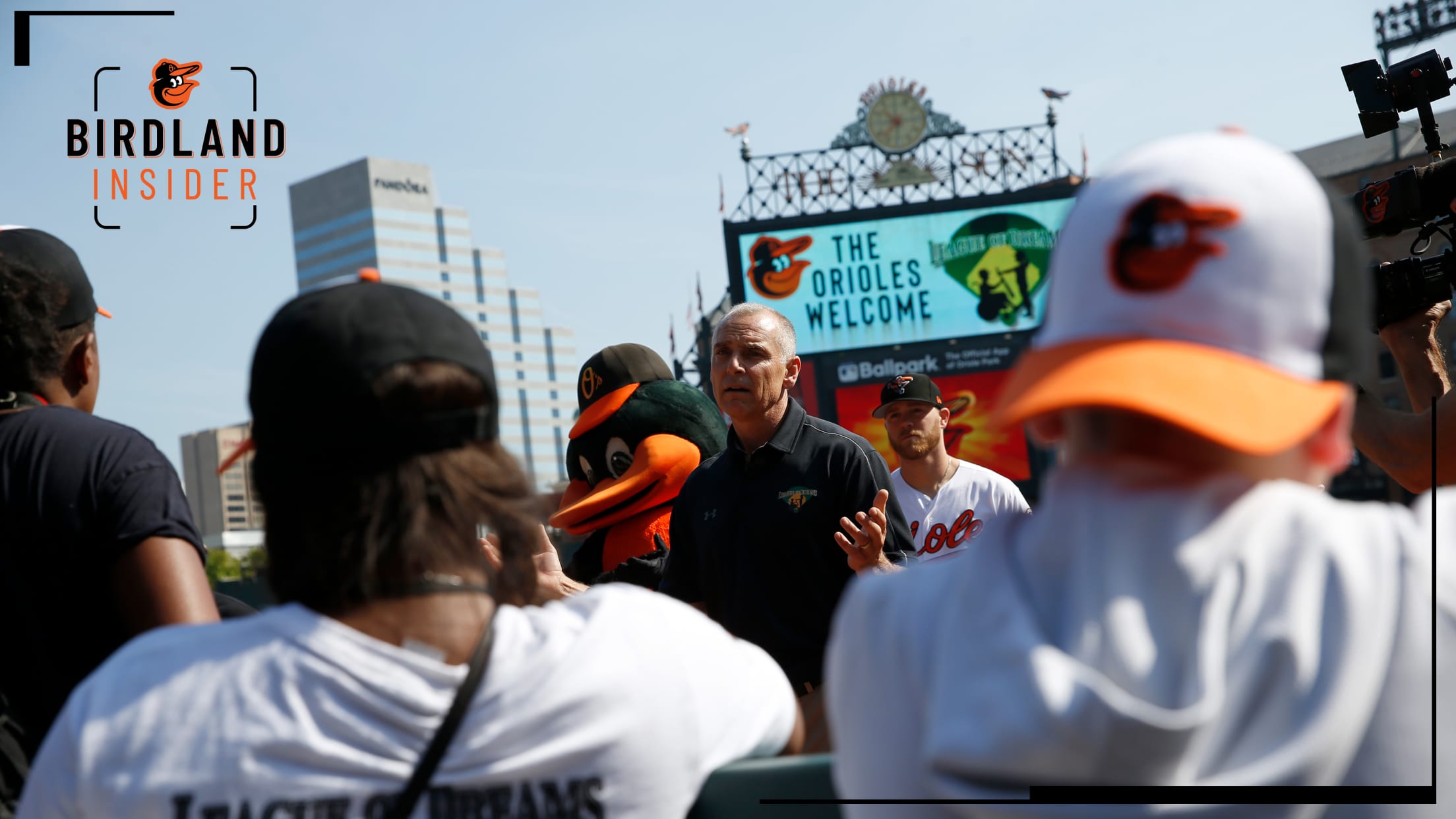 Scroll
Adaptive baseball for all 
The Orioles are proud to support the disabled community and the organizations that provide them with necessary resources and once-in-a-lifetime opportunities. As the Orioles celebrate the 30th anniversary of the Americans with Disabilities Act (ADA) on July 26, we want to highlight some of the adaptive baseball programs that we have partnered with over the years.
The Orioles have often worked with League of Dreams, a nonprofit organization dedicated to providing all individuals, regardless of physical or mental capacity, the opportunity to experience the joy, challenges and personal growth of playing the great games of baseball and softball. Last year, the Orioles partnered with League of Dreams to provide adaptive baseball opportunities for local children of the Maryland School for the Blind and The Children's Guild.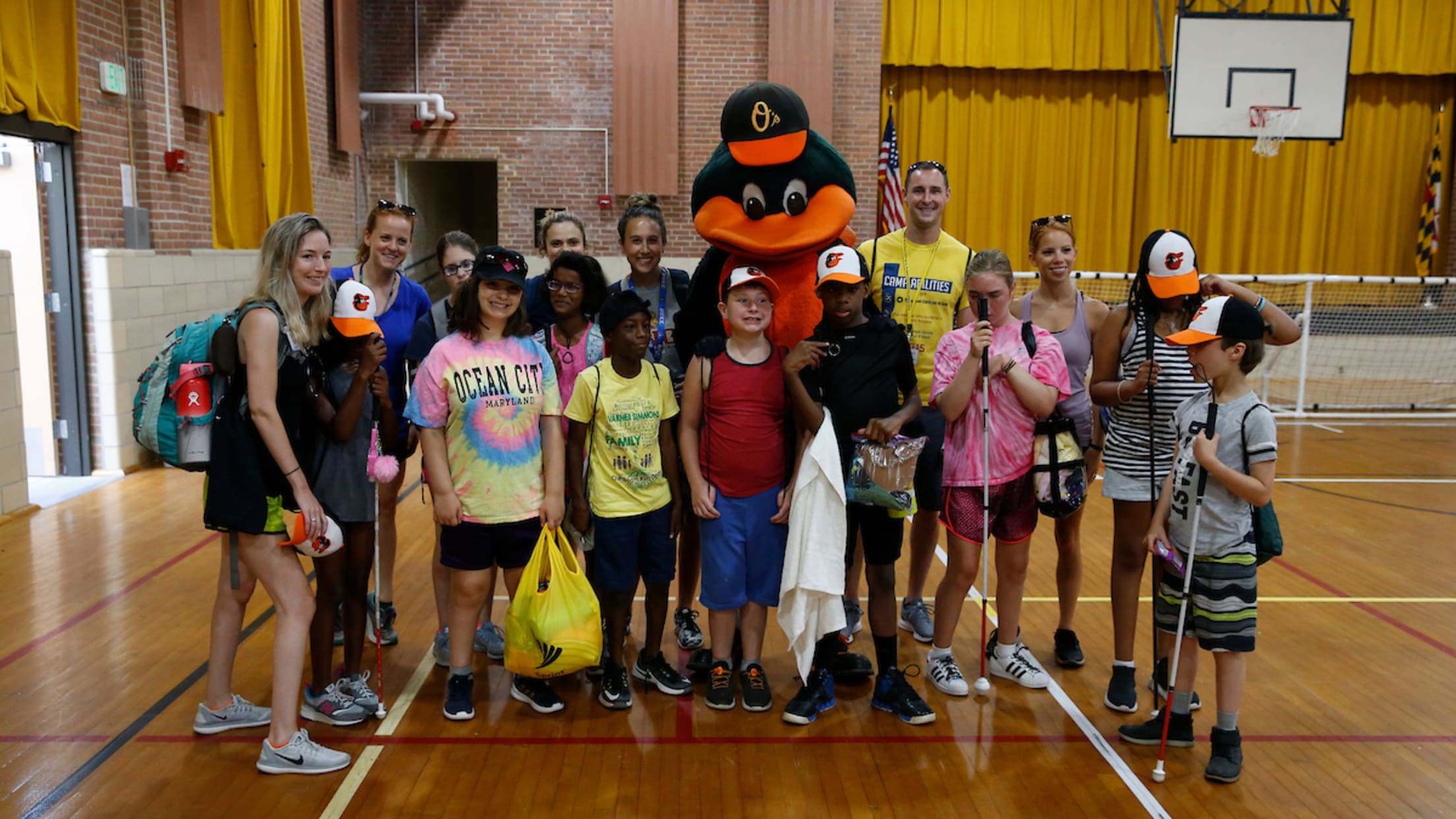 In July, the Orioles and the Orioles RBI program joined League of Dreams to assist with beep baseball activities during The Maryland School for the Blind's Camp Abilities.
In September, the Orioles and League of Dreams hosted a youth baseball clinic at Oriole Park at Camden Yards for The Children's Guild. Current and former players, including Orioles Hall of Famer and Chairman of the Board for League of Dreams Mike Bordick, Orioles RHP David Hess and INF/OF Trey Mancini, joined Dodgers LHP Adam Kolarek and his father Frank Kolarek, President and Founder of League of Dreams, in teaching children the fundamentals of hitting, fielding, throwing and baserunning by using larger and adapted equipment.
In addition to League of Dreams, the Orioles also partner with the Oriole Advocates and its Challenger Baseball (OACB) Program each season. Created in 2010 under the Oriole Advocates Charitable Foundation, the Challenger Baseball Program is a nonprofit organization that supports organizations throughout the world who promote baseball at all levels for individuals of all abilities.
Recently, Orioles LHP Paul Fry caught up with some of the Challenger Baseball athletes on a Zoom call.
Conversation with Mike Bordick and Frank Kolarek of League of Dreams
In conjunction with the club's celebration of the ADA anniversary, Mike Bordick and Frank Kolarek recently spoke to Orioles' front office staff over Zoom to discuss their organization's mission and the importance of supporting people and children with disabilities.
Kolarek: "First, I want to say the celebration of the 30th anniversary of the Americans with Disabilities Act is a big milestone that we are all proud to be a part of.
"[League of Dreams'] mission is to provide opportunities through the game of softball and baseball for all individuals, regardless of whatever disabilities they may have. We work with children and adults with physical and mental challenges, and we adapt the game to meet the needs of the individual, including people with autism and Cerebral Palsy, or in partnership with organizations like the Maryland School for the Blind."
Bordick: "I think the most important thing is being all inclusive -- all are welcome. To include everybody that has a dream of playing the game of baseball and bringing kids and young adults together. It's been a success for 17 years now. I remember when we started working with the Maryland School for the Blind, it was so amazing. The kids were so excited to play beep baseball. It's something special to be a part of, those events."
Kolarek: "Mike and I first got involved as volunteers, I was a Minor League catcher with the A's and Mike wore the green and gold of the A's as well. We met through volunteering at local Minor League parks when we were both players. It was grassroots.
"Our first year [of League of Dreams], we had 20 kids that came out to a local park, and here we are 17 years later, and we have worked with over 4,200 children and adults from about 20 states around the country."
Bordick: "We have had some incredible events for sure. One that really comes to mind for me is when we were at Spring Gove Hospital in Ellicott City [Md.]. We had the Major League Baseball Alumni Association out there working with our kids from The Children's Guild while other kids in Little League and their families were up on the banks watching us. There was a huge crowd cheering them on. It was really inspiring, and I think it impacted hundreds of lives that day. It helped breed confidence."
Kolarek: "The feeling of confidence that you have being a part of a big league experience, it carries the children in our program way beyond just that one day of being on the field. Last year, thanks to our relationship with the Orioles, we were able to bring about 60 local children from The Children's Guild out to Camden Yards. We had Trey Mancini and David Hess, along with my son [Adam Kolarek], who plays for the Dodgers. To watch the interaction with our children, not only with big leaguers, but being in Camden Yards and being able to sit in a dugout, run the bases, and hit a ball, it really motivates us to keep going. It's life changing. To see those parents see their kids out there [on an MLB field], it's unbelievable."
Bordick: "The Children's Guild is the most innovative educational system I have ever seen. They help kids in impoverished areas that have had hard times and have mental or social problems, and they find ways to get the most out of them. They understand the importance of sport and baseball and the impact it has on these kids from a neurological standpoint, how it can help them feel better about themselves. It's just a piece of the puzzle to help these kids overcome the many challenges they are faced with every day."
Bordick: "We know the impact [League of Dreams] has had in our community, right in our backyard in Catonsville [Md.]. We just want other communities to feel the same kind of joy that we have when hosting events. We are going to continue to work hard to build great programs."
For more information on League of Dreams, visit LeagueofDreams.org.
About ADA
The Americans with Disabilities Act (ADA) became law on July 26, 1990. The ADA is a civil rights law that prohibits discrimination against individuals with disabilities in all areas of public life, including jobs, schools, transportation and all public and private places open to the general public. The purpose of the law is to ensure that people with disabilities have the same rights and opportunities as everyone else.
For more information on local ADA support, visit Orioles.com/CommunityResources.